Police trying to ID airport luggage thief spotted breaking into woman's car at Safeway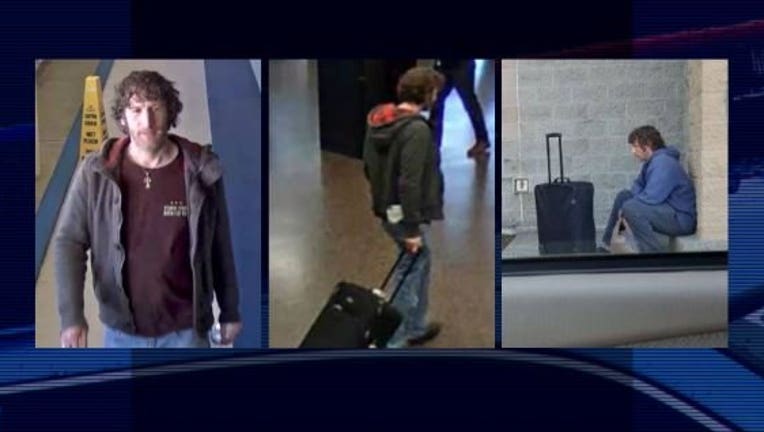 article
SEATAC, Wash. -- Police are asking for the public's help to identify a man accused of breaking into a woman's car in SeaTac on Tuesday 9/25/18. The same suspect is also accused of stealing luggage at Sea-Tac airport.

Officers say the victim went to Safeway at 4011 S 164th Street in SeaTac around 6 p.m.

She parked her vehicle on the northwest corner of the building in the first parking spot next to the shopping cart return. She was in the store for about 20 minutes. When she came out, she saw a white man sitting inside her vehicle. "She confronted the male and asked, 'This is my car, what are you doing in it?' And he responded with, 'No, this is my car. I have the keys' and he had a large number of keys in his hand, according to the victim and again, the victim said, 'No! This is my car. Get out of it!' and he said, 'Ok' and he grabbed his suitcase, which he had put in the backseat of the car, got out of the car and then took off," said King County Sgt. Ryan Abbott.




He walked off toward the front of the store. She got in her vehicle and took a photo of him sitting in front of the Safeway, the last picture shown above.

Detectives say the suitcase he had -- he stole from Sea-Tac Airport earlier that day. That's where the first and second photos above are from, that Port of Seattle Police put out to try to identify him.

The car owner's glad to still have her vehicle -- but at what cost? "She's still not able to use her own keys in her car, so that's going to cost a lot of money in itself, I mean, to replace a steering column, we're talking $200, to replace a door lock, usually got to replace them all, that's going to be another several hundred dollars, so the victim's already out hundreds and hundreds of dollars to get their car fixed and all they were doing was shopping at Safeway, while this guy was trying to steal her car," said Sgt. Abbott.

Detectives say he's likely not from the SeaTac area, possibly living transient and traveling around.

If you know his name, use the P3 Tips App on your smart phone to submit the information to Crime Stoppers, or call the hot line at 1-800-222-TIPS(8477).

It's guaranteed to be anonymous and you'll get a cash reward of up to $1,000 if your tip helps lead to his arrest.