Puyallup River overflows banks; other flood warnings; national park closes (PHOTOS)


PUYALLUP, Wash. -- The Puyallup River overflowed its banks Tuesday and flooded some low-lying areas.

Pierce County reported Tuesday afternoon that it had responded to 29 sites where water was on roadways. The Riverwalk Trail from Veterans Park to west city limits was closed  due to flooding.

Mount Rainier National Park was closed and staff and visitors evacuated as steady rain and melting snow exacerbated flooding issues Tuesday.




The National Weather Service also issued flood warnings for multiple Pacific Northwest rivers Tuesday as melting snow and saturated grounds saw rivers in the area cresting. The NWS said heavy rain around Mount Rainier continued to drive area rivers up, and rivers already overflowing were now entering major flood categories.

The Puyallup Police Department said, "We have water over the banks in some areas of the Puyallup River. Avoid high water areas for your safety."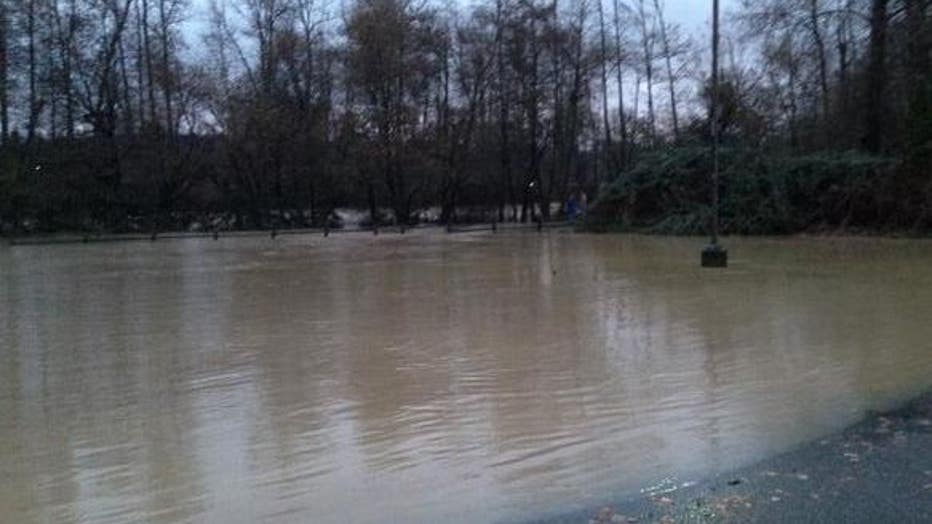 The Puyallup River overflows its banks. (Photo: Puyallup Police Dept.)


Warnings were issued in eastern Lewis County and southeastern Pierce County, as well as for the Nisqually River, the Snoqualmie River, the Cowlitz River, the Carbon River and the Puyallup River. The warnings would stay in effect until 7:15 p.m. Tuesday.

Pierce County said its road crews had responded to 29 reports of roadway flooding in central Pierce County and two sites with trees down blocking the roadway. A map of affected sites can be found here.

South Prairie Carbon River Road in South Prairie is closed approximately 100 yards north of 157th Street East due to flooding over both lanes of the roadway.

The Pierce County Public Works and Utilities Road Operations division responds to roadway issues 24 hours a day. The division can be reached at www.piercecountywa.org/rfa or 253-798-6000.

Pierce County reminds that drivers should not try to drive through standing water or around barricades.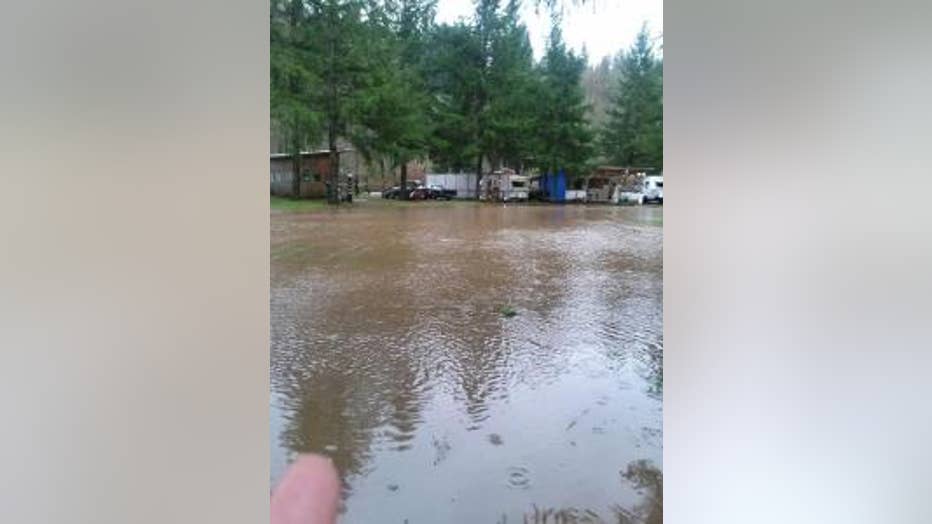 Flood warnings mean flooding is already occurring or imminent. Orting Valley Fire and Rescue workers encouraged people who lived on Neadham Road south of Orting to voluntarily evacuate, as flooding was beginning to reach area homes.

Officials reminded area residents not to drive cars, vans or trucks through flooded areas, as this was the cause of most flood related deaths in Washington.

Anyone slated to stay at the National Park Inn in Longmire was encouraged to check with Mount Rainier Guest Services before their stay to check the status of their reservation.

For the latest on area weather, click here.