'Wheel appeared to be sparking or on fire': Search underway for truck after rogue tire kills 2
LAKEWOOD, Wash. - The Washington State Patrol (WSP) has identified a vehicle that may have been involved in Thursday's deadly crash on I-5, where a rogue tire smashed through the windshield of a van. 
At around 5:30 a.m., a van with eight passengers was traveling northbound near Bridgeport when a tire came out of nowhere and smashed into it. That tire killed two men sitting in the back of the van. 
On Friday, the WSP released a photo of the truck that may have been responsible for that rogue tire, and investigators are asking witnesses to come forward.
"Several witnesses observed this truck and trailer combination," said Trooper John Dattilo with Washington State Patrol. "They observed that the rear most right trailer wheel appeared to be sparking or on fire."
The vehicle is described as a white, newer model Ford heavy duty pickup truck that was towing a car hauler trailer. Investigators say the truck was possible an F-350 model or larger. It has a color matched front bumper, chrome grille, LED headlights and has a DOT number posted on the side. The vehicle may be a Lariat trim level or higher.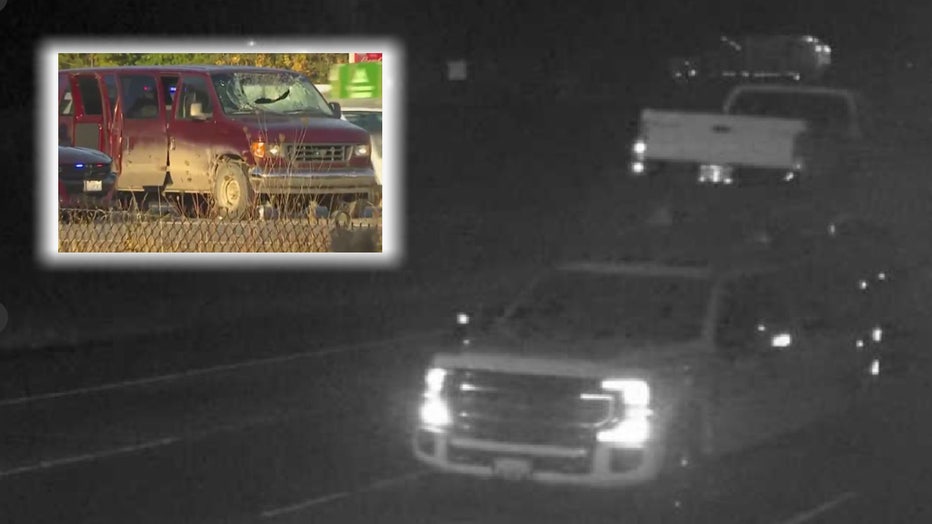 Some witnesses told investigators they saw the tire come from the right side of the rear axle on the trailer being towed by the truck.
"That wheel came off just south of Bridgeport, continued northbound, struck the jersey barrier, the dividing concrete barrier on the left side of the road. It ended up bouncing back off of a light pole and striking the van," added Trooper Dattilo.
The truck was seen traveling northbound on I-5, passing Mounts Roa prior to the incident, and it likely continued northbound after losing the wheel.
Troopers told FOX 13 on Thursday that the tire flew through the windshield and the center of the vehicle, narrowly missing the driver, front passenger, and those sitting on the left and right side of the van.
The victims have been identified as 22-year-old Denilso Tomas Lopez and a 55-year-old Martin Matias Mendoza. Both were both sitting in the center seats in the second and fourth row. Investigators say all eight occupants of the van were carpooling to work from Shelton. 
One person was taken to a nearby hospital, the five other occupants were uninjured.
Anyone with information that can help investigators locate this vehicle is asked to contact WSP Trooper Cody Fath by emailing cody.fath@wsp.wa.gov or call 360-764-0922.