Russell Wilson raises flag at Space Needle for Childhood Cancer Awareness Month


SEATTLE -- Seahawks quarterback Russell Wilson raised the Strong Against Cancer flag on top of the Space Needle Sunday to kick off Childhood Cancer Awareness Month.

Childhood Cancer Awareness Month is September.

"We can't wait for next year, we can't wait for tomorrow," Wilson said right before he hoisted the flag to raise awareness of the potentially game-changing T-cell immunotherapy clinical trials underway at Seattle Children's Hospital.

"It could be my kid, it would be your kid one day and hopefully, together we can make a difference," he added.

T-cell immunotherapy harnesses the power of a child's own immune system to seek and destroy cancer.

The trials are funded in part by the national philanthropic initiative, Strong Against Cancer, which aims to put an end to pediatric cancer with the support of the community.

Wilson serves as the Strong Against Cancer's Team Captain through his Why Not You Foundation.

According to Seattle Children's Hospital, more than 10,000 children in the U.S. will be diagnosed with cancer this year, but pediatric cancers receive less than 3% of the National Cancer Institute budget for research.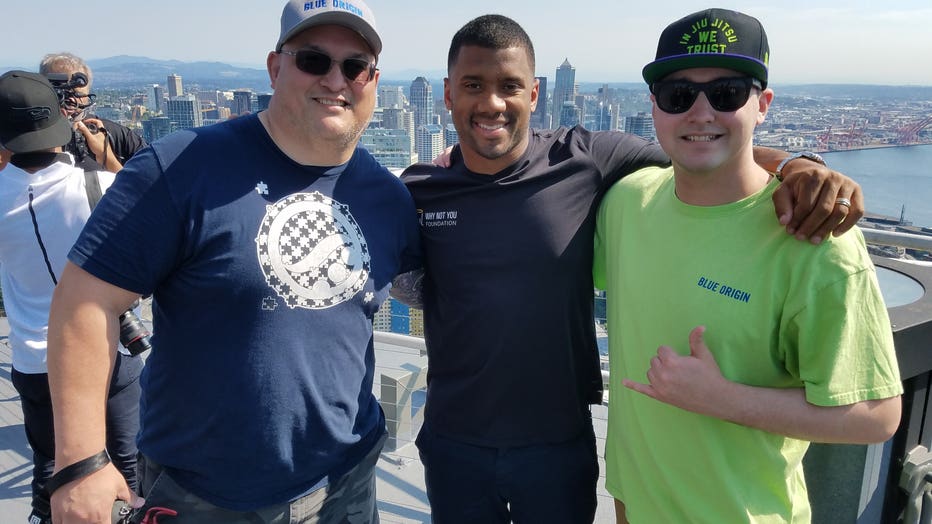 Seahawks quarterback Russell Wilson stands with cancer survivor Zachary Baltierra (right) on top of the Space Needle in Seattle August 27, 2017. Baltierra survived stage 3 Hodgkin lymphoma as a child. (Phil Lowe/KCPQ)