Timberview High School shooting leaves four injured; suspect arrested
ARLINGTON, Texas - A suspect is in custody for a school shooting that left four people hurt at Timberview High School in Arlington on Wednesday morning.
Arlington police confirmed the school shooting started as a fight between a student and another individual around 9:15 a.m. One student then drew a weapon and fired an undetermined amount of shots.
Three people were taken to the hospital, two with gunshot wounds. They include a 15-year-old male in critical condition, a 25-year-old male in good condition and a teenage girl in good condition who will be discharged soon.
A pregnant teacher was also hurt in a fall but was treated at the scene and not hospitalized, police said.
The school is in the city of Arlington but in the Mansfield school district.
Suspect in Texas school shooting
The gunman, identified as 18-year-old Timothy George Simpkins, turned himself in Wednesday afternoon with his attorney.
Arlington police said Simpkins was arrested and charged with three counts of aggravated assault with a deadly weapon. They recovered the .45 caliber gun.
"We had some communication with his attorney," said Arlington Police Asst. Chief Kevin Kolbye. "He did report to an attorney he was talking to our homicide detectives he drove him to our police station we took him in to custody."
Simpkins is currently being held in jail on a $75,000 bond. 
The alleged gunman's family says they are not justifying him bringing a gun but hope the investigation will reveal more about the circumstances. 
Arlington SWAT entered Simpkins' home hours after police say he shot multiple people at the high school.
The Grand Prairie police chief says the alleged gun the shooter used was found in the street a few miles away from the campus.
All afternoon, Simpkins' mother waited outside while police searched the family's home. She declined an on-camera interview, but she stood by with other relatives as a family spokeswoman gave a brief statement and answered a few questions from reporters.
"The decision he made, taking the gun, we are not justifying that. That was not right," said family member Carol Harrison Lafayette. "But he was trying to protect himself. We hope the police department does the investigation properly."
Lafayette says the fight stemmed from what they call ongoing, documented incidents between Simpkins and other students. Those claims have not been confirmed by Mansfield ISD or police. 
Simpkins reportedly fled the school in a 2018 silver Dodge Charger. Multiple agencies, including the Bureau of Alcohol, Tobacco, Firearms and Explosives and the U.S. Marshals, were looking for him and investigating the case. 
Police said while they tried to locate Simpkins, officers were dealing with fake threats from other campuses.
MORE: Fake threats at other schools pop up during search for Timberview HS shooter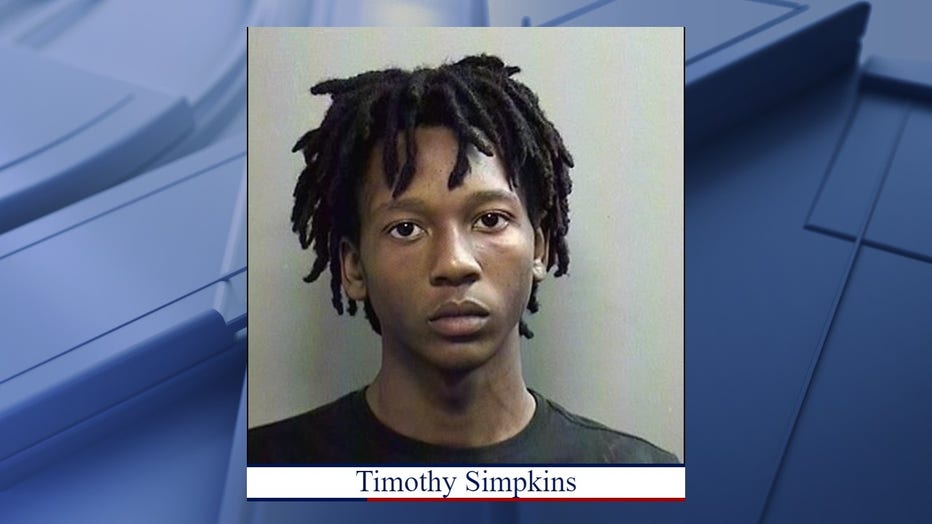 "I have high confidence there was only one shooter at this school," said Kolbye. "Our heart goes out to the injured and all the students who went through the traumatic event at this school."
"As a law enforcement officer and then as a parent with a student in Arlington ISD, this is kind of your scariest moment when this happens not only what you do for your job but when you have a wife who is a teacher and several kids that go to school in the district," said Jeff Boshek with the ATF Dallas Field Division. "As soon as we get this information on the firearm we're going to track it down. We'll figure out where this individual got it from. Our agents won't sleep. We're going to figure out where he got this weapon in his hands to come into this school to cause this tragedy today. To all the victim families, you're in our thoughts and our prayers."
What we know about the Timberview High School shooting
Police said Timothy George Simpkins, an 18-year-old student at Timberview High School, was in a fight with another student and drew a weapon.
Four people were hurt and three were hospitalized. Two were taken in for surgery because of gunshot wounds.
A 15-year-old male is in critical condition. Another teenage girl and a 25-year-old male are in good condition.
A pregnant teacher fell and was injured. She is okay.
There were already two Mansfield ISD officers on campus and they were able to respond immediately.
The school was cleared and the district reunited students with their parents at the Mansfield Performing Arts Center.
The ATF is investigating to find out how and where Simpkins got the gun.
He was arrested Wednesday afternoon after a statewide manhunt.
Simpkins is charged with three counts of aggravated assault with a deadly weapon.
There will be no school for students on Thursday. Counselors will be made available.
Students and parents fear the worst
Just minutes after the first reports of gunfire at the school, parents raced toward Timberview High but were advised to stay away. A nearby arts center became the official meetup spot for families.
The Mansfield Independent School District said the campus was placed on lockdown during the active shooter incident. All students and staff were locked in their classrooms and offices and no visitors were allowed on campus.
RELATED: Texas leaders share reactions following Timberview High School shooting
Parents desperate for information clung to their cell phones. 
"I had her also text me the names of all the kids that were in the closet with her," said parent Jacinta Mitchell.
The lockdown was followed by a monumental task of moving more than 1,500 students safely from the campus to a designated meeting point.
"I just got back from work. I was trying to relax when I got this text message from my daughter," said Akhere Isenalumhe, whose daughter is a sophomore. "We are all confused. We just don't know what's going on. This is just too close to home. We never thought something like this would happen right here in our backyard so."
Some parents were smiling with joy when they went to pick their children up. Some couldn't speak, they could only cry.
Hundreds of parents lined up at Mansfield ISD's Center for the Performing arts, never knowing what it felt like to wait while their child was at the center of a school shooting, until now.
"I love my baby. I love my baby girl," Frank Earl said.
Earl recalled a frightening text message from his daughter.
"So when I was looking at my phone, all I can see was, 'We hiding, they shooting at the school,'" he said. 
There were happy reunions but also heart-dropping accounts of what some students went through.
"My teacher actually got shot. He was hurt in the process," said student Antonio Holloway. "It was a fight, and it was very loud outside the class. And another teacher was talking about she needed help handling the fight. My teacher left the classroom to go assist her. A little bit after that, we heard a bunch of shots go off. So everybody in my class, we just turned all the lights off and held the door closed."
"At the time, I was in the hallway. And all of a sudden, I just heard, 'Gun! Gun! Go! Go! Go!'" recalled Marian Moore. "I was on my way to the vending machine, so I just took off running with my friend Andrea."
Damion Paulhill said he was running late to class when he saw the fight break out in a second floor classroom.
"Next thing, you know, I looked out to the left of me and I seen like the glare of the gun," he recalled.
Chasity Turner was in the classroom next door.
"We heard gunshots and I was just like, 'Oh my gosh. Oh my gosh. Oh my gosh. So we all ran to the other side of the classroom. We heard glass breaking and he continued to shoot, and I called my mom and I told her I love her and I hung up the phone because it was time for me to stop talking," she said.
Jaeden Marshall said he wanted to protect his classmates and himself.
"We had me and two or three other students hold the door. That's all we could really do in that situation," he said. "Just making sure nobody got in. I just wanted to stay alive."
There was little time to think.
"People running, screaming, teachers begging for help," Zacaryia Fair said.
Some who didn't hear gunfire questioned if there was actually a shooting.
"Until our principal came on the intercom and said lockdown, then that's when everybody started crying screaming, so we immediately went to the hiding spots in the back parts of the room," Taelor Earl said.
As scary as it was for students, their parents and family members felt even more helpless.
"I was nervous. My heart was pounding. My wife's heart was pounding. She was crying," Ontario Hewitt Sr. said.
Parents spent hours of waiting on edge, watching for developments. 
"I feel like Mansfield did the best they could with organizing the parents and guardians getting to the kids," said Ashley Holloway, a student's sister. "So I was really understanding was that the wait was long, but I think they were doing their best with the short time they had to plan." 
"I honestly thought the worst. You see, in the news, all these shootings going on at other schools, other states, and you never imagine, or you can't imagine something going on, feeling the feeling the other parents feel," another parent said.
It was announced later Wednesday that there would be no school at Timberview High School Thursday so the community has time to heal. All after-school activities scheduled for Thursday will also be canceled.
MORE FOX 4 NEWS:
University Park police investigating first homicide since 2005
Affidavit: Dallas police officer collected $48K in 'blessing circle' pyramid scheme
Dallas Zoo euthanizes 3-month-old giraffe after 'catastrophic injury'
Family of Richardson teen shocked about sudden death from COVID-19