Smell smoke in Western Washington? It's from the California wildfires


SEATTLE -- Did you smell smoke in the air over the weekend? It's actually from the California wildfires.

An image from the Washington Department of Ecology shows fog from the Cascades to the east. But on the west side of the mountains, we have smoky skies:

"California wildfire smoke came our way and is affecting air quality. That, along with cool stagnant air = burn bans are in place throughout much of the state."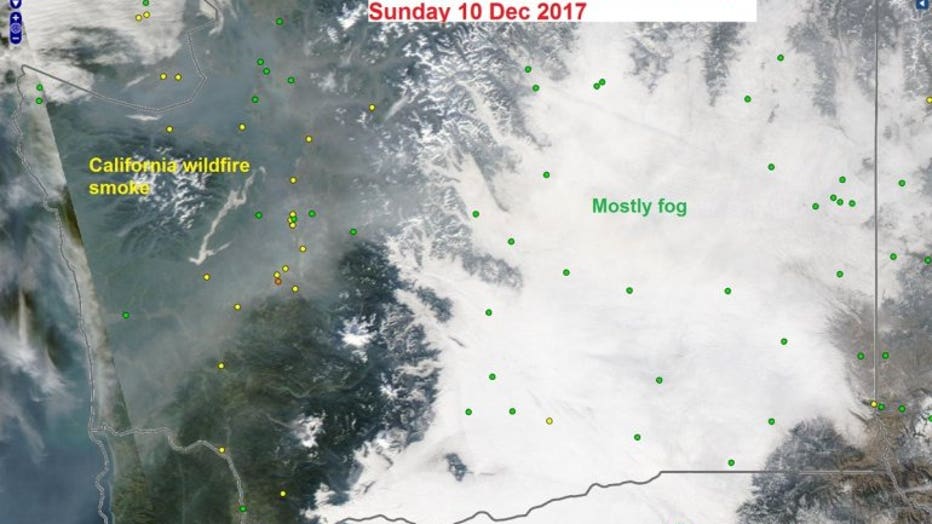 Image: Washington Department of Ecology


Due to sustained stagnant weather conditions and rising air pollution, the Puget Sound Clean Air Agency called a stage 1 burn ban. That ban expires at 2:00 p.m. Monday for King and Snohomish counties, but it will remain in place for Pierce County.

Fog is lifting and the sun is warming the ground which is breaking surface inversion, thus helping air pollution levels become healthier.

Q13 News Chief Meteorologist Walter Kelley says to expect these conditions to stick around for at least the next several days.

Six wildfires in California are burning an area equivalent to the size of New York and Boston combined. The Thomas Fire, covering 230,000 acres, is now the fifth largest blaze in modern California history. Gusty winds and dry conditions are not helping the wildfire's spread, and there's no rain in the forecast for at least 10 days.

* Pierce County residents west of the Tacoma Narrows Bridge on the "Pierce Peninsula" (Gig Harbor Fire #5 and Key Peninsula #16) and in "South Pierce" county (Roy Fire #17, Eatonville, and Ashford #23) are not included in today's burn ban. Check the map to see which Pierce County burn ban area you live in.