Soggy Western Washington on verge of breaking October rainfall records


SEATTLE -- The sounds of fall of 2016 include a lot of chainsaws across the Pacific Northwest. Saturated soils have caused some trees to tumble-- but not much grumbling from many of us.

Enne Morris, visiting from British Columbia, doesn't have a problem with it, "We're feeling right at home with this weather."

This year's rainy season began with a wallop, with most places around Western Washington getting more than double the average rainfall this month so far. "It seems normal to me," says Michael Shapiro, "raining nearly every day."

With each passing front, we're inching ever closer to breaking October rain records in many locations.

"I'm like a tourist," says Shapiro, "I carry an umbrella."

"When you have the jet stream pointed at you, you're going to see some sort of stormy weather," says Q13 Chief Meteorologist Walter Kelley. "I remember the last record-breaking October. It was back in 2003. In one day, we had five inches of rain in Seattle. I didn't think we could beat those numbers back then-- but here we are."

The number to beat in Seattle from that 2003 October is 8.96" of rain. As of this evening, we're within a half-inch of that. And Olympia is less than a tenth of an inch of the all-time wettest October on record. While we'll be close in our coastal locations, Bellingham is probably too far behind in the rain gauge to make it to setting a record with less than a week left in the month and only spotty showers in the forecast for the coming Halloween weekend.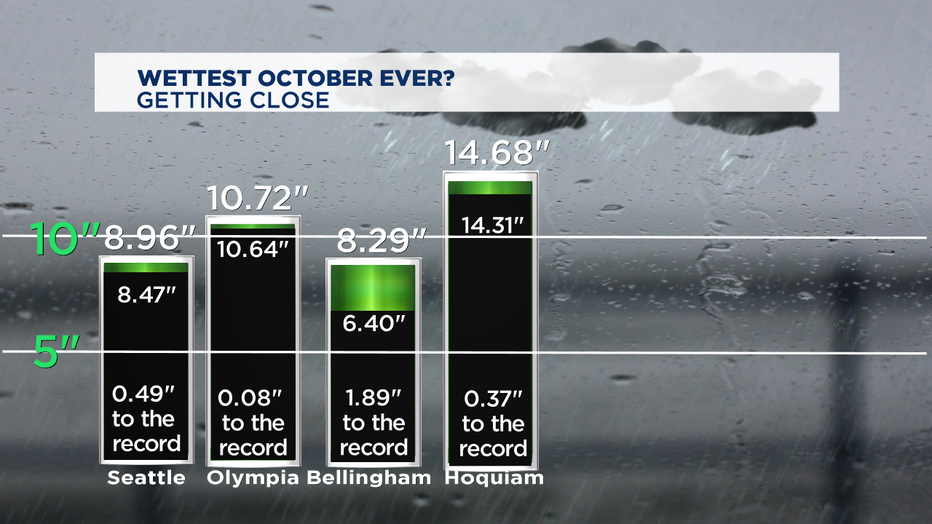 November is historically our wettest month of the year. That's when we start seeing the real danger of hillsides slipping and sliding. Geologists at the University of Washington say the Evergreen State has the dubious honor of being one of the most landslide-prone of all the 50 states.

But, even the threat of rising rivers or sliding hills doesn't seem daunting to Isabel Wilhelm. "It's Seattle, it sucks. You learn how to deal with it."

The Renton woman says she keeps her energy up in the rainy season going between work and the gym.

Right now, the biggest threat for landslides is in North Central Washington. The eastern slope of the Cascades has many areas has been scarred by wildfires. The trees and other vegetation that burned in recent years in many places was doing hard work holding up those hillsides with that greenery gone. People in those areas should pay attention and looks for signs of an impending landslides during and after heavy rain events.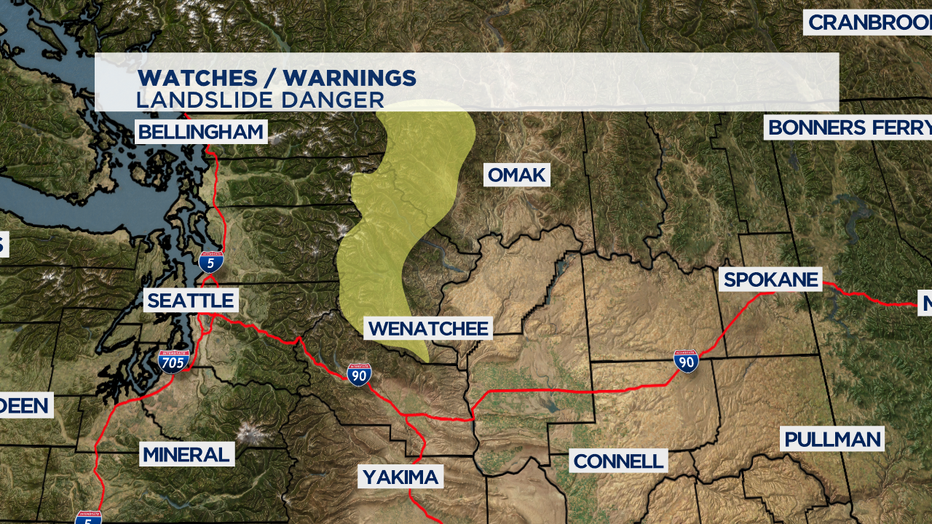 The extended outlook for the next two weeks looks soggy with above normal temperatures. The National Weather Service's long-range prognostication on the coming winter calls for a few cold snaps for Western Washington-- but generally a typically soggy and chilly season ahead. But, one thing this weather is not dousing, seems to be our spirits.

"A little rain won't do that, right?," says Michael Shapiro.

Morris says he likes the rain, saying, "It's good."

And for Wilhelm, her mantra to get through the rainy season is one we might be able to adopt. "Keep it pushing," she says, seated from her car on this soggy afternoon, "keep it pushing".