Starbucks' 'Come Together' promotion a political push?


SEATTLE -- Some are calling it a great gesture. Others are saying Starbucks should stay out of politics.

On Wednesday, Starbucks announced its"Come Together," free coffee campaign.

An offshoot of the "pay-it-forward" charitable giving idea where many coffee customers buy those behind them in line a drink, Starbucks is offering anyone who buys someone else their favorite beverage a free tall brewed coffee. The promotion is good from Oct. 9-11.

While not exactly an outright response to the government shutdown, the announcement comes a day after Starbucks' CEO Howard Schultz admonished the U.S. Congress for furloughing thousands of government workers possibly hurting businesses across the country. And the text within the announcement also makes reference to tough political times.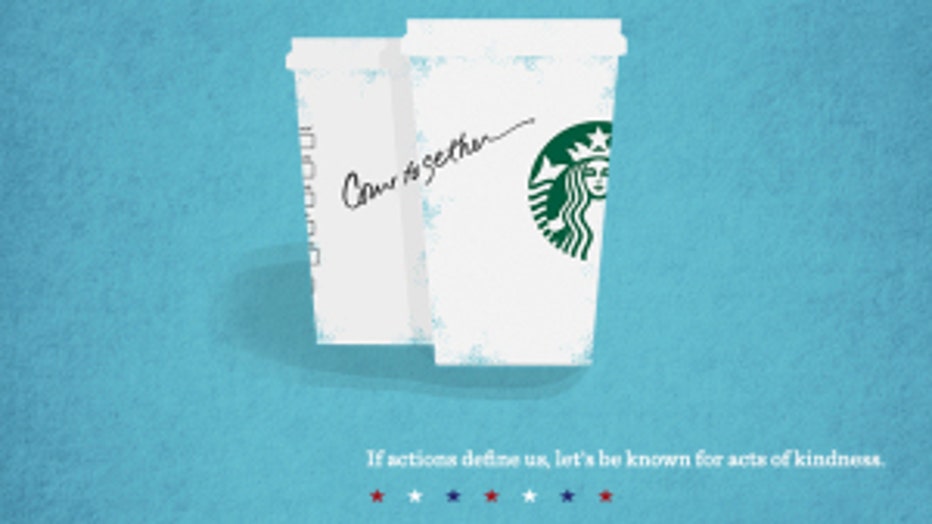 "In times like these, small acts of civility like these make a big difference," the press announcement said.

One wonders if Starbucks isn't pushing for lawmakers to quickly come together and agree on a budget; perhaps over a cup of Starbucks black coffee.

Here is the full text of the "Come Together" release:

Our customers do amazing things everyday. A customer buys the next person in line their favorite beverage—not as an act of charity or thanks—but an acknowledgement of commonality and humanity. The gesture is small, but the act is endlessly inspiring.

In times like these, small acts of civility like these make a big difference. With that, we are extending a gesture. If you come into Starbucks and buy someone else their favorite beverage, we'll give you a free tall brewed coffee.

We're hoping this small motivation will encourage you to be the spark of connection that helps bring us all a little closer at a time when showing our unity is so important.

#payitforward—and lets see what can happen.

Offer good October 9–11, 2013 at participating stores.