Tornado stuns, damages Longview: 'I started hearing a whoo, whoo, like a train...' (VIDEOS)


LONGVIEW, Wash. -- A rare tornado in Western Washington struck Longview Thursday, causing widespread damage but no injuries.

The National Weather Service said the tornado was an EF-1 with winds estimated between 86 and 110 mph. It cut a path through Longview 1.3 miles long and 200 feet wide, the NWS said.

In the downtown area hit hardest by the tornado, crews worked Thursday night to fence off a heavily damaged building.  Part of the building already came crashing down and the fear is more of the unstable building could follow.

"I started hearing a whoo, whoo, like a train, looked up and I saw the funnel going around in circles and the next thing you know, it was like boom! It just hit," witness Chris Draper said.

When Bertie Robinson looked out her window, she couldn't believe what she saw.

"This tree was just spinning," she said. "I thought it was going to come up. A trash can was coming down the street and all kinds of trash and then we heard metal clanging. And so what we discovered later -- parts of the roof had come off and landed down here."

The twister stayed on the ground for only about 10 minutes, but in that time it damaged buildings, destroyed cars,  downed trees and utility poles and cut power to some customers.

"All I wanted to do is make sure everybody was safe," Draper said. "I went around and asked if anybody hurt? Anybody hurt? Everybody was cool, so thank God that this disaster didn`t go any further."






[youtube=http://www.youtube.com/watch?v=dyHeASZPWHk&w=720&h=466]

[protected-iframe id="0a55f21b7dc0a0badf87a7f90ac9342f-41640066-41438449" info="d.getElementsByTagName"width="720px" height="466px"]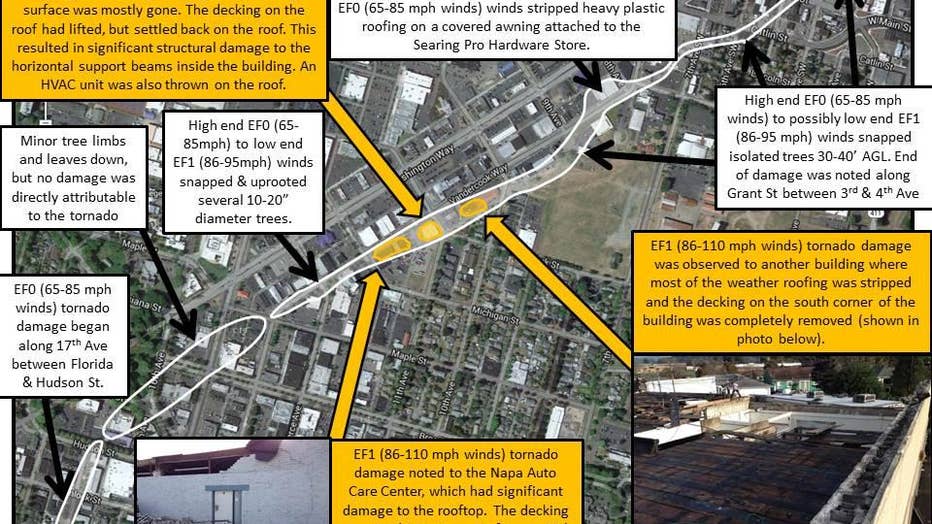 Damage on this map reported by the National Weather Service in Portland.