Traveling for Thanksgiving? Major storm expected to snarl flights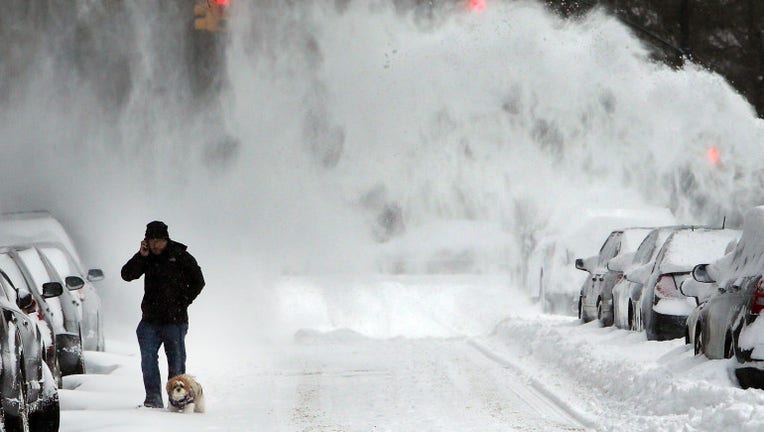 article


NEW YORK -- If you're heading to the East Coast this Thanksgiving, you may want to get an early start.

A nor'easter is expected to pour heavy rain and snow on the eastern United States late Tuesday and cause problems on Wednesday, traditionally the busiest travel day of the year, CNN meteorologists say. About 30 million people from the mountains of North Carolina to Maine could be affected.

"All of the major metro areas in the Northeast will be impacted by either heavy rain or heavy snow, along with high winds," said CNN senior meteorologist Dave Hennen.

Airport delays are predicted Wednesday in the New York/New Jersey area, Philadelphia, Boston and Washington.

The coastal storm will strengthen Wednesday as it moves up the East Coast, with snow expected from the Appalachian Mountains to the interior Northeast and New England areas, according to CNN's Wednesday morning forecasts. Heavy rains are expected in the South.

Up to a foot of snow is predicted for Northern New Jersey and areas north of New York City and possibly over a foot for inland Massachusetts, southern New Hampshire and into Maine. About half a foot is expected in the interior areas of Virginia to Pennsylvania.

"The I-95 corridor may end up being the dividing line between heavy snow and heavy rain," Hennen said. "Either way, travel in the Northeast will become dangerous, especially interior sections of the Northeast with heavy snow."

Travelers should check airline websites to see about rebooking flights. United Airlines, Delta Air Lines, American Airlines and other carriers are waiving rebooking charges for holiday travelers in the Northeast.

"Customers ticketed on American Airlines, American Eagle or US Airways or US Airways Express flights on November 26 to, from, or through (18 affected airports) may change flights without penalty, have the ticket-reissue charge waived for one ticket change, and begin travel as early as November 25 or as late as November 27 under American's current travel waiver," according to an airline release.

And the Northeast isn't the only region expecting bad weather. Light snow is expected from late Tuesday to Thursday in Minneapolis and Chicago and other parts of the Upper Midwest. The Northwest is expecting rain, with snow in the mountains. Denver is expecting wind gusts of up to 30 mph on Tuesday and 15 mph on Wednesday.

Amtrak advised that travelers in the Northeast and Mid-Atlantic states follow its regional Twitter handles, @AmtrakNEC and @AmtrakVA, for updates.

AAA is expecting 46 million Americans to travel 50 miles or more from home during the Thanksgiving weekend, and 90% of them are traveling by car. That would be the most travelers since 2007, AAA said in a news release.

Drivers should check weather forecasts before setting out on the road "to ensure the safety of you and your family" and consider leaving earlier or later to avoid the storm, AAA advised. Travelers should also check tire pressure, car batteries and windshield wipers. Stock up on nonperishable food and emergency supplies in case you get stuck in the storm.

On the bright side, people traveling by car will probably pay less for gas than in recent years, AAA says.

The current average price of gasoline in the United States is $2.85 per gallon, 43 cents per gallon lower than the average price at Thanksgiving 2013.