Tunnel with nuclear waste partially collapses at Hanford nuclear site; no radiation release detected


HANFORD, Wash. -- A portion of an underground tunnel containing eight rail cars full of radioactive waste collapsed Tuesday at a sprawling storage facility in a remote area of Washington state, forcing an evacuation of some workers at the site that made plutonium for nuclear weapons for decades after World War II.



Officials detected no release of radiation at the Hanford Nuclear Reservation and no workers were injured, said Randy Bradbury, a spokesman for the Washington state Department of Ecology.

No workers were inside the tunnel when it collapsed, and other workers who were ordered to shelter-in-place were later sent home early as a precaution, Hanford said. "Workers continue to monitor the area for contamination as a crew prepares to fill the hole with clean soil," Hanford said in a news release.

The cause of the collapse was not immediately known. It was discovered during a routine inspection and occurred during a massive cleanup that has been under way since the 1980s and costs more than $2 billion a year. The work is expected to take until 2060 and cost more than $100 billion.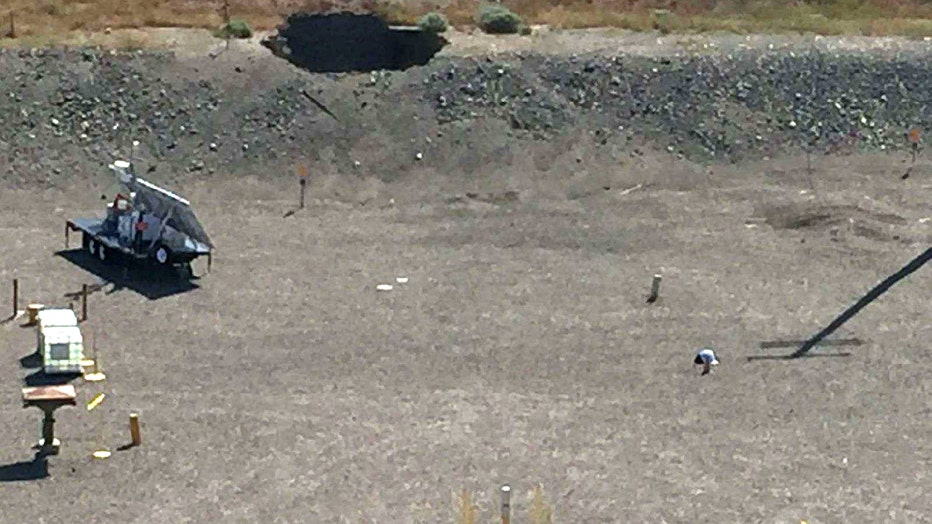 "No action is currently required for residents of Benton and Franklin counties," the U.S. Energy Department said, referring to the nearly 300,000 residents near the site about 200 miles southeast of Seattle. "There is no indication of a release of contamination at this point."

"All personnel are accounted for, there are no injuries," Hanford emergency center spokesman Destry Henderson said. "There is no evidence of a radiological release."

The accident sparked an alert at 8:26 a.m.

Here is a statement that Hanford put out Tuesday night:

"In the 1950s and 1960s two tunnels were constructed next to a former chemical processing plant, the Plutonium Uranium Extraction Plant, or PUREX, located in an industrial area near the center of the Hanford Site called the 200 East Area. The tunnels were constructed of wood and concrete and covered with approximately 8 feet of soil. The tunnels were constructed to hold rail cars that were loaded with contaminated equipment and moved into the tunnels during the Cold War.

"During a routine surveillance of the area this morning, a 20-foot-wide hole in the roof of one of the tunnels was observed, leading to the precautionary sheltering of employees and notifications to area counties and states. After no contamination was detected, the shelter in place order was lifted and employees were sent home from work early as a precaution. Workers continue to monitor the area for contamination as a crew prepares to fill the hole with clean soil.

"The approximately 360-foot-long tunnel where the partial collapse occurred contains 8 rail cars loaded with contaminated equipment. That tunnel feeds into a longer tunnel that extends hundreds more feet and contains 28 rail cars loaded with contaminated equipment. The hole opened up in the shorter tunnel near where it joins the longer tunnel. The tunnels were sealed in the mid-1990s and are checked periodically."

Robotic equipment

"We don't know exactly how the soil caved in, it's too early," a spokesman said. "They will investigate once it is safe for people to go in and see.

Robotic equipment is being used by technicians monitoring and surveying the area.

"There was no earthquake. These tunnels are decades old. It's possible that at some point the soil above them was going to give in," the spokesman said.

With plutonium, he said, the greatest threat is airborne contamination.




State and local officials will aid the federal government in its response, said Gov. Jay Inslee, a Democrat who previously represented the Hanford region in Congress.

"Ensuring the safety of the workers and the community is the top priority," he said. "This is a serious situation."

The anti-nuclear group Beyond Nuclear said the incident helped show "radioactive waste management is out of control."

Worker safety has long been a concern at Hanford.

Washington Attorney General Bob Ferguson filed a lawsuit last fall against the Energy Department and its contractor, Washington River Protection Solutions, contending vapors released from underground nuclear waste tanks posed a serious risk to workers.

Ferguson said that since the early 1980s, hundreds of workers have been exposed to vapors escaping from the tanks and that those breathing the vapors developed nosebleeds, chest and lung pain, headaches, coughing, sore throats, irritated eyes and difficulty breathing.

Lawyers for the Energy Department have said no evidence has been provided showing workers have been harmed by vapors.

RELATED: What is Hanford?

What is it?

Hanford for decades made plutonium for nuclear weapons and is now the largest depository of radioactive defense waste that must be cleaned.

It contains about 56 million gallons of radioactive waste, most of it in 177 underground tanks.

Hanford has more than 9,000 employees.

Where is it?

Hanford is located near Richland, about 200 miles southeast of Seattle.

The site -- about half the size of Rhode Island, in an area centered roughly 75 miles east of Yakima -- continued to buzz during the Cold War, with more plutonium production, as well as the construction of several nuclear reactors.



Why was it built?

The site was built during World War II and made the plutonium for most of the U.S. nuclear arsenal, including the bomb dropped on Nagasaki, Japan, at the end of the war.

"Hanford made more than 20 million pieces of uranium metal fuel for nine nuclear reactors along the Columbia River. Five huge plants in the center of the Hanford Site processed 110,000 tons of fuel from the reactors, discharging an estimated 450 billion gallons of liquids to soil disposal sites and 53 million gallons of radioactive waste to 177 large underground tanks," the US Department of Energy's Office of Environmental Management said on its website.

What now?

The last reactor shut down in 1987, shortly before the mammoth cleanup effort began. Efforts were bolstered by about $2 billion in federal stimulus funds authorized several years ago, but decades of work remain.

The government since 1989 has been in the process of cleaning up the site, which state and federal authorities have dubbed the most contaminated site in the Western Hemisphere.

Four years ago, US inspectors were investigating a possible leak at the Hanford nuclear site after an elevated contamination reading was found in a leak detection pit. Also in that year, six tanks were leaking radioactive waste.

Wire services contributed to this article.