UPDATE: Lake Stevens woman accused of brazen package theft at Marysville home


MARYSVILLE, Wash. -- Marysville Police were serving a search warrant Tuesday night on this accused package thief's vehicle.

Officers received a tip from a citizen identifying the suspect in the theft of a package from the front porch of a Marysville firefighter's home last week. They were able to arrest a 31 year-old Lake Stevens woman for investigation of theft, possession of stolen property and felony narcotics possession.

The victim reported the theft of the package to police late Monday morning.

EARLIER STORY BELOW

As we go into the holiday shopping season, many are choosing to purchase online. While it may be convenient, packages left on porches have become prime targets for thieves.

Just this week, a firefighter learned that the hard way. He's now sharing his surveillance video and story to warn others.

While Earl Troutman is fighting fires, his surveillance cameras give him peace of mind. However, this week he said his cameras caught a woman stealing a package right off his front porch.

"It really looked like she drove through the neighborhood with a purpose and knew what she was doing," said Troutman. "She stopped, backed up and saw the package and walked up there and seemed very comfortable doing it and not bothered by the fact this was 2:30 in the afternoon."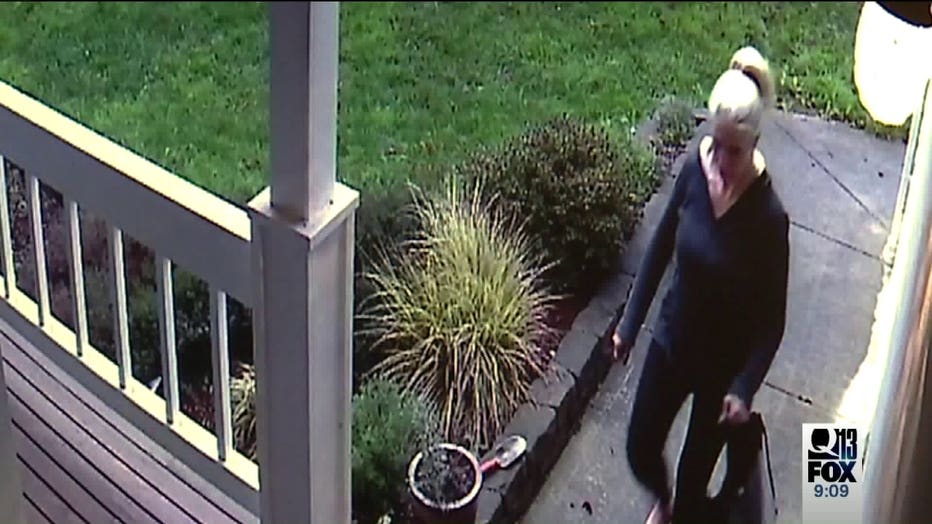 Marysville Police say it's a crime of opportunity that keeps them busy this time of year.

"Package thefts will start to spike right about now and will all the way through the holidays," said Sgt. Pete Shove. It's why he recommends people take advantage of the delivery options carriers will offer.

"It's not a case of ordering something and just waiting for it to show up, but you can tailor the delivery to what you need it to be," said Shove. "You can have it delivered on a specific date. You can track it online, which we highly recommend."

But if this isn't an option for you, Shove recommends sending packages to your work or to a neighbor you'll know will be home.

Those are measures, Troutman said, that, unfortunately, people have to take.

"I'm definitely upset," said Troutman. "It feels like a violation of privacy. It feels like at any point in time, somebody can come up to your house and take something."

Not too far away in Everett, a viewer shared his surveillance video with Q13 FOX News that catches a similar package theft off of his front porch. The homeowner tells us this happened on Friday near 19th Place West.

The thief drove up and took off in an SUV that appears to look similar to the suspect's vehicle in the Marysville theft. Police have not said whether they are connected.