You could breathe in more than 8 cigarettes worth of bad air today


KENT, Wash. -- Even if you've never smoked a cigarette in your life, chances are you're feeling a bit like a smoker today.

Because in a way, you are.

Air quality in the Pacific Northwest has reached some of its worst levelsever.  Air quality alerts are in effect for Washington state through at least Wednesday, according to the National Weather Service.

In an effort to see just how harmful bad air quality is to your health, developers created an app to equate bad air quality to smoking.

The app, named "Sh**t! I Smoke!" uses research from the nonprofit Berkeley Earth to calculate just how much smoke residents are breathing in with poor air quality. The app uses "Air Pollution and Cigarette Equivalence," which equates one cigarette to an air pollution rating (AQI) of 22.

An AQI of about 150 is equivalent to 6.8 cigarettes for the day.




The numbers in the Pacific Northwest right now are high. People in Kent and Auburn could breathe in the equivalent of seven cigarettes today.

Seattleites will suck down about five.

Those in the state capitol - about six and a half.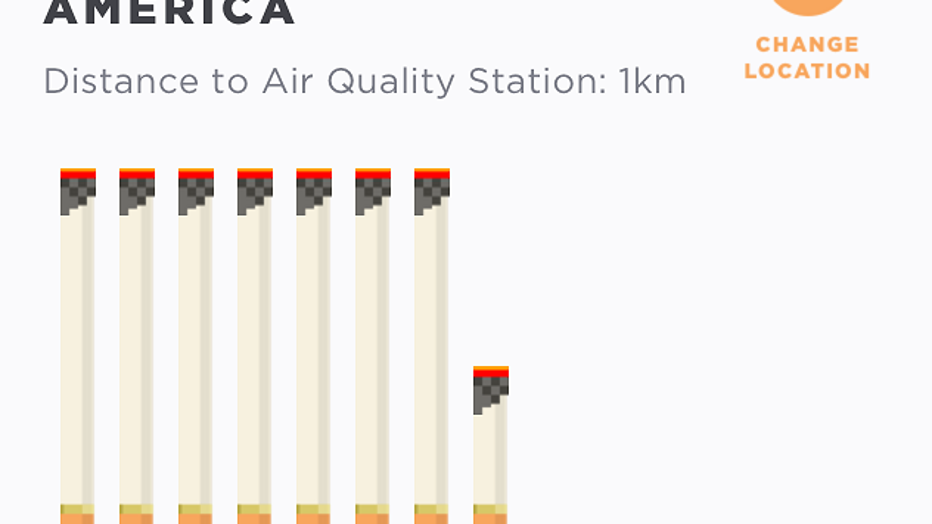 In Port Angeles, its equivalent to smoking 12 cigarettes.




And the butts will just keep coming with bad air quality expected for several more days.

Different things can impact air quality for individuals: wood smoke, coal, traffic, cigarettes, etc. Some harm more than others, but all are considered 'harmful particulate matter' of 2.5 microns or less. Particles of this size can work their way past lung cilia, and into the bloodstream. From there, they can trigger a heart attack, stroke, or even cancers after prolonged exposure.