André Burakovsky excited to be back on ice with Kraken for start of training camp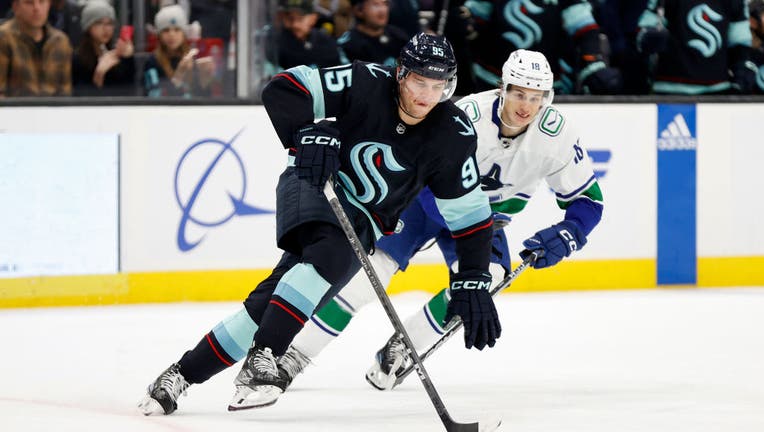 article
SEATTLE - Seattle Kraken winger André Burakovsky got close to making a return to the ice last season only to have that hope pulled out from underneath his feet multiple times in his recovery from a torn groin muscle.
"That happened like three times. It was hard. It was definitely really hard," Burakovsky said.
Now fully healed from last season's injury, Burakovsky was back on the ice with his teammates for the start of training camp on Thursday.
While the Kraken were making a push to Game 7 of the second round of the Stanley Cup Playoffs in May, Burakovsky had to be a frustrated spectator. In two different instances, Burakovsky got within reach of rejoining his teammates at practice before setbacks curtailed the progress made and essentially put him back to the starting line once again.
"I was really, really motivated last year to come back when I saw the guys playing nice and I just wanted to be around the guys and it motivated me to work harder and try to come back," Burakovsky said. "I was close a couple of times to be able to come back and then when you get that setback I mean it's kind of like starting over at zero again. So I mean that was really, really tough and mentally tough too to just think in your head that you're just a couple practice away from being back in playing and then you have a setback again."
After the failed recovery attempts without surgery, Burakovsky had surgery in April to address the injury more directly. Burakovsky had an outside chance of making it back for the Stanley Cup Finals had the Kraken managed to reach the end of the line in the playoffs. With the Kraken eliminated by the Dallas Stars in Game 7 of the Western Conference Semifinals, Burakovsky wasn't rushed to continue his recovery. That process took well into the summer as he did his rehab work back home in Sweden.
Burakovsky's commitment to his rehab kept him from doing any travel over the offseason, much to the chagrin of his girlfriend.
"I didn't travel anywhere. My girlfriend was kind of disappointed in me that I didn't want to travel with her anywhere," he said. "But I felt it was more important to the do the work to come back and be 100 percent when camp starts. It wasn't the most fun summer, for sure, but it needed to be done."
Burakovsky's absence for the playoffs cost the Kraken some potentially significant offensive firepower. When he went down just 21 seconds into a February 7 game against the New York Islanders – the first game after the All-Star break – Burakovsky was the team's leading point scorer. In 49 games played, Burakovsky had 39 points on 13 goals and 26 assists primarily on the team's second line with Alex Wennberg and Jaden Schwartz.
Burakovsky was excited watching what his teammates were able to accomplish in taking the Dallas Stars as far as they could in a 2-1 loss in Game 7 of the second round.
"I was pumped. I was really pumped," Burakovsky said. "It was a lot of fun to watch. I mean, every single guy worked their ass off out there and competing and blocking shots, doing all the tough things. So I was really proud of the team, what they were going through and how they were battling and winning games and competing. But at the same time, you know, you just want to be a part of it. I was really proud of the guys, the way they played and it was fun to watch. It was definitely a good run."
With the Kraken looking to make a return trip to the playoffs this year in a Pacific Division that is bound to be extremely competitive, having Burakovsky back as a full-time contributor would be a welcome boost.
"It's nice to see him," head coach Dave Hakstol said. "It's been a long road back for him since just off of the All-Star break last year. That's a long time and there was some disappointment in there for him. I mean, he watched his teammates go through a push to not only get in the playoffs, but find some success in the playoffs and that's hard as a player. You know, we all know that Burky was doing everything he could to work his way back in. But, you know, that wasn't meant to be last year. So he's done the work over the summer and this is our first look at him here today. It's nice to see him back there with the group."
While it's just one day of training camp, Burakovsky is glad to be back on the ice.
"It feels really good," he said. "I mean, I missed being on the ice with these guys competing, being out there and just be a part of it, you know, be around in the locker room and be a teammate. It feels really good to be back and I'm really excited about it."