Cano is MVP as 10th-inning homer gives AL 2-1 All-Star win
MIAMI (AP) — A new-look All-Star Game ended with an old-time score.

Robinson Cano homered off Cubs closer Wade Davis leading off the 10th inning and the American League beat the National League 2-1 Tuesday night in an All-Star Game dominated by this era's flame-throwers, rather than its standout sluggers.

Craig Kimbrel wiggled out of a jam in the ninth and right fielder Justin Upton made a lunging catch in the 10th to help the AL win its fifth in a row. And for the first time since 1964, the rivalry is all even — 43 wins apiece with two ties, and each side has scored exactly 361 runs.




Miguel Sano put the AL ahead in the fifth with a bloop RBI single off Alex Wood. Yadier Molina tied it in the sixth with a home run against Ervin Santana.

Molina had just entered behind the plate in the top half and snapped off an All-Star first — Nelson Cruz pulled a phone out of his uniform pants and asked the catcher to snap a photo of him with umpire Joe West.

Davis wasn't with the Cubs last fall when they won the World Series for the first time in 108 years. He was acquired in a trade from Kansas City to fortify the bullpen, and was the only Cubs player in this showcase. Chicago has struggled this season, going into the break at 43-45.

Cano, the game's MVP, sent a hanging curve off the back wall of the right-field bullpen, then blew a bubble with his gum when rounding the bases.

Cano's homer came exactly 50 years after the previous All-Star Game to end 2-1 in extra innings, when Tony Perez hit a tiebreaking 15th-inning homer off Catfish Hunter in the NL's 2-1 win at Anaheim, California. Perez, now a Marlins executive, was among eight Latin-born Hall of Famers who threw out ceremonial first pitches.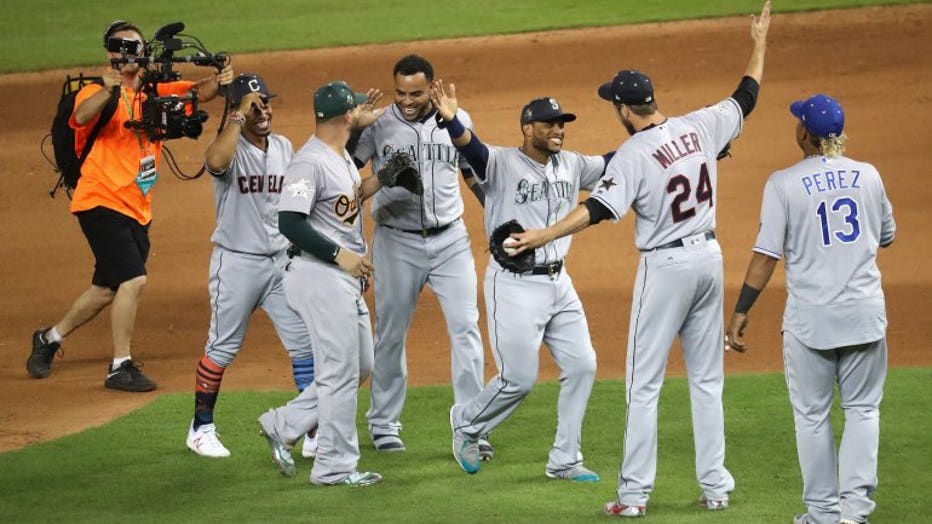 Robinson Cano #22 of the Seattle Mariners and the American League celebrates with teammates after they defeated the National League 2 to 1 during the 88th MLB All-Star Game at Marlins Park on July 11, 2017 in Miami, Florida. (Photo by Rob Carr/Getty