'Enough is enough! Stop bullying Beast Mode!' Fans target NFL in online petition (VIDEO)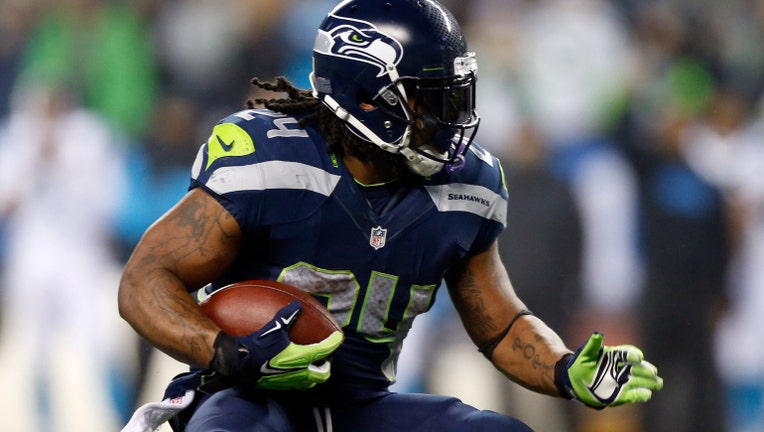 article


SEATTLE -- Fans are not happy that the media keeps pestering Seahawks running back Marshawn Lynch to answer their questions after each NFL game.

The league fined Lynch at total of $100,000 earlier this season for not speaking to the media.

Since then, Lynch has taken a different approach and started giving the same answer to each reporter's question.

After the Seahawks win against the Carolina Panthers on Sunday, the media once again descended on Lynch.

"So, y'all gonna try again? That's what we gonna do?" Lynch said.

He went on to answer each reporters question by saying "I'm Thankful."




After the last game he replied to each question, "Thanks for asking."




And, of course, there's the infamous "Yeah" presser.




Now, a fan has started an online petition asking the NFL to revise its policy requiring players interact with the media.

Wendi Bromlie posted the petition on January 11 and it already had several thousand signatures just a day later.

Here's the petition:

As a 12, I am calling on the NFL to revise its media policy so that all players are given equal and fair rights as a human being without fear of financial intimidation.

As a fan, I have witnessed enough harassment and undeserving consequences regarding Marshawn Lynch due to his very obvious anxiety interacting with the media. I feel, and many agree, that what you are doing is wrong. You advocate against bullying and domestic violence, but force your players into uncomfortable situations? With a fine attached? There are other players willing to talk to the media and it should be a personal choice.

Your rules state "Reasonable cooperation with the news media is essential to the continuing popularity of our game and its players and coaches." I don't feel your rules are reasonable as they read currently, considering the only benefit "popularity" wise the NFL gets by bullying Marshawn is money out of his paycheck. This is not ok. And it needs to change because its unnecessary and cruel, as well as hypocritical.

Enough is enough!

NEXT:  Green Bay Packers to change up, arrive in Seattle earlier to prepare for Hawks