Report: Ray Rice wins appeal, eligible to play in NFL again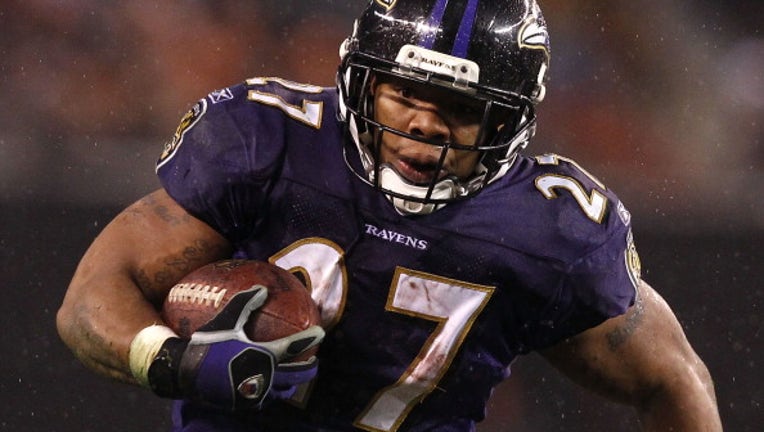 article


WASHINGTON -- Former Baltimore Ravens running back Ray Rice has won his appeal of his indefinite suspension by the NFL for violating its domestic violence policy, the players union said Friday.

"The suspension has been vacated," George Atallah, the assistant executive director of external affairs for the players' union, said.
Rice issued a written statement thanking his supporters, "most importantly, my wife Janay."
"I made an inexcusable mistake and accept full responsibility for my actions," Rice said, referring to two disturbing videos that show him knocking out his now-wife, Janay Rice, on an elevator in a casino in Atlantic City on February 15. "I am thankful that there was a proper appeals process in place to address this issue."
He said he will continue to work hard to improve himself and learn from his mistakes.
Former U.S. District Judge Barbara Jones, a neutral arbitrator, presided over Rice's appeal hearing in New York earlier this month.
Her decision, which said the NFL had no right to change the length of his suspension, means Rice is immediately able to play.
In September, hours after the Ravens cut Rice, NFL Commissioner Roger Goodell lengthened Rice's suspension from two games to an indefinite period.
"Because Rice did not mislead the commissioner and because there were no new facts on which the commissioner could base his increased suspension, I find that the imposition of the indefinite suspension was arbitrary. I therefore vacate the second penalty imposed on Rice," Jones wrote in her decision.
In August, after outrage over Rice's initial two-game suspension, Goodell announced a new league policy for domestic violence and other assaults. First-time offenders would be suspended at least six games and a second offense would draw a lifetime ban. But he didn't alter Rice's punishment at that time.
Provisions of the initial suspension -- which include counseling, not getting in legal trouble again and not getting in trouble with the NFL again -- still stand, she wrote. The two-game suspension would have ended in September.
A spokesman for the NFL, Greg Aiello, said the league respects the decision.
It is questionable that Rice will return to the field this season.
"If a team wanted to sign him and put him on the field that could happen but we're not expecting that to occur any time soon," CNN's Rachel Nichols said. "If you're a team that needs a running back, are you going to sign Ray Rice knowing the backlash against him, knowing how people in the public feel about it?"
Still, winning is the most important thing in the NFL, she said, and there is a possibility Rice could get a new contract if a new team thought he could help it win games.
TMZ Sports obtained two videos from the footage taken from surveillance cameras of the altercation with Janay Rice in Atlantic City. It posted the first one, which showed Rice dragging Janay Rice -- limp and face down -- out of the elevator, shortly after the incident. The in-elevator video showing the violent punch was put online September 8, the same day Rice was released and suspended.
Rice, 27, is currently a free agent. He was a three-time Pro Bowl selection in eight seasons. He played on the Baltimore Ravens' Super Bowl championship team in 2012 season.
"We are aware of the ruling. Our owner has already stated that we will not resign him," the Ravens said in a statement