Seahawks CB Riq Woolen appears unlikely to play against Panthers; Mike Morris placed on IR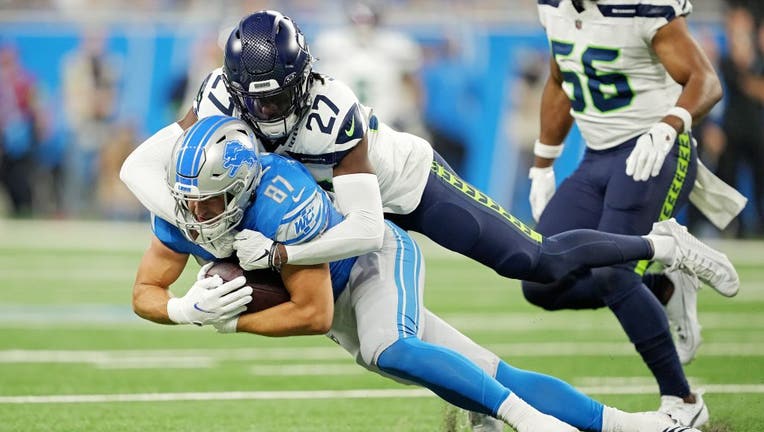 article
RENTON, Wash. - Cornerback Riq Woolen appears unlikely to play for the Seattle Seahawks this weekend against the Carolina Panthers due to a shoulder injury sustained in Sunday's victory over the Detroit Lions.
Woolen has an injury to the SC (sternoclavicular) joint in his left shoulder that occurred on a tackle of Lions receiver Antoine Green in the first half of Sunday's game. Woolen was unable to finish the game and was replaced in the lineup by Tre Brown at right cornerback.
"He's pretty sore," head coach Pete Carroll said. "It's going to be a pretty good recovery for him to get back."
Carroll said both after the game and on Monday that Woolen's injury isn't significant. That doesn't mean it won't keep him out of playing this week, however. Carroll's comments indicate that is a definite possibility.
Woolen ultimately played just 11 total snaps before having to exit the game in Detroit. Brown performed admirably well in Woolen's place as he had a sack, a forced fumble and an interception that he returned for a touchdown.
"Tre Brown had a great football game last week," Carroll said.
Meanwhile, wide receiver DK Metcalf is expected to be OK to play this week after injuring his ribs on the opening drive of the win over the Lions. Metcalf finished the game after an early trip to the locker room and had six catches for a team-high 75 yards in the game.
Metcalf said he was "feeling pretty good" prior to Wednesday's practice and Carroll added he should be OK this week.
"He's going to make it through the week, he'll be all right," Carroll said. "We'll take care of him, but he's going to be all right."
In addition to Woolen and Metcalf, seven other players sat out of practice on Wednesday. Four of those players were new additions to the injury report: tight end Will Dissly (shoulder), cornerback Coby Bryant (toe), safety Julian Love (hamstring) and nose tackle Jarran Reed (groin).
The injuries to Dissly and Bryant – along with Woolen –  appear to be the impetus behind several roster moves the team made this week.
Tight end Brady Russell was signed off the practice squad of the Philadelphia Eagles for additional tight end depth while cornerback Artie Burns was signed to the active roster from Seattle's practice squad. Burns had already played in each of the team's first two games after being a practice squad elevation prior to each contest. He played 15 defensive snaps against the Lions on Sunday.
Will is a little banged up," Carroll said. "He's had a shoulder that's been bothering him. The other two guys are ok. Noah (Fant) took a good shot, but I think he's going today."
Russell signed with the Eagles as an undrafted rookie out of Colorado. He appeared in 49 games during his career at Colorado, finishing with 78 career catches for 799 yards and three touchdowns. He flew to Seattle this morning after getting word of the move at around 5 p.m. ET Tuesday night in Philadelphia.
"Oh, it's unbelievable. Yeah, dream come true," Russell said. I got the call yesterday from my agent and he's like 'can you step outside real quick where no one can hear you?' and I was like, 'yeah.' He was like 'hey, Seattle is claiming and I'm just like outside by myself tearing up a little bit like 'oh my gosh! This is it!'"
Russell said he was actually in the bathroom when Carroll called to say hello for the first time.
"'Hey this is Pete Carroll.' 
"'Oh shoot," Russell relayed. "What's going on here?' You don't expect that every day."
Meanwhile, Burns had a strong training camp for Seattle an initially made the team's 53-man roster before being released and re-signed to the practice squad.
"This is by far the best we've seen Artie. He's been the most consistent and the most directed all the way through the offseason. I'm really glad for him that he's elevated his play," Carroll said.
Rookie defensive end Mike Morris was placed on injured reserve and is expected to miss the rest of the season following an upcoming shoulder surgery. Linebacker Tyreke Smith was also waived to clear roster spots for the additions of Russell and Burns.
Carroll said that Morris' shoulder injury just got to the point where they couldn't try to push through it any longer.
"It's aggravated to the point where this is the best thing we can do to get him well. He's going to get operated on," he said. "They're figuring out when to do it. There's not a rush to do it, but he'll do it in the near future. I would think in the next week or so. It's really unfortunate. Mike had done such a good job with us, had made such a good impression on us and we had a whole role mapping out for him to fit in. We just have to put it on hold. 
"He's sick about it, we're all sick about it, but that's what happens sometimes. We have to get him right and fix him up. This is a surgery that takes months to recover from. He will recover, he'll be fine, but it just takes a while."
For Smith, they just needed the roster spots and he was the odd man out at the moment.
"We got some roster deals that we had to work out and sometimes you just have to make some decisions. He's done a nice job so far and this is a roster move that we had to make," Carroll said.
With Love out of practice due to his hamstring injury, safety Jamal Adams had a chance to fully participate in practice for the first time since suffering a quadriceps tendon tear in his leg in last year's regular season opener. Carroll said they continue to take things cautiously with Adams as he nears a return, but he is getting closer to being able to play.
"There's always the possibility that the guy can play because he's practicing with us, and he'll go full-go today and have a great week, I hope," Carroll said. "We're planning on making sure that we don't do it until the time is exactly right so we're trying to just measure that. Sensing from how he feels, he's really excited about how close he is now. We'll see what happens."
Carroll spoke before practice and didn't give updates on Bryant or Reed and their status for this week.
Center Evan Brown (knee) and guard Phil Haynes (calf) were limited in practice. Fant (ribs), Adams and outside linebacker Derick Hall (shoulder) were full participants.
Carroll said it's still unlikely that tackle Jason Peters is able to play this week. Seattle signed Peters last week as Charles Cross and Abe Lucas were set to miss the game with injuries. He had been at home and had not been in training camp with anyone, so he was starting from the ground up last week. The 41-year-old veteran was going to need some time to acclimate and get up to speed.
"I don't know if it's realistic or not (to play this week)," Carroll said.." We're taking that one week at a time. He came out of the first week pretty good, didn't feel too stoved up at all, and we'll see how this week goes. Two to three weeks is probably, at least, what it should take. Maybe by the end of the week he could be available. But by next week, if he makes it through and everything goes smoothly, then we'll really be talking about his availability."
Cross is improving from his toe injury sustained against the Los Angeles Rams in Week 1. However, he did not practice on Wednesday either and is still day-to-day.
"He's getting better. He's feeling more confident and he's making progress. It's a day-to-day observation to see how he's making progress," Carroll said.
Lucas had a procedure done on his knee and is recovering while on injured reserve. The 'patella area soreness" Carroll described required further intervention from the team after he was unable to finish the Rams game.
"He can already sense a little bit of improvement and that's a good sign because sometimes it takes quite a while for the effect of it," Carroll said. "He's doing fine and he's getting around fine. He hasn't hobbled at all and he's continuing to work out as he is able. I don't have a timeline for you on that, but good results so far."
Lucas isn't eligible to return until after the team's Week 6 game against the Cincinnati Bengals.
The Seahawks also signed defensive back Teez Tabor to their practice squad. Tabor appeared in 10 games with Seattle last year as a reserve safety.
Injury Report: