Seahawks dominate, defeat 49ers 19 - 3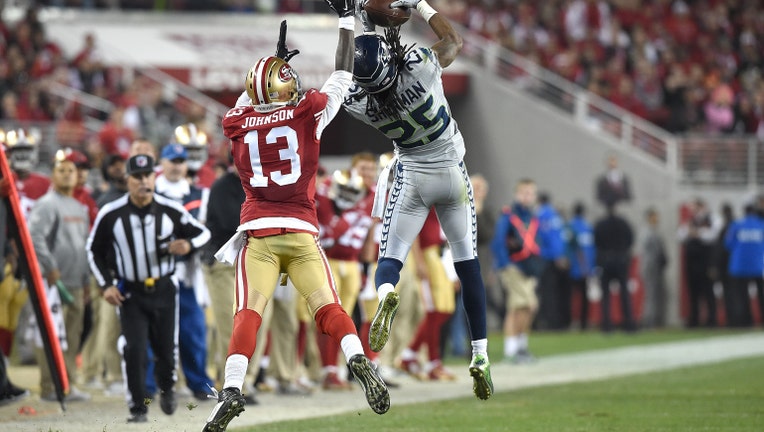 article


SANTA CLARA, Calif. – The Seattle Seahawks defeated the San Francisco 49ers in a Thanksgiving Day battle despite numerous penalties.

The game was a defensive battle… at first. The Seahawks got their offense going late in the 1st quarter after both teams exchanged punts.

Richard Sherman intercepted QB Colin Kaepernick's pass and moved the ball into San Francisco territory. Russell Wilson led the Hawks down to the 13-yard line where he passed the ball short to Robert Turbin who ran for a touchdown. The Seahawks took an early lead 7 – 0.

The 49ers would punt on their next drive. Three plays into the drive, Wilson connected with Tony Moeaki  for a 63-yard gain to the 1-yard line, but the Hawks could not punch the ball into the end zone. They settled for a 21-yard Steven Hauschka field goal.

PHOTO GALLERY: Seahawks battle 49ers on the road >>

San Francisco couldn't get anything going on their next drive and punted after a quick 2-minute drive. The Hawks moved the ball from their own 40 yard line down to the 49ers 17, but on 3rd down & 1 to go couldn't convert. Hauschka kicked a 36-yard field goal to put the Hawks up 13 – 0 going into halftime.

To start the 2nd half, Wilson and the Hawks drove down the field 65-yards in a 6:55 drive. Lynch had a breakout 33-yard run to move the ball to the SF 9 yard line.

Wilson found Paul Richardson for what would have been a touchdown, but it was called off because of offensive pass interference by Robert Turbin away from the ball. The Hawks would kick a 35-yard field goal to go up 16 – 0.

On their next drive, the 49ers finally got on the board. They capped off a 6:59 drive with a 40-yard Phil Dawson field goal late in the 3rd quarter.

The Seahwks kept at it in the 4th quarter starting off the drive with a 16-yard carry by Marshawn Lynch. Later Wilson found Jermaine Kearse for a 17-yard gain into San Francisco territory

A few plays later, Wilson fumbled the handoff to Lynch, but Beast Mode recovered. On 2nd down, SF sacked Wilson for a loss of 8 and the Hawks brought out Hauschka who booted a 46-yard field goal. Hawks led 19 – 3.

The 49ers were on the move later in the 4th – until Richard Sherman came away with his second interception of the day.

The Hawks took their time getting down the field and ran down the clock to the two-minute warning before turning the ball over on 4th down. Kaepernick and the 49ers ran out of time.

Hawks win!