Seahawks hope to get back to .500 vs. flailing Cardinals team starting rookie QB
SEATTLE – It's still blistering hot in the desert, but it's nonetheless the perfect time for a trip to Arizona.

The Seattle Seahawks will be in Glendale, Ariz., on Sunday looking to improve to .500 with a game against the staggering Cardinals. Temperatures are expected to reach nearly 100 degrees.

While Seahawks fans have been fretting their team's 1-2 start, stats and circumstances make things feel even worse for 0-3 Arizona.

How bad is it?


That rookie quarterback could end up being a pretty good one, of course. Josh Rosen was the No. 10 overall pick out of Cal in April, the fourth QB selected in the NFL draft.

The Cardinals named Rosen the starter this week after putting him in for Sam Bradford mid-game during last Sunday's loss to the Bears.

Seahawks Coach Pete Carroll said last week that Rosen presented a problem as the Seahawks prepared for Sunday's game.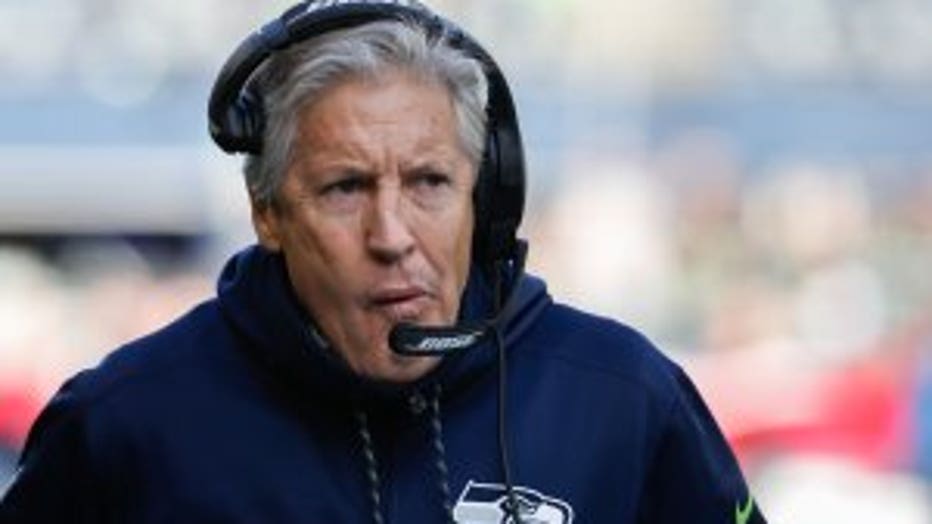 SEATTLE, WA - DECEMBER 31: Seattle Seahawks head coach Pete Carroll walks the sidelines before the game against the Arizona Cardinals at CenturyLink Field on December 31, 2017 in Seattle, Washington. (Photo by Otto Greule Jr /Getty Images)


"The challenge is how they're going to utilize him, and how they're going to mix their stuff and what they think," Carroll said. "We won't know until they play. We have to go on what they've done but anticipate that  we may have to adjust and we'll just have to wait and see.  He's a real capable thrower – he can throw anything – so it's not like we can narrow down and figure out what they're going to do. We don't know right now. So, we're going to play good football and adjust as the game goes."

The Seahawks have had more than their share of success in Arizona the last few years, and at times have even appeared to have a home-field advantage there. Glendale's a short trip for fans who live in the Pacific Northwest, and more than a few retirees from Western Washington wind up in the Phoenix area.

The Seahawks have won four of their last five games against the Cardinals at the venue formerly known as University of Phoenix Stadium, and the only one they didn't win was a brutal 6-6 tie in 2016. (They did lose once in that time period, a 28-24 loss to the New England Patriots in Super Bowl XLIX that we won't discuss further.)

Taking some of the burden off Rosen on Sunday will be fourth-year running back David Johnson, who missed almost all of last season to a dislocated wrist after being named an All Pro in 2016.

Seahawks linebacker Bobby Wagner said he expects the Cardinals to try to get Rosen in a rhythm with some quick passes, then focus on running the ball with Johnson.

"That's what I expect them to do is give him the ball, especially because he hasn't gotten too many touches over those games (so far)," Wagner said. "I believe that's their best player, and you've got to give your best player the ball. He'll make the plays when he makes the plays, but if they let me blitz, I'd love to hit him. I'll figure out how to set him down nicely."

Carroll said there's been a new development in the NFL in recent years, with young quarterbacks catching on much more quickly than they had before.

"I'd go all the way back to when (Matt) Stafford came in (and started 10 games for the Lions as a rookie in 2009)," Carroll said.  "…It's about the time guys started making the transition easily. (Joe) Flacco, when he started up. Those guys kinda kicked it into high gear right away. It just started speaking to the preparation that the guys have had growing up, and they've just been throwing the ball more. You throw a curl route, and it's a curl route. Guys get used to it and then they can make the transition, and they've just been really active and part of it early on. I think you have to expect that to happen now."

Seattle will face the Cardinals at 1:05 p.m. in the newly renamed State Farm Stadium in a game that will be televised on the official home of the Seahawks, Q13 FOX.