Takeaways from Seahawks 29-26 win over Commanders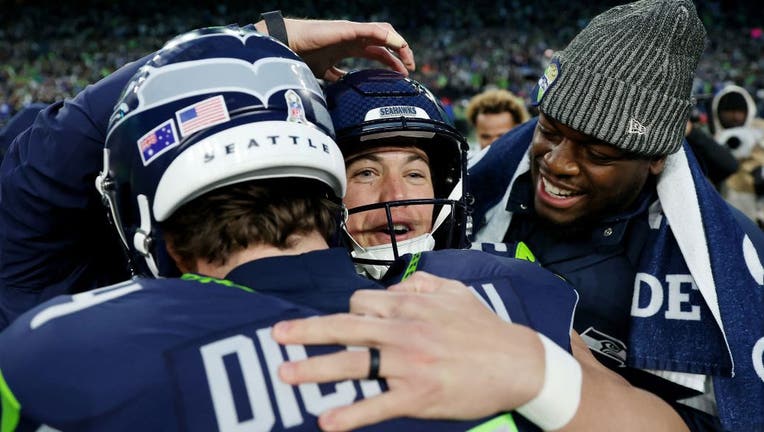 article
SEATTLE - The Seattle Seahawks desperately needed a bounce back performance to feel good about after last week's massacre on the road against the Baltimore Ravens. While the showing against the Washington Commanders on Sunday wasn't perfect, there were enough positives to come out of Seattle's 29-26 victory to feel as though things have gotten back on the right track.
"I felt like just to get a win coming back after last week, felt like we did a lot of uncharacteristic things in that last game, and it was important for us to kind of get back to who we are today, and I felt like we did that," quarterback Geno Smith said.
Smith threw for a career-best 369 yards and two touchdowns, which included authoring his third game-winning drive in the fourth quarter or overtime this season. He also led game-winning drives in Seattle's overtime win over the Detroit Lions in Week 2, and in the closing minute of the fourth quarter against the Cleveland Browns two weeks ago.
"I thought he was almost perfect, all but maybe once perfect," head coach Pete Carroll said of Smith's performance down the stretch. "The throws he had to come up with, the calls, the poise, the cadence, running the club, the whole thing. He was perfect. I thought he was just exactly what we would hope we can see in him."
While the Commanders aren't a great team, they are a frisky team that has four wins and played two extremely competitive games against the Philadelphia Eagles in losses. It took until deep into the second half for Seattle's offense to hit its stride, but Smith and crew did enough to get the win they needed and gain some confidence from the way they closed out the victory.
Here are the takeaways from Sunday's win over the Commanders:
– Seahawks offense finds its stride in second half.
While it was a slow start for Seattle's offense with a few mistakes thrown in as well, the group rebounded with a big second half showing.
Smith went 15-of-20 after halftime for 217 yards and both touchdowns. Ken Walker III's 64-yard catch-and-run touchdown seemed to break the seal for the Seahawks offense and helped fuel the second half surge.
"It was a lift because we have been fighting every step of the way," Carroll said. "We needed something big to happen to have some fun and feel it. He came through in a great way."
Walker took a dump off pass from Smith and raced up field while getting key blocks from Jake Bobo and Tyler Lockett to clear a path for him into the end zone. The touchdown was the longest play of the season for the Seahawks, surpassing Drew Lock's 51-yard pass to Noah Fant in the victory over the New York Giants.
"I think that was good for our momentum," Walker said. "We haven't been doing as well as we have been wanting to on offense. I think that was good, and practice was good to just come together the way we did throughout the week."
The Seahawks scored on each of their final three drives of the game, which included a 5-yard touchdown pass to Tyler Lockett and a perfectly executed seven-play, 50-yard drive the final 52 seconds of the game to get the game-winning field goal. Smith was 9-of-12 for 100 yards passing over the final two drives.
"This was a good test," tight end Will Dissly said. "Just to come out here and keep playing ball all the way through the fourth quarter. This shows the kind of guys that we have in our locker room. Especially coming off the game that we had previously. Just a credit to our guys for winning all four quarters. Big shoutout to DK [Metcalf] for making those catches in overtime. And [Jason Myers] too."
Speaking of Myers…
– Jason Myers has rebounded from slow start to season and delivered game-winning kick.
Jason Myers miss three of the first six field goals he attempted this season. But after that poor start to the year, Myers has reverted to the reliable kicker the Seahawks believe in.
Myers converted all five field goals and two extra points tries he attempted on Sunday, including the game-winning 43-yard field goal as time expired to give the Seahawks a 29-26 victory.
"Jason Myers had a great day today," Carroll said. "Not just the five field goals, but the five field goals under pressure. He needed some pressure kicks today, and Chris Stoll and Mikey came through with him to function just perfectly to get the kicks done. It was a great day for Jason. We're going to need him. We're going to need him all the way down the stretch. This was a good game for his confidence boost, reminding us who he is."
Myers has made 17 of his last 18 field goals over the last seven games the Seahawks have played. The only miss coming on a 53-yard attempt against the Giants that was pulled just wide left. He's converted his last 12 field goal attempts overall.
"I try to keep it all the same," Myers said. "You know you learn through different kicks, different situations, how to prioritize that more and more. But that's the nature of being a kicker in the NFL. You are going to be in those situations. I love those situations, so it's been fun."
Carroll said that Myers has earned the faith the team has in him and he had confidence Myers would get back on track after a rough start to the year.
"He's the real deal, and he's a great kicker, and shoot, he showed you again today," Carroll said. "It doesn't mean everybody hits everything forever. They go up and down and they have a couple misses here and there and then you fight your way back to who you are, and he's a fantastic player."
– Devon Witherspoon and Boye Mafe continue to produce as budding stars on Seattle defense.
The Seahawks continue to see strong play from a pair of their young defenders.
Boye Mafe's third quarter sack of Sam Howell gave him a sack in seven straight games, which is a new franchise record. Michael Sinclair had previously held the record with sacks in six straight games split between the end of the 1997 season and first four games of the 1998 season.
Mafe has a single sack in each of those seven contests to give him seven for the year.
"Seven straight? I don't know how the heck you do that, but he's doing it, and really proud of him," Carroll said. "As we've talked about him so much during the season about his growth and really the transition from year one to year two, it's obvious he's playing with the big boys now. He's up in there and having a chance to really put together a great season. He's already had a terrific season. Really fired up for him in that regard.
Mafe nearly had another sack of Howell in the fourth quarter on what ultimately ended up being Washington's game-tying play. Howell got the throw away despite Mafe getting in his face after a strong pass rush around right tackle only for Howell's pass to drop perfectly in to running back Antonio Gibson for a 19-yard touchdown.
"This is a testament to the things that we were working on in the offseason," Mafe said. "It's a testament to a lot of guys who wanted to buy in and understand what we had to do this year. Especially [with] where we were last year and how we were getting better in certain situations. It's one of the things we want to strive to get better at and now it's coming to fruition."
Additionally, Witherspoon delivered another turnover as he stripped Howell of the ball on a scramble in the third quarter. Witherspoon ripped the ball from Howell's grasp as he was held up by Witherspoon and safety Quandre Diggs at the end of a 15-yard scramble. The ball came free while Howell was still off the ground suspended on Diggs.
"I knew that. I was celebrating before they even called that. I already knew," Witherspoon said of the fumble.
Witherspoon also had three pass breakups on the day which included a near interception on a pass intended for Terry McLaurin.
"He knew exactly the situation he was in. I've got the quarterback," Carroll said. "I got him held up. I've got a chance. He just out-competed him for the football and got the ball out. It was a great play. But the pass breakups -- I think a couple of them might have been against McLaurin, too, and challenged him right from the get-go. One of the first passes of the game, he's all over him, makes a play. He continues to show us he's a very special football player, and we're lucky to have him on our side."