CAPTURED: Burglary suspect trashed home and ordered porn, say victims


CAPTURE UPDATE Oct. 29, 2018 --

Michael McCall entered a plea of not guilty to a charge of Residential Burglary in Pierce County court after he was arrested over the weekend.  According to the Pierce County Sheriff's Department, a tipster called 911 to report a possible address for McCall after they had seen him featured on Washington's Most Wanted.

Deputies went to the address provided but McCall was not there.  One of the deputies recalled another address on 186th Ave NW in Lakebay that McCall was previously associated with so deputies checked that residence . McCall answered the door and was taken into custody without incident.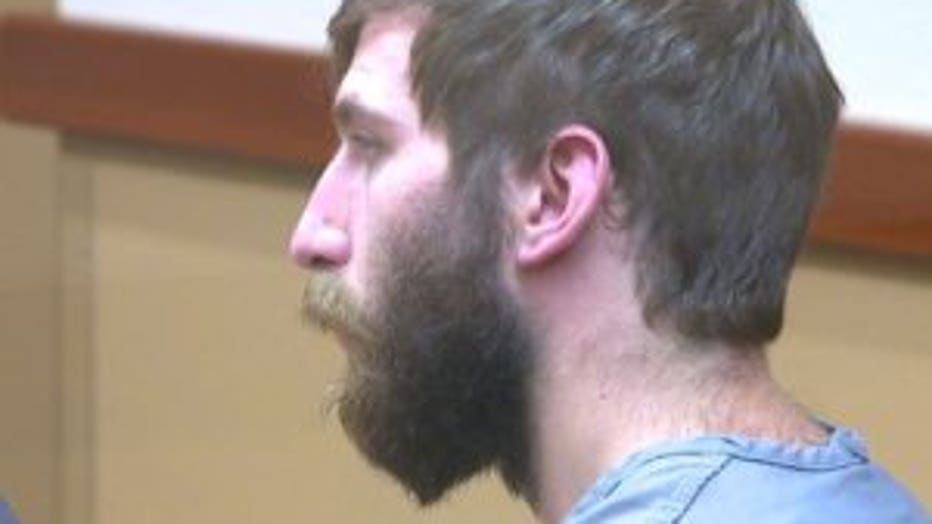 Deputies say he was aware that he was wanted and had a warrant for his arrest.   Citing McCall's lack of significant criminal history, the judge set his bail at $5,000.

————-ORIGINAL CASE————–


WANTED IN PIERCE COUNTY —

Fugitive, Michael McCall, ought to be ashamed of himself. Embarrassed. Humiliated. All of the normal feelings you and I would have if we did what he's accused of.

He's wanted in Pierce County for residential burglary, but that charge doesn't come close to describing the filth and devastation left behind.

What you'll see in the video will leave you questioning how anybody could act like that, without any sense of decency or respect.

His victims want him caught, a retired couple in northwest Pierce County who found an arrow shot into the wall and their kitchen trashed when they returned to their home in Vaughn from a family trip.

"I feel violated. I feel a shiver inside me without stopping."

Cigarettes and urine were all over the floor of their ceramics shop.

"I'd like to poke him in the chest and say, 'I'm very ashamed that human beings like you exist.'

Their bathroom was left disgusting. "And, then put some more layers of toilet paper and more poop, I don't get it."

But worst of all, "He killed my fish."




The couple asked not to be identified for their security.

"I thought this place was safe out here, but apparently it's not." Understandably, they are outraged after Pierce County Sheriff's detectives say McCall basically moved into their home and acted like some kind of 'Goldilocks' from hell. "He called and ordered a bunch of dirty movies, something we never did in our lives."

Deputies found McCall shortly after the crime. You can see him being questioned in photos.

"Not only did he live in the residence and take some of the items, but he destroyed and vandalized a lot of it," said Pierce County Sheriff's Det. Ed Troyer.

Deputies found McCall's compound bow and arrows that matched the one found in their wall. He was arrested on outstanding warrants for DUI and Failure to Appear. Then, when investigators found three good fingerprints inside the home, prosecutors charged McCall with residential burglary. By that time, he'd been released from jail. Now, he is wanted for failing to appear at his arraignment.

"We're betting he's probably broken into somebody else's house doing the same thing, so this is somebody that's living off other people, stealing their property, vandalizing it for now reason so we want to get him picked up and put an end to it," said Det. Troyer.

The victims have spent days trying to clean everything up, to replace the ruined items, to find their peace again. "I'm very happy in this place. It's my place of retirement. I dream all my life of this place."

Now, they have to live wondering if McCall, or some other crook is going to come back. "Well, I hope that this individual is put away for a long time and it would be nice if they did a sweep of the urban woods here and picked up all the urban campers."

His full name is Michael Joseph Jordan McCall.

He's 26 years old, 6'2", 200 pounds with brown hair and hazel eyes.

In addition to the Pierce County warrant, he's wanted for Theft in the 3rd Degree in Kitsap County.

If you know where he's hiding, Crime Stoppers will pay you a cash reward of up to $1,000. Use the P3 Tips App to submit your information, or call the hot line at 1-800-222-TIPS.