4 feet of snow expected in the Cascades this week


SEATTLE -- Western Washington will get a blast of winter this week in the form of rain and wind, but the mountains will get snow. Bad news for travelers. Good news for skiers.

A Winter Storm Warning has been issued for the Cascades extending from Whatcom and Skagit counties to Pierce and Lewis counties. The warning will remain in effect until 4 p.m. Tuesday. A Winter Storm Watch extends through Wednesday morning.




The National Weather Service says heavy snow accumulations of 1 to 2 feet will fall above 3500 feet through Tuesday afternoon, with the heaviest amounts
at Mount Baker and Mount Rainier.

Heavy snow is likely Tuesday night through Wednesday morning with another 1 to 2 feet of snow expected, with a snow level 3000 to 3500 feet.

Be prepared for difficult or even hazardous driving conditions with heavy snow and reduced visibilities at times. Traffic delays and road closures are possible.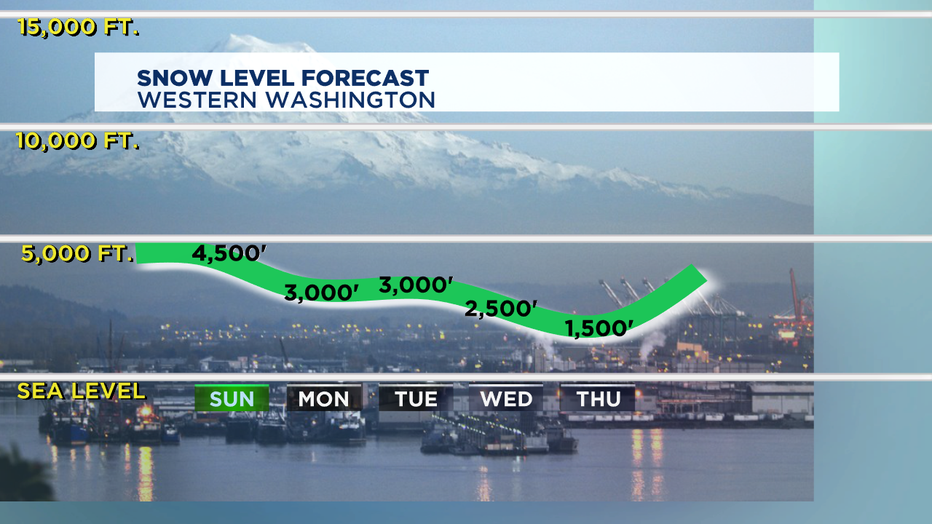 Q13 Chief Meteorologist Walter Kelley said 50 inches of snow could accumulate at the ski resorts by the end of the week.

All of our local ski areas (Crystal/Snoqualmie/Baker/White/Stevens) say if the snow delivers like it's supposed to, they will open before then. Stevens Pass Mountain Resort said they need 2 feet of sustainable snow base before they can open. They already have about a foot of snow.

On Wednesday, the snow level will drop to about 2500 feet. Rain and snow are likely through Thursday.


Who's excited?