Burglary suspect arrested in Kent after leading officers on chase in stolen police cruiser
BELLEVUE, Wash. - Police arrested a burglary suspect who assaulted an officer in Bellevue, stole a police cruiser, and led authorities on a pursuit ending in Kent early Saturday morning. 
According to the Bellevue Police Department (BPD), at around 4:18 a.m., officers responded to report of a burglary in progress at the AutoNation Chrysler Dodge Jeep RAM dealership in Bellevue.
When officers arrived, they found a man trying to steal a safe. When an officer confronted the suspect, he strangled the officer and drove off in a stolen vehicle. Since the suspect assaulted an officer, BPD was able to initiate a pursuit. 
Shortly after the chase began, the suspect crashed head-on into another vehicle near the intersection of NE 8th St. and 124th Ave. NE in Bellevue.
Officers tried taking the suspect into custody, but he ignored their commands, hopped into the driver's seat of a police cruiser and drove off again. 
Several surrounding law enforcement agencies then joined in on the pursuit.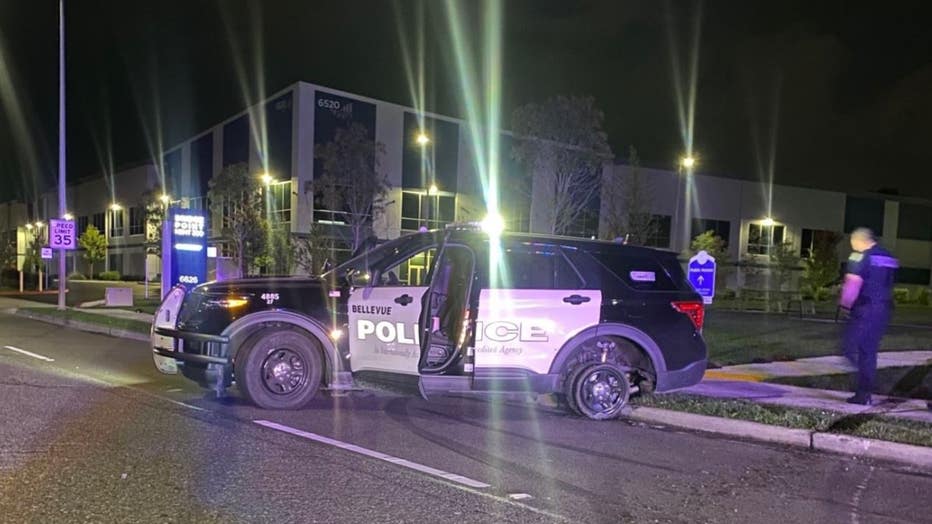 Bellevue Police Department
Eventually, officers were able to deploy spike strips – deflating the stolen police cruiser's rear tires. After gaining the upper hand, a Tukwila Police Officer successfully performed a PIT maneuver on the suspect near the corner of W Valley Hwy and S 228th St. in Kent.
The suspect then got out of the car and took off running, but was ultimately brought into custody by BPD and Tukwila Police officers. 
The BPD says they are still working to identify the suspect.
The officer who was injured in the altercation in Bellevue was taken to a nearby hospital for treatment. They are expected to recover. 
BPD detectives are currently investigating the incident, additional information will be released at a later date.
This is a developing story.