Deputies: Suspect killed girlfriend, wrote gruesome messages on walls before fleeing to Portland


PORTLAND — The suspect in a grisly killing of a Port Orchard woman was spotted driving the victim's car early Wednesday morning in Portland, and led police on a high-speed chase before escaping arrest.

David Kalac, 33, was spotted around 1:15 a.m. in Portland driving a gold 2001 Ford Focus 4-door believed to be taken from his murder victim Amber Coplin, Portland police said.

Police tried to stop the vehicle, officers said, but Kalac allegedly sped away and led police on a high-speed pursuit. He drove across the Ross Island Bridge, and the pursuit was stopped near Southwest 30th Avenue as he was allegedly swerving into oncoming traffic and posed a danger to the community. He was last seen speeding southbound on Barbur Boulevard passing Taylors Ferry Road.

According to Kitsap County Deputy Sheriff Scott Wilson, Portland found the car abandoned around 4:30 p.m. Wednesday. The sheriff's office will send a team to bring the car back to Kitsap County.

Kalac faces charges of second-degree murder and domestic violence after the body of his girlfriend, 30-year-old Coplin, was found Tuesday in South Kitsap, the Kitsap County Sheriff's Office said.




According to court documents, a family member called police around 3 p.m. Tuesday saying he found the victim who was bloody and bruised at her home in the 4020 block of Madrona Drive SE. Deputies arrived on scene and found Coplin dead.

Scanning the house, detectives found various notes reportedly left by the killer. On Coplin's drivers license was the words "dead." Writing on the walls read "she killed me first" and "bad news."

Coplin's family member living with her reported hearing Coplin and Kalac fighting Monday night, documents show. When the family member left the home Tuesday morning, he saw neither Coplin or Kalac, and assumed they were sleeping in.

Kalac never returned to the home Tuesday and police noticed his clothes and electronic items were gone.

Kalac has a criminal history and has previously been charged with felony assault, felony harassment including threat to kill, theft, malicious mischief and drunk driving. Those crimes were in Kitsap County, with the most recent charge coming in April.

Police said Coplin was the victim of homicidal violence and the Kitsap County Coroner will make determine the cause of death.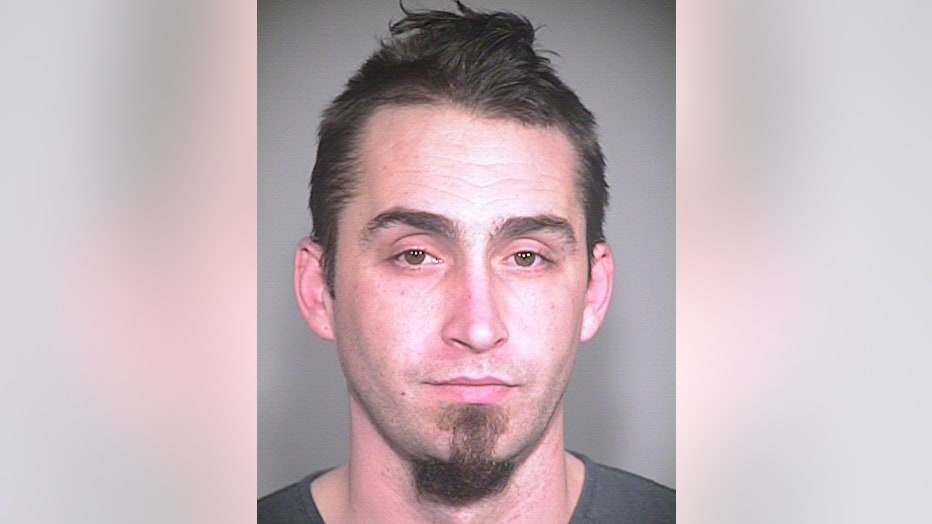 David Kalac, photo courtesy Portland Police


Along with the crime scene, police are focusing on a set of photos posted to various image hosting sites purported to be of the woman's death. The photos were posted anonymously. However, text accompanying the pictures implies the person responsible for the killing took the photos and posted them online before authorities were alerted to the body.

Detectives believe the women in the pictures was Coplin.

The suspect vehicle is a gold 2001 Ford Focus 4-door, with Washington plates 495-YLY. The two back tires are spare car tires, officers said.

Kalac is white, 6'2″ tall, 220 pounds. He has brown hair and brown eyes. He now has an active warrant for second-degree murder.

He is believed to be armed and dangerous.

Anyone seeing the vehicle or Kalac is asked not to approach but immediately call 911.

For more on this story, click here.