'EVERYTHING'S GONE': More bodies expected in tornado aftermath


Moore, Oklahoma (CNN) -- Even for a city toughened by disaster, Moore has never seen this kind of devastation.

A massive, howling tornado pulverized a vast swath of the Oklahoma City suburbs Monday, chewing up homes and businesses, and severely damaging a hospital and two elementary schools.

The storm carved a trail through the area as much as two miles wide and 22 miles long, officials said.

The storm killed dozens, but amid the confusion of search and rescue efforts, a precise death toll was hard to come by. Hundreds of people were injured.

Firefighters, police, National Guard members and volunteers worked by flashlight overnight and into Tuesday morning, crawling across piles of debris in a determined search for survivors and victims. Air National Guard members brought in thermal imaging equipment to aid in the work.

Complicating their efforts: downed power lines, hissing natural gas pipes and so much debris blocking roads it was difficult to bring in heavy equipment to help.

Still, more than 100 people had been pulled from the rubble alive since Monday afternoon, the state Highway Patrol said.

Early Tuesday, authorities asked news crews to move satellite trucks from the scene because the idling engines were making it difficult for rescuers to listen for the faint sounds of survivors beneath the rubble.

"We're a tough state. This is a tough community," Lt. Gov. Todd Lamb told CNN on Tuesday. "There is hope. We always have hope. We always have faith."

Plaza Towers Elementary School was in the direct path of the storm. About 75 students and staff members were hunkered down in Plaza Towers when the tornado struck, CNN affiliate KFOR reported.



At one point, an estimated 24 children were missing from the school, but some later turned up at nearby churches.

On Monday, a father of a third-grader still missing sat quietly on a stool outside. Tears cascaded from his face as he waited for any news.

Even parents of survivors couldn't wrap their minds around the tragedy.

"I'm speechless. How did this happen? Why did this happen?" Norma Bautista asked. "How do we explain this to the kids? ... In an instant, everything's gone."

The storm also struck Briarwood Elementary School, KFOR reported.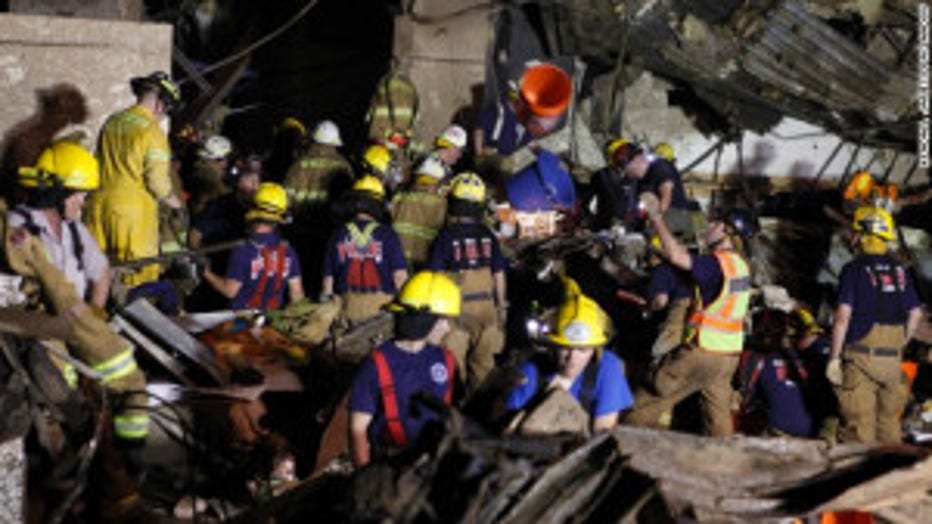 Moore Mayor Glenn Lewis told CNN on Tuesday morning that he had been told four people remained unaccounted for. He was hopeful that at least one or two would be found alive.

And across town, Moore Medical Center took a direct hit.

"Our hospital has been devastated," Lewis said. "We had a two-story hospital, now we have a one. And it's not occupiable."

So 145 of the injured were rushed to three other area hospitals.

That number includes 45 children taken to the children's hospital at Oklahoma University Medical Center, Dr. Roxie Albrecht said. Injuries ranged from minor to severe, including impalement and crushing injuries.

The death toll is unclear. The state medical examiner's office said it received reports of 51 deaths in the early stages of search and recovery efforts Monday. But it said it had received only 24 bodies at its Oklahoma City office.

Earlier, the medical examiner's office said as many as 40 additional people -- roughly half of them children -- would be added to the death toll. More bodies could be hidden under the vast debris field, authorities warned.



Authorities also had to shut down a stretch of Interstate 35 after the storm showered it with debris from nearby homes it had destroyed. The highway was opened again Tuesday morning, the Highway Patrol said.

Not the first time

Moore, and the Oklahoma City region, are far too familiar with disaster. In 1995, 168 people died in the bombing of the Alfred P. Murrah Federal Building in Oklahoma City.

In 1999 and then again in 2003, Moore took direct hits from tornadoes that took eerily similar paths to Monday's storm. The 1999 storm packed the strongest wind speeds in history, Lamb said.

This time, the two-mile-wide twister stayed on the ground for a full 40 minutes, carving its 22-mile path where thousands of residents live.

The tornado first touched down in Newcastle, Oklahoma, before ripping into neighboring Moore.

An early estimate rated the tornado as an EF4, meaning it had winds between 166 and 200 mph, according to the National Weather Service.

Lamb likened the destruction to a "two-mile-wide lawnmower blade going over a community."

State Highway Patrol Trooper Betsy Randolph told CNN affiliate KOKI that it was "mass devastation."

"I'm talking everywhere you looked, the debris field was so high, and so far and so wide, wounded people walking around the streets," she said. "They were bloody, there were people that had stuff sticking out of them from things that were flying around in the air. There were cars crumpled up like little toys and thrown on top of buildings. Buildings that were two and three stories tall that were leveled."

Storm chaser Lauren Hill was part of a team that recorded video of the massive tornado as it ripped through town.

"You could actually feel the vibration from the tornado itself as it was approaching," she said.

"We still have a bit of PTSD," she said. "It's devastating."

Still digging

After the ear-shattering howl subsided, survivors along the miles of destruction emerged from shelters to see an apocalyptic vision. Homes and other buildings were shredded to pieces. Remnants of mangled cars were piled on top of each other. What used to be a parking lot now looked like a junkyard.

"People are wandering around like zombies," KFOR reporter Scott Hines said. "It's like they're not realizing how to process what had just happened."

James Dickens is not a firefighter or medic. He's actually a gas-and-oil pipeline worker. But that didn't stop him from grabbing a hard hat and joining other rescuers at Plaza Towers Elementary School.

"I felt it was my duty to come help," he said Tuesday after a long night of searching.

"As a father, it's humbling. It's heartbreaking to know that we've still got kids over there that's possibly alive, but we don't know."

Hiding in freezers

Hines said rescuers found a 7-month-old baby and its mother hiding in a giant freezer. But they didn't survive.

At the devastated hospital in Moore, some doctors had to jump into a freezer to survive, Lamb said.

Lando Hite, shirtless and spattered in mud, described how the storm pummeled the Orr Family Farm in Moore, which had about 80 horses before the storm hit.

"It was just like the movie 'Twister,' " Hite told KFOR. "There were horses and stuff flying around everywhere."

More trouble brewing

Some 40,000 people remained without power, a utility spokesman said Tuesday.

And the storm system that spawned Monday's tornado and several other twisters Sunday isn't over yet.

Southwest Arkansas and northeast Texas, including Dallas, are under the gun for severe weather Tuesday. Those areas could see large hail, damaging winds and tornadoes.

A broader swath of the United States, from Texas to Indiana and up to Michigan, could see severe thunderstorms.

"We could have a round 3," CNN meteorologist Ivan Cabrera said. "Hopefully, it won't be as bad.