'Extremely disappointed': Big 3 automakers respond as strike begins at Ford, GM, Stellantis plants
(FOX 2) - Big Three automakers expressed disappointment as UAW workers walked out of its plants to strike Friday.
The union called on members at three plants, Ford Michigan Assembly Plant in Wayne, the Stellantis Toledo Assembly Complex in Ohio, and the GM Wentzville Assembly Plant in Missouri, to strike after contacts with the three automakers expired at 11:59 p.m. Thursday. 
It's the first round of the union's "Stand Up Strike." The union's plan is to have workers from a few facilities strike at first and add more depending on the outcome of negotiations. Automakers and the UAW will head to the bargaining table again Saturday in an attempt to reach a deal now that contracts have expired and workers have begun striking.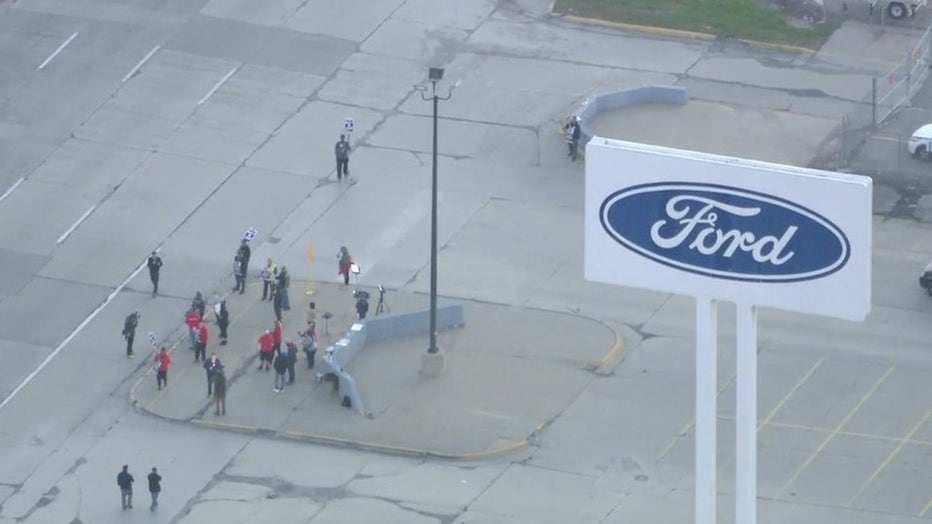 Employees strike at Ford Michigan Assembly Plant in Wayne
All three automakers released statements Thursday night and early Friday, with General Motors and Stellantis both saying that they are disappointed with the union's leadership.
Automakers and the UAW have been negotiating new contracts, with the UAW saying what has been offered isn't enough. 
The union initially was asking for a 46% pay raise, a 32-hour work week with 40 hours of pay, the tier system removed, and restoration of traditional pensions for new hires, among other demands. However, the union said it is now willing to accept a pay raise percentage in the mid-30s.
General Motors statement
"The UAW has informed GM that they are on strike at Wentzville Assembly in Missouri as of 11:59 PM. We are disappointed by the UAW leadership's actions, despite the unprecedented economic package GM put on the table, including historic wage increases and manufacturing commitments. We will continue to bargain in good faith with the union to reach an agreement as quickly as possible for the benefit of our team members, customers, suppliers and communities across the U.S. In the meantime, our priority is the safety of our workforce."
Stellantis statement
"We are extremely disappointed by the UAW leadership's refusal to engage in a responsible manner to reach a fair agreement in the best interest of our employees, their families and our customers. We immediately put the Company in contingency mode and will take all the appropriate structural decisions to protect our North American operations and the Company."
Ford statement
"At 8 p.m. this evening (Thursday) at Solidarity House in Detroit, the United Auto Workers presented its first substantive counterproposal to Ford a few hours from the expiration of the current four-year collective bargain agreement.
"On the key economic issues that matter most to our UAW-represented employees, Ford has submitted four proposals to the UAW since Aug. 29. The last offer Ford submitted was historically generous, with large wage increases, cost of living adjustments, more paid time off, additional retirement contributions and more.
"Unfortunately, the UAW's counterproposal tonight showed little movement from the union's initial demands submitted Aug. 3. If implemented, the proposal would more than double Ford's current UAW-related labor costs, which are already significantly higher than the labor costs of Tesla, Toyota and other foreign-owned automakers in the United States that utilize non-union-represented labor.
"The union made clear that unless we agreed to its unsustainable terms, it plans a work stoppage at 11:59 p.m. Eastern. Ford has bargained in good faith in an effort to avoid a strike, which could have wide-ranging consequences for our business and the economy. It also impacts the very 57,000 UAW-Ford workers we are trying to reward with this contract. Our hourly employees would take home nearly 60% less on average with UAW strike pay than they would from working. And without vehicles in production, the profit-sharing checks that UAW workers could expect to receive early next year will also be decimated by a significant strike.
"Ford remains absolutely committed to reaching an agreement that rewards our employees and protects Ford's ability to invest in the future as we move through industry-wide transformation."