Taylor Swift Eras Tour breaks Marshawn Lynch's 'Beast Quake' record for seismic activity at Lumen Field
SEATTLE - Looking back at Taylor Swift's back-to-back sold-out Eras Tour concerts at Lumen Field, it turns out the Swifties in the stands set off seismic activity as they cheered for the "Shake It Off" pop star. 
Jackie Caplan-Auerbach, a seismologist and geology professor at Western Washington University, measured a 2.3 magnitude "Swift-quake" using a seismometer located near Lumen Field, rivaling the infamous "Beast Quake" in 2011.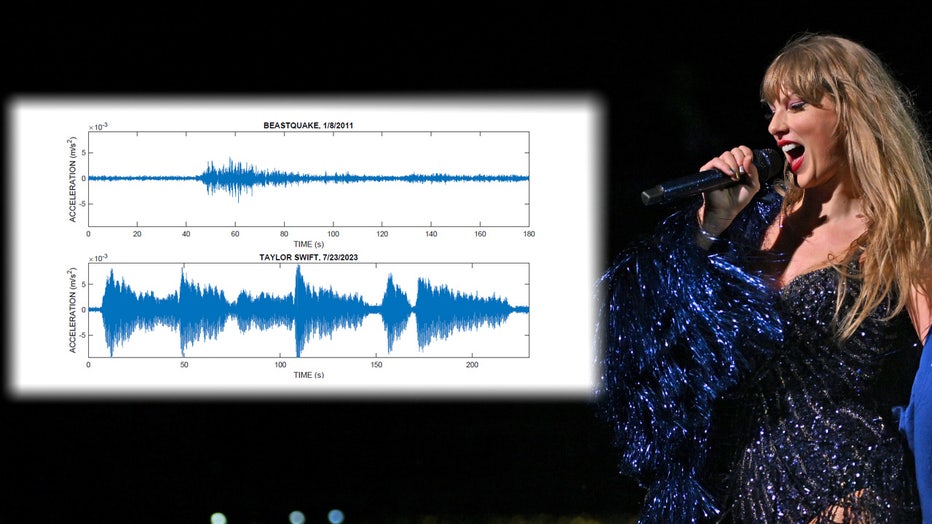 The Beast Quake was a seismic event that occurred at Lumen Field in 2011 when the Seattle Seahawk's Marshawn Lynch scored a touchdown during a playoff game. The crowd's celebration shook the ground at the stadium enough to register on seismometers. 
Caplan-Auerbach says Taylor Swift fans have given the former NFL running back a run for his money.
However, she noted that despite the ground shaking during the Taylor Swift concert, the event was technically not an earthquake.
Now, Caplan-Auerbach is quick to point out that the seismic data from the Beast Quake and Swift Quake may not be a fair comparison. She says that there is a chance that the ground-shaking activity from the Swifties could have been caused by the sound system, while the Beast Quake was likely caused solely by the Seahawk fans.
Looking at the data, the seismologist points out that the largest sounds are in the range of 1-3 hertz, meaning that energy was pushed into the ground at 1.03 times per second. Her guess is that this was caused by fans dancing in the crowd rather than the actual music. 
She looked at data from a seismometer for the two dates Swift performed at Lumen Field and discovered that the line registering seismic activity for those dates was virtually identical, which confirmed the shaking was coming from the concerts. 
When asked how much the Swift concerts shook the ground compared to the Beast Quake of 2011, Caplan-Auerbach noted a significant difference.
"It shook the ground twice as strong as the original Beast Quake," she said. "So, that was fun to see, that this event was really, really quite an energetic event from a seismic perspective."
You can submit your own findings from the Eras Tour concerts to Caplan-Auerbach here. 
Part of this seismic activity is largely influenced by the type of ground upon which Seattle rests. According to Caplan-Auerbach, the geology of the area is a landfill, describing it as soft and soupy. Because of this, ground shaking, such as those caused by raucous fans at a music concert or football game, is amplified.