Group says PSE responsible for 2011 gas leaks and home explosion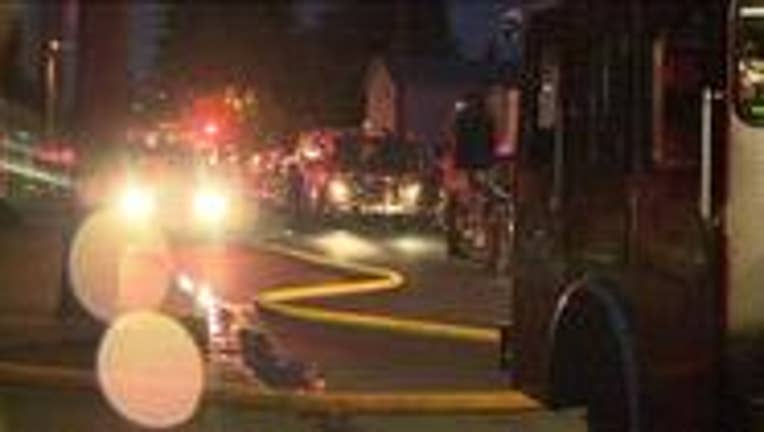 article
SEATTLE -- An electrical current surging from a severed Seattle City Light power line punched a hole in a gas line, leading to an explosion in 2011 that severely injured two people and destroyed a home, the Washington Utilities and Transportation Commission (UTC) announced Wednesday.

The commission investigated the Sept. 26, 2011, explosion at a home in Seattle's Pinehurst neighborhood.



According to the UTC, PSE failed to investigate potential leaks in all the gas lines located in the area after initial odor reports. Shortly after the explosion, Puget Sound Energy (PSE) found four gas leaks between the 9000 block of NE 117th Street and the 11000 block of 17th Avenue NE.

The UTC, a group monitoring safety regulations on PSE's 12,000 miles of natural-gas distribution system, investigated the leaks over the period of a year. The commission found that natural gas leaking from the pipe migrated to a crawlspace in the Pinehurst home, eventually igniting and destroying the building. Adjacent homes were also damaged.

According to the UTC, the leak was caused in the gas pipe line when a downed power line that fell the day before energized a metal fence post, an abandoned buried metal-water pipe and the gas pipe line. The electricity created a hole in the gas piping through a process of "electrical arcing," officials said.

"The hole in the PSE service pipe serving the exploded home was caused by an electricity arcing process that was initiated by a downed Seattle City Light power line," a pipeline safety expert said.

The downed power line caused leaks in at least four locations, creating finger-sized holes in each site. Pipeline safety engineers recommend that PSE incur penalties for violating gas-safety rules. An accurate leak survey might have prevented the explosion, UTC argued, and help recognize other leaks sooner.

"We found that they didn't conduct comprehensive gas survey of all their facilities within the boundaries they identified at the time of the incident.  Had they been able to survey all the known facilities it may have been that they would have been able to identify that particular service as leaking prior to the house exploding,"  UTC spokesman David Lykken said.

Puget Sound Energy supplies natural gas to 785,000 customers and responded to the findings late Wednesday afternoon

"We have found our own need for some improved processes and procedures and will continue to follow what the state regulators are recommending," said Dorothy Bracken of Puget Sound Energy.