Hawks fan's touching gesture to young Packers backer gets attention of Richard Sherman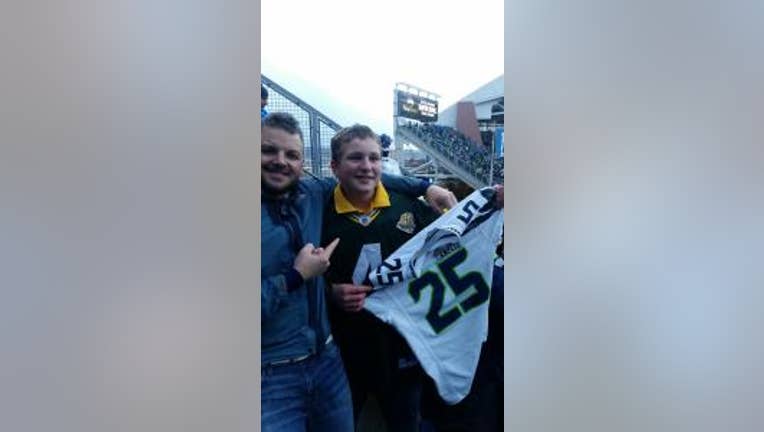 article


SEATTLE -- A Seahawks fan demonstrated what it means to be a good sport, when he gave his jersey to a young Packers fan after the NFC Championship Game on Sunday.

When you're at CenturyLink field, it can feel like you're in a sea of blue and green. But PJ LeDorze knows not everyone is rooting for the home team.

"We're used to a lot of away fans around us, and I always try to chat them up," he says. "I always try to befriend them. They should have a good experience, regardless of what's happening on the field."




So that's what PJ did when the McElravy family from Leavenworth, Wash., showed up. He started chatting with them, even though Tim and his 13-year-old son, Austin, were cheering for the Packers.

"There were a few rowdy fans around them, but they had thick skins and they rolled with the punches."

We reached Tim by phone. He says he had been nervous about what kind of reception he'd get at the stadium.

"We're going to be gracious in victory hopefully, and we'll be gracious in defeat. That's what I told my son."

So when the Packers lost, Austin swallowed his disappointment and congratulated PJ.

"His kind of fist-pumped me and then lept at me and gave me a hug," PJ says. "It just floored me. Here's this kid, the way he handled the loss was better than I handled the win."

PJ decided to give his Richard Sherman jersey to Austin. It was the one he had bought for last year's Super Bowl.

"It meant a lot to me, but the moment meant more."

Tim says he was moved by the gesture.

"It just tickled my heart. It's what a true Seahawk fan is all about. That's what a 12 is."

After the game, he shared a picture on social media to see if anyone could connect him with PJ. Richard Sherman saw the story and reached out to PJ himself, thanking him for being a 12 and offering to replace his jersey.

"That's unbelievable," PJ says. "He's such a class act."

PJ did not expect his act of good sportsmanship to resonate with so many people. But he's glad he's able to show what being a 12 truly means.

"There's a better side of sports. Every now and then we get reminded of that. I'm extremely humbled that I'm able to remind people of that."

Tim says Austin wore his new Seahawks jersey to school Tuesday, and he will be wearing it proudly on Super Bowl Sunday. After all, the Seahawks are his second favorite team.