Here's when UW says its campus cherry blossoms will reach peak bloom
SEATTLE - Due to a colder-than-normal start to spring, the famous cherry tree blossoms at the University of Washington campus will be blooming a bit later than usual. 
The campus said plan your visit for early April if you want to see blooms at their peak. 
"The cold snap has delayed the blooms slightly, but I don't anticipate any damage to the blossoms as a result of the cold weather," said Sara Shores, the UW campus arborist.
As of March 15, the cherry trees in the UW Quad are mostly green buds and a few folded-up petals. 
This week, it's estimated that trees will likely hit a 10% bloom, which means one in every 10 buds has blossomed.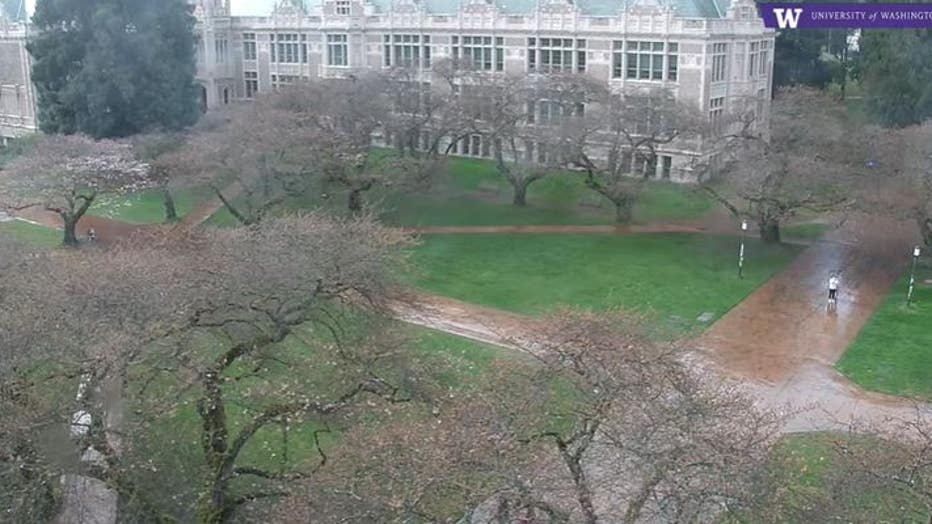 Screenshot from UW's live cam on March 20.
Shores estimates that the trees will reach 70%— which is considered peak bloom — in early April. 
How long blossoms will remain on the trees this year depends on the weather. According to UW, cooler temperatures, less rain and lighter winds all will help keep blossoms on the trees. 
The main species of cherry tree on the UW campus is Yoshino, including the 29 iconic trees in the Quad. The Yoshino cherry trees are nearly 90 years old and were originally set in a grove at Washington Park Arboretum. They were transplanted to their current spot in the UW Quad in late 1964. 
If you want to avoid crowds or just view from the comfort of your own home, you can take a virtual tour of the cherry blossoms at UW here.  You can also view live webcams here.
For those who wish to visit in person, do not climb the trees or shake their branches, since it can cause damage. 
The best time to avoid crowds is to visit on the weekdays or early mornings.