Eastbound I-90 re-opens near Kittitas exit after 30-vehicle pileup
ELLENSBURG, Wash. - A pileup involving more than 30 vehicles forced the closure of eastbound Interstate 90 Wednesday near Ellensburg.
Nearly ten hours after the closure, WSDOT announced that eastbound I-90 re-opened at Kittitas. Travelers should be cautious of dense fog in that area. 
According to the Washington State Department of Transportation (WSDOT), I-90 East was shut down around 5:30 a.m. near milepost 126, about 16 miles east of Ellensburg.
Temperatures were about 20 degrees at the time of the crash along with ice on the roads and fog.
  (Washington State Patrol)
There were multiple collisions. Troopers told FOX 13 News that a semi driver was taken to the hospital, along with at least two other people for minor injuries.
Tow trucks and aid units were headed to the scene.
One of the trucks spilled a load of apples, troopers said.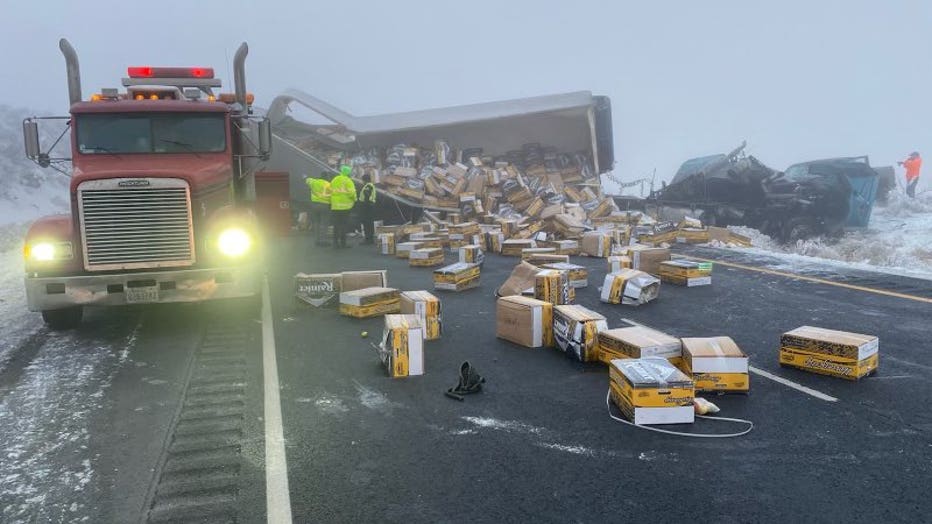 If you're planning to head east from Western Washington, US 2 is an alternative route. Traction tires were advised for Stevens Pass. It was lightly snowing Wednesday morning with some compact snow and ice on the road.