Is this 5-year-old's homework offensive? Mom says yes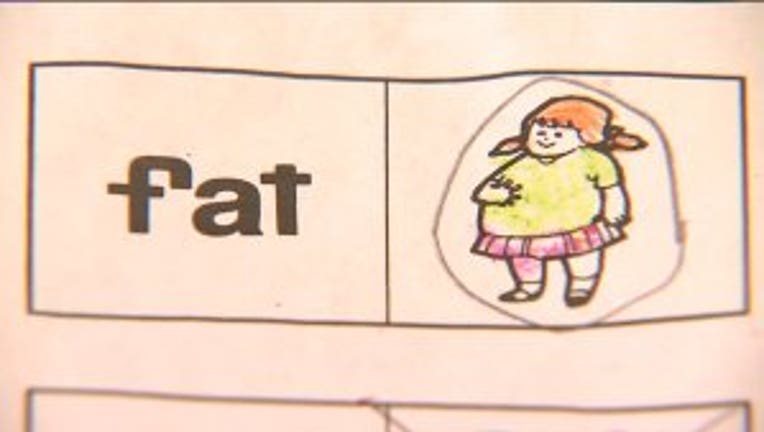 article
UNIVERSITY PLACE, Wash. -- It was the first time Whitney Smith had ever ordered her daughter not to do her homework.

"I told her not to finish; I don't want her looking at it," Smith said Wednesday night.

Her 5-year-old daughter, Saylor Smith, came home from University Place Primary on Tuesday with homework involving word/picture association.



The word "fat" is on the assignment, along with cartoon-like drawings of people with different body types. Children are to circle the word if it fits the picture; to cross out the word if it doesn't.

And that is a big problem for the mother.

"My mouth dropped," Smith said. "I was blown away. I couldn't believe that they would want my kids to pick out the difference between a bigger person compared to a smaller person."

Smith said she went to the school Wednesday with the homework in hand and expressed her concern to a receptionist at the school.

"She told me it was a descriptive word," Smith said. "She goes, 'I  think you are taking it the wrong way. The person that made the workbook probably didn't mean it in that manner'."

Some folks in the neighborhood were asked what they thought of the homework.

"That's not a problem. I don't see anything wrong with it," said Thomas Murphy-Montgomery. "Whether you are 5, 10, 15 or 20 years old you are going to associate fat with fat."

On the other hand, resident Thomas Stokes said, "I think it is very offensive. You shouldn't teach your children on how to discriminate on people as far as weight and height."

"I don't think it's too far; it's a picture and it defines what it means," said fellow resident Monica Sot.

Sot suggested the school next time should use a picture of an animal instead of a person.

But as far as Smith is concerned, the word "fat" should never have been on the assignment and said it can have damaging effects on young kids.

"People are being bullied, and especially kid,s and that is why kids have eating disorders because people are going around saying that person is fat," Smith said. "I never want her to come home and say, Mom,  that kid said I was fat today."

The University Place School District said the superintendent would look into the matter and comment on it Thursday.