2 juveniles arrested in Oregon in connection with deadly Auburn shooting
AUBURN, Wash. - Police are investigating after a shooting left a man dead Tuesday morning in Auburn. 
Around 9:30 a.m., officers responded to a report of shots fired at the intersection of 4th and Auburn Way South. 
According to police, a suspect pulled up next to the victim's car at the stop light, fired shots into the car and drove away.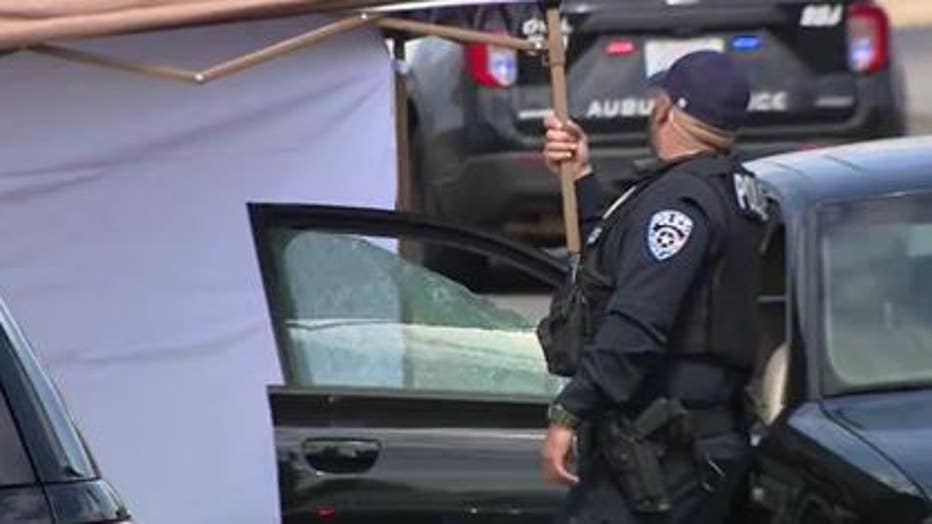 Police said the passenger, a man in his 20s, was shot and died at the scene. 
It's unclear if this shooting was road rage or a targeted shooting.
The shooting occurred at a typically busy time in the neighborhood, putting neighbors on edge. 
"You could see the whole window was completely shattered, but it was still in the window frame," said Jude Cristler, a resident of Auburn.
Cristler was hanging out with friends at the nearby Burger King when he heard the gunfire, just a few hundred feet away.
"We were waiting for our ride to get here and we heard like one single gunshot," said Cristler.
He ran around the building and spotted the damaged car in the intersection.
Witnesses were on the phone with 911 almost immediately.
"They pulled the person out of the car and laid them on the ground," said Cristler. "It was crazy because you could see them like trying really hard to work on this person, but I don't think it was hopeful from the beginning."
"It's pretty random lately. It's like two weeks ago it happened at the Burger King. Now this happened. It's pretty scary," said Jason Gonzales, owner of nearby BTU Tattoo.
Gonzales says the community may have to come together to fight crime, perhaps by organizing a neighborhood watch, or some other type of action.  
"It's getting close to home because, you know, something happened across the street, another robbery happened and someone got killed, so it's getting close. It is kind of scary," said Gonzales.  
Cristler lives just three blocks away, doesn't have a car, and gets around by walking.  He feels fortunate he wasn't in the wrong place at the wrong time.
"The fact that it happened just in midday, broad daylight and nobody knows who did it yet, it's kind of terrifying," said Cristler.  "Anything could have happened when that shot went off it could have just distracted the driver, the driver could have crashed into someone, something. The bullet could have gone a different direction."
Auburn Police are asking anyone with video from around the time of the shooting to share it with investigators.  
On Wednesday, two juveniles were arrested in connection with the shooting. 
According to Auburn police, the juveniles, a male and female, were arrested in Oregon. 
Anyone with information should contact the Auburn PD Tip Line at 253-288-7403.