Man shot by car prowler in Midland neighborhood, investigation underway
MIDLAND, Wash. - Deputies are investigating after a man was shot by a car prowler in a Midland neighborhood Wednesday morning. 
According to the Pierce County Sheriff's Office (PCSO), just after 5 a.m., someone called 911 saying they had been shot after they confronted the suspect near the corner of 104th St. E and 14th Ave. E. This area is in the same block as Ford Middle School.
"That person pulled out a gun and shot at him several times," said Detective Josh Mills with the Pierce County Sheriff's Department.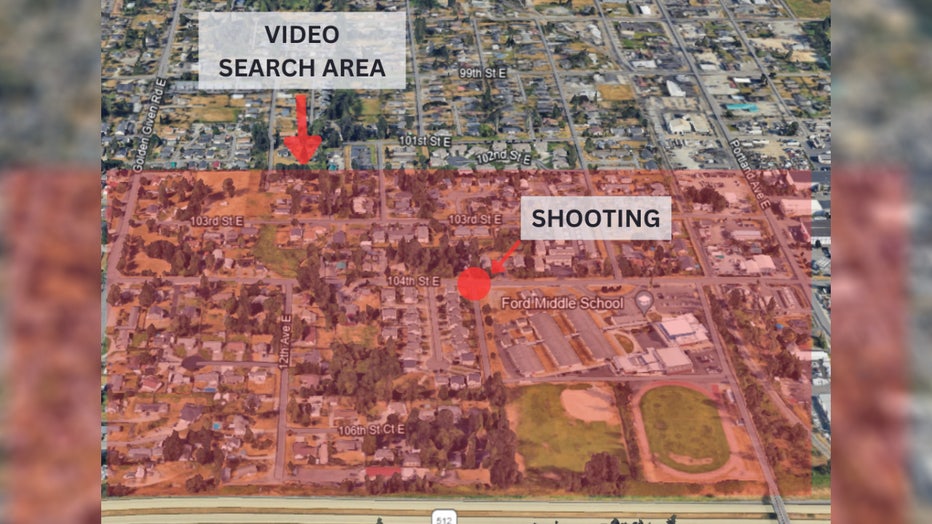 Pierce County Sheriff's Office
Authorities say the victim's injuries were non-life-threatening. 
FOX 13 spoke to the victim's son, who says his father went up to the man because he thought it was one of their neighbors. He said his father asked the person if they needed a ride, then the suspect started shooting.
Deputies brought out a K9 to search for the suspect, but couldn't find him.
The suspect was described as a man between 18 and 20-years-old. He's around six feet tall, weighing between 120 and 130 pounds. He had shoulder-length black dreadlocks, which were about an inch thick. He was wearing a dark-colored hoodie, dark sweatpants and a black backpack.
Detectives are asking people who live in the area to check their surveillance cameras for video of the shooting or the suspect. 
You can submit a video to the PCSD through this link.
Anyone with other information is asked to message or submit an anonymous tip to Crime Stoppers at 1-800-222-TIPS or through the P3 Tips app.