More student loan borrowers are filing for bankruptcy to offload debt
A growing number of Americans are filing for bankruptcy in order to offload their student loan debt after a three-year payment hiatus.
The Department of Justice said in a news release published Thursday that 632 borrowers filed to use bankruptcy in order to eliminate student loans in the period from November through September, an increase from earlier levels. By comparison, the pre-pandemic average annual rate was about 480.
The spike is "significant" because there has been a pandemic-era freeze on federal student loan payments in place since March 2020. But that pause officially ended at the beginning of October, setting up a potential financial shock for millions of Americans.
The average monthly bill hovers between $200 and $299 per person, although it is even higher for some borrowers, according to the most recent Federal Reserve data.
HOUSING MARKET COULD HIT ANOTHER BUMP AS STUDENT LOAN PAYMENTS RESUME
Collectively, borrowers are to resume paying about $10 billion a month, according to an analysis from JPMorgan.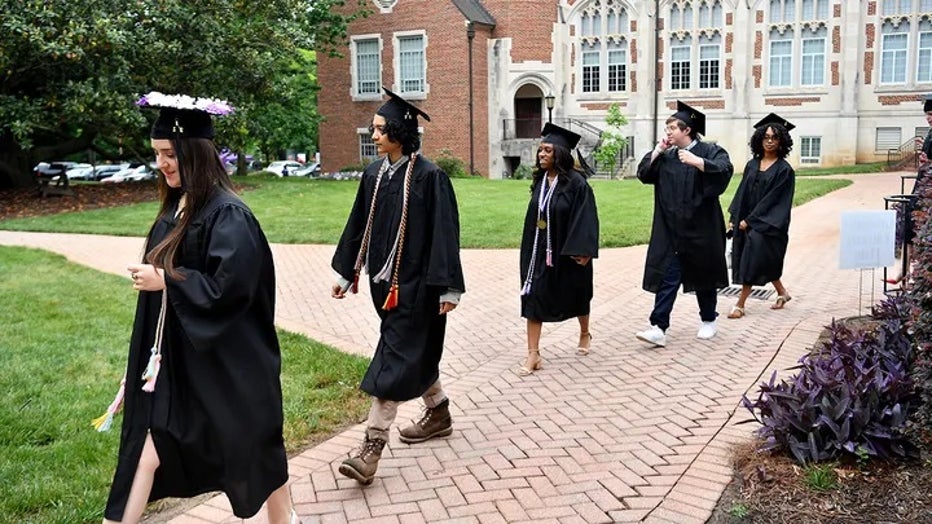 College students walk at a commencement ceremony. ((Photo by Paras Griffin/Getty Images)
"The departments anticipate that this trend will continue," the Justice Department said in the release.
The uptick in bankruptcy filings comes one year after the Biden administration introduced a new legal pathway that made it easier for borrowers to discharge federal student loan debt in bankruptcy.
The updated guidelines from the Justice and Education departments, announced in November 2022, were designed to make it easier for the government to identify whether to grant a discharge without "unnecessarily burdensome and time-consuming investigations." 
Congress had previously set a higher bar for discharging student loan debt when compared to other types of debt like medical or credit card, requiring borrowers who seek to file for bankruptcy to demonstrate they will suffer "undue hardship" if the debt is not discharged. 
STUDENT LOAN INTEREST PAYMENTS AXED UNDER NEW LEGISLATIVE BILL
Now, borrowers must prove they meet three criteria in order to offload their student loan debt: lack the ability to repay the loan currently, are unable to repay the loan in the future and made a good-faith effort to repay the loan.
The government said the latest data on loan discharges suggested the rule change has succeeded in making it easier for eligible borrowers to achieve a bankruptcy discharge of their federal student loan debts.
"One year ago, we set out to simplify and improve the process for student loan borrowers in bankruptcy," said Associate Attorney General Vanita Gupta in the news release Thursday. "Our one-year review indicates that our efforts have made a real difference in borrowers' lives by ensuring student-loan discharges are more accessible to eligible borrowers." 
The policy shift is part of President Biden's efforts to reduce or eliminate student loan debt for Americans.
The Supreme Court earlier this year struck down Biden's student loan forgiveness plan that would have wiped out up to $20,000 in loans per borrower.
Since then, the White House has announced other efforts to reduce student loan debt, including erasing $127 billion of debt owed by about 3.6 million borrowers.
LINK: Get updates and more on this story at foxbusiness.com.