New initiative looks to improve parks, accessibility along Seattle's Elliott Bay
SEATTLE - A new initiative has been announced to improve waterfront parks along Elliott Bay in Seattle.
Elliott Bay Connections (EBC) is a partnership between the City of Seattle, Port of Seattle and private contributors. Local leaders promise the public-private initiative will renovate the waterfront at no cost to taxpayers.
The project is spearheaded by Mayor Bruce Harrell and Port of Seattle Commission President Sam Cho.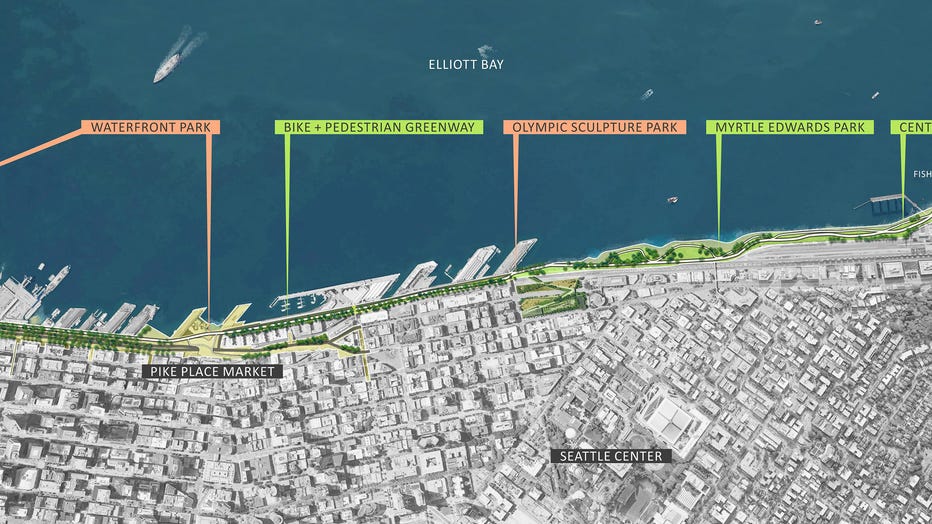 (Elliott Bay Connections)
EBC's core components include constructing a pedestrian and bicycle greenway connecting the new Waterfront Park to the Olympic Sculpture Park (Pier 62 to 70), as well as revitalizing Myrtle Edwards and Centennial Parks. The project's estimated cost of approximately $45 million will be covered by private donations, including contributions from Melinda French Gates, MacKenzie Scott, The Diller-Von Furstenberg Family Foundation and the Expedia Group.
"Seattle's waterfront is a truly one-of-a-kind place with something for everyone: visitors, families, residents, and workers alike," said Harrell. "Elliott Bay Connections advances our decades-long efforts to reconnect the city to the waterfront, ensuring a seamless transition from downtown and safe, accessible pathways to experience the natural beauty of our region."
The proposed greenway will update sidewalks and replaced old trolley tracks with paths for walkers, scooters, wheelchairs and bikes.
Myrtle Edwards and Centennial Parks will undergo upgrades to enhance visitor experiences and ecological sustainability. The parks' prime waterfront location offers breathtaking views and recreational potential. The initiative seeks to modernize facilities, restore public fishing access, and improve accessibility while adopting sustainable landscape practices.
Community input will be sought during the design phase, followed by public presentations and refinement.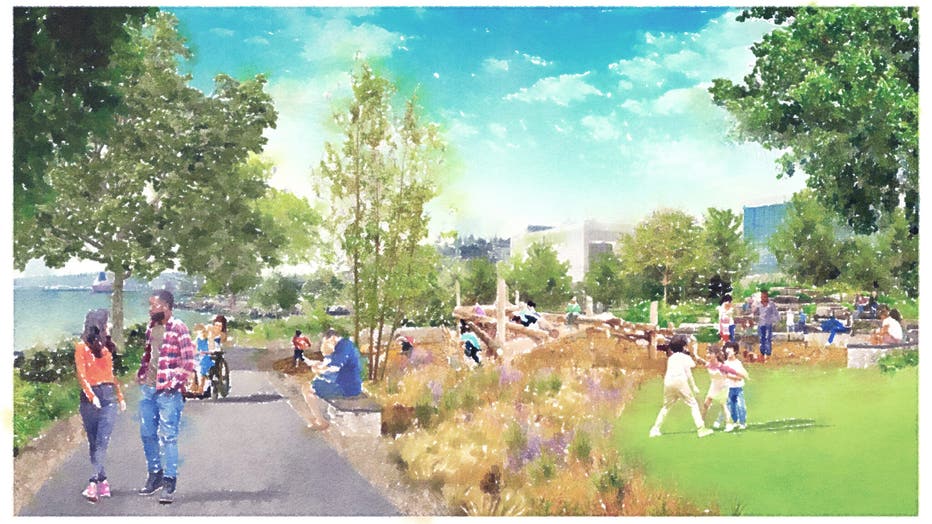 (Elliott Bay Connections)
"Having lived in Seattle for more than three decades, I know we thrive on being so close to nature," said Melinda French Gates. "Public parks connect us to green space and water, but they also connect us to each other. This network of waterfront parks will be a shared space for everyone and bring our city together."
Beyond park restoration, significant contributions have been directed towards Friends of Waterfront Seattle. A $10 million challenge grant from the Bill & Melinda Gates Foundation and an unrestricted $10 million grant from MacKenzie Scott will support the ongoing Campaign for Waterfront Park, ensuring the park's development and programming.