Revitalization brings new energy to Pioneer Square as Seattle Mariners fans gear up for 2023 season
SEATTLE - Thousands of Seattle Mariners fans will fill T-Mobile Park Thursday for Opening Day against the Cleveland Guardians. The baseball team hosted its annual Diamond Derby and Skills Challenge, Wednesday, to get fans excited for the new season.
The excitement of the upcoming game is bringing back childhood memories for fans like Ceri Lovesey.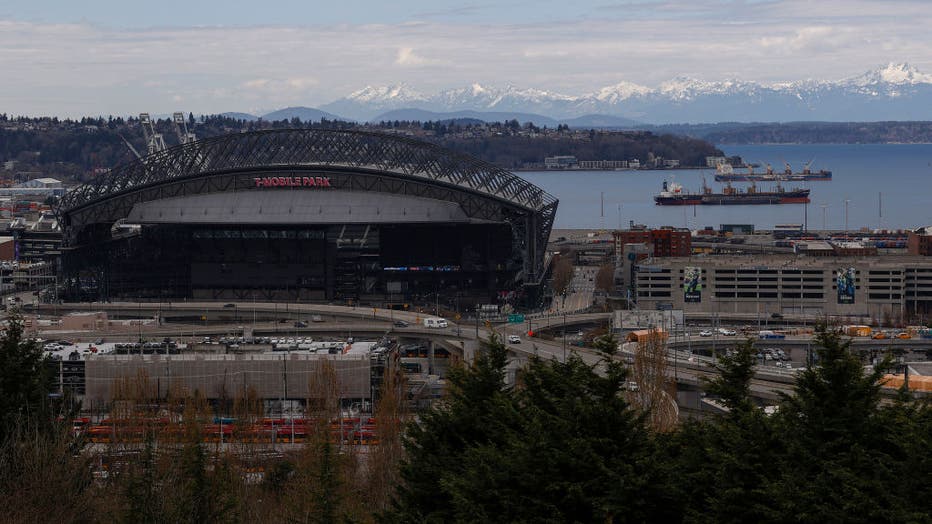 T-Mobile Park and the Olympic Mountains are seen ahead of Opening Day on March 29, 2023 in Seattle, Washington. (Photo by Steph Chambers/Getty Images)
"We came to a few games with my dad and he brought us. I've still got a glove at home. I'm really excited to go to a game again!" said Lovesey.
Mariners officials said T-Mobile Park produces 3,300 direct and indirect jobs each year, making up $2.7 billion in total wages. It also helps boost the economy outside the ballpark too. Ballgame spirit is fueling new energy to T-Mobile Park's neighbor, Pioneer Square.
"I definitely feel like we've turned a corner. We've had more businesses reopen, more people on the street," said Lisa Howard, executive director of Alliance for Pioneer Square.
Traffic flow is picking up again after the district had its challenges with rising homelessness, crime and loss of business due to the COVID-19 pandemic. Howard said lots of helping hands are giving the historic neighborhood a fresh start.
"Our sidewalks are really clean, our streets are really clean. A lot of really great teams including the MID and the city's Unified Care Team are in place to be able to respond to issues. Businesses are caring for their storefronts," said Howard.
Businesses like Cone and Steiner are happy to see revitalization in Pioneer Square. It's bringing more customers to the store.
"It's really just quite nice to have people here because it was pretty dead for a while," said Ryann Dunkeson, store lead at Cone and Steiner. "Even the fact that we can see as many people on the street right now is very new."
Dunkeson said the store is bringing in extra staff to work for the opening game, anticipating a high volume of customers.  
"Especially like tomorrow is going to be absolutely insane here. We're going to have the line wrapping around, the whole nine yards," said Dunkenson.
RELATED: Make-A-Wish: 6-year-old Mariners fan practices running bases ahead of Opening Day
Howard said in the last month, five new businesses opened in Pioneer Square ahead of Thursday's season opener. The neighborhood will see 15 more businesses open in the next couple of months, just in time for Seattle to host the MLB All-Star Game in July.
"It's just an energy that you don't get without the critical mass of people coming together around a single point of celebration," said Howard. "It's just a really nice place to walk around and be right now."