Washington, California, Oregon and B.C. sign nonbinding clean energy pact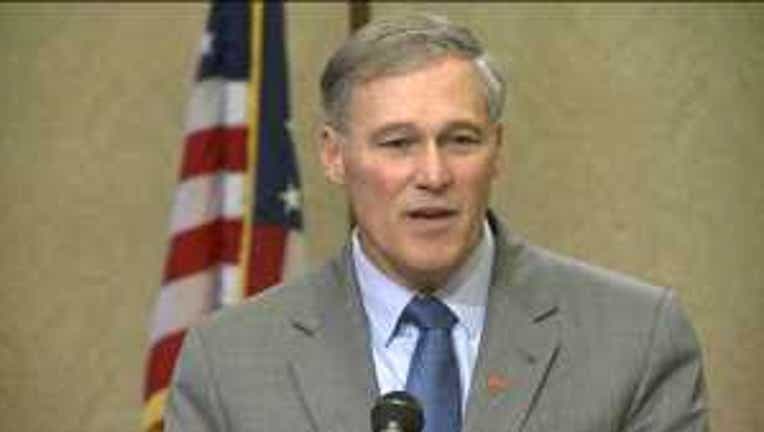 article
By Anthony York

Los Angeles Times

SAN FRANCISCO — Washington Gov. Jay Inslee, California Gov. Jerry Brown, Oregon Gov. John Kitzhaber and British Columbia officials signed a new pact Monday to formally align clean energy policies.

The agreement commits all four governments to work toward ways to put a price on carbon pollution, require the use of lower-carbon gasoline and set goals for reducing greenhouse gases across the region.

The nonbinding blueprint also sets new targets for electric vehicles — aiming for 10% of all new cars and trucks in the region to be emission-free by 2016 — and calls for the construction of a bullet-train system from Canada to California.

"These are modest steps," Brown told about 100 people at the San Francisco offices of computer hardware maker Cisco Systems, with sweeping views of the bay behind him. "We have to take action."

Inslee, a Democrat elected last year after 12 years in Congress, said he hoped the accord would send a message to the nation's capital, where Democrats and Republicans have been unable to agree on sweeping environmental legislation.

"Congress has ground to a halt because of climate deniers," he said. "I hope this can restart a national conversation, and hopefully action, on climate change."

This is not the first time California has sought cooperation with regional governments on environmental policy. All four participants in the new pact were members of the Western Climate Initiative, a 2007 regional accord intended to create a joint carbon-trading market.

Efforts to establish that market, which would have set a common levy on carbon emissions and established regional pollution caps, stalled in the Oregon and Washington legislatures.

Monday's agreement could face similar obstacles, but it gives the states more leeway to devise their own ways of charging polluters.

California has a carbon market that allows large polluters to buy the right to emit greenhouse gases. British Columbia has had a carbon-pollution tax since 2008. Either method would be permissible under the new blueprint.

Kitzhaber said his state has not yet decided which policy to pursue.

In California, business groups that have voiced opposition to the state's emission targets said Monday's announcement was a positive step.

"We have always believed that we need a broad market that includes not only other states but other countries, in order for it to function efficiently," said Shelly Sullivan, a spokeswoman for the AB 32 Implementation Group, a business organization that has opposed state pollution controls.

The group is named for the 2006 law requiring California to reduce its greenhouse gases to 1990 levels by the year 2020.

"We have long argued that a state-only approach would crush the state economy," Sullivan said.

Brown has made climate change policy a centerpiece of his administration, vowing not to wait for it to come from Washington, D.C., where President Obama's plans to tighten controls on pollution have been stuck in a deadlocked Congress.

Earlier this year, Brown traveled to China and has signed agreements with that country to work toward slowing pollution that leads to global warming.

California has taken a leading role in efforts to cut carbon emissions. It has established a market to set a price that companies must pay to pollute. The state plans to link its market with one in the Canadian province of Quebec next year.

Although the agreement signed Monday is not legally binding, environmentalists in California are hopeful that it could serve as a road map for the next wave of state policy.

"It sends a signal to the Legislature," said Dan Jacobson, legislative director for Environment California, an advocacy organization, "to start introducing the bills to put these goals into law."