'We just want our kids to feel safe:' Parents send letter to Seattle Public Schools after deadly shooting
SEATTLE - More than four months after a deadly shooting at a Seattle public school, parents say they feel their voices are not being heard.
In November, investigators reported a 14-year-old student at Ingraham High School brought a gun to school and shot and killed a 17-year-old student.
Following the tragic incident, the district promised a safety audit. However, parents tell FOX 13 News they are still waiting for answers.
"We are not satisfied with the information. We believe that we deserve more specific information. And we just want our kids to feel safe," said Make Gallitelli, a district parent. 
Gallitelli and dozens of other parents signed a letter in January asking the district for details about its safety plane.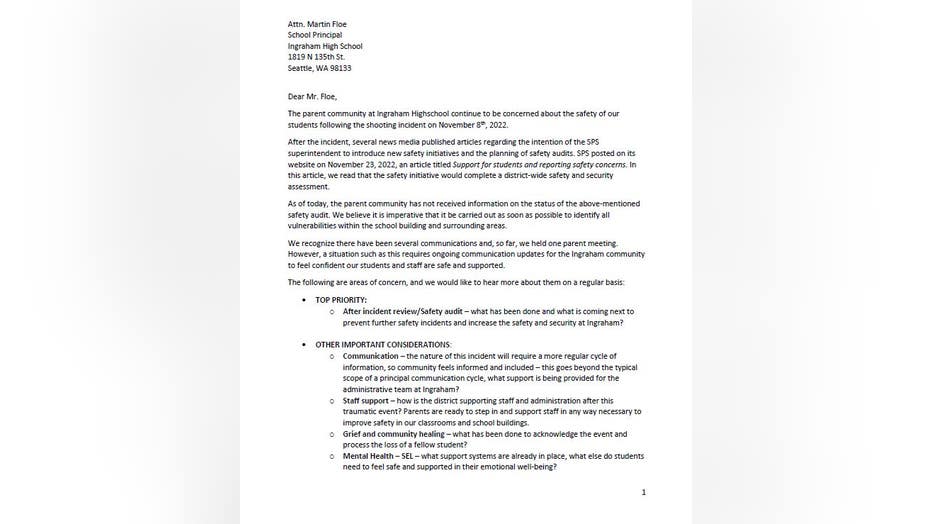 The biggest focus of the letter is asking what changes the district made, and what future plans they have regarding the safety of students.
Parents also asked for stronger communication between the school and families, and support for staff and students following the deadly shooting.
District officials with Seattle Public Schools told FOX 13 News the letter is from January, and the superintendent responded in February.
Within the response are updates, including plans for conducting safety reviews of schools, reaching out to leaders to create safety teams, and establishing a wellness advisory council for mental health.
The superintendent's update also includes specific action items referencing the need to create emergency signs and updating building locks.
However, Gallitelli says parents expect more.
"We requested something that should be ongoing, not just one reply, February 9, and then forget about it. We want to hear more," she said.
The superintendent's update also promised a progress report for the next steps in March. 
Gallitelli says it is nearly April and there is still no new information.
"I won't be satisfied if I don't try to do something," she said. "We parents want to work with the district, with the school. That's what we want," she added.
An official with Seattle Public Schools says they are working to figure out when the next update is expected.