Wildfires stirring up; public urged to use caution


OLYMPIA -- "We're still concerned about the wind and the weather for the next few days. It's the beginning of another tough fire season. Wind driven, dead grass, dead fuels.  I urge everybody to be very careful, extra careful because fire season is here and it looks like it's going to be a tough one," DNR Incident Commander Charley Burns said.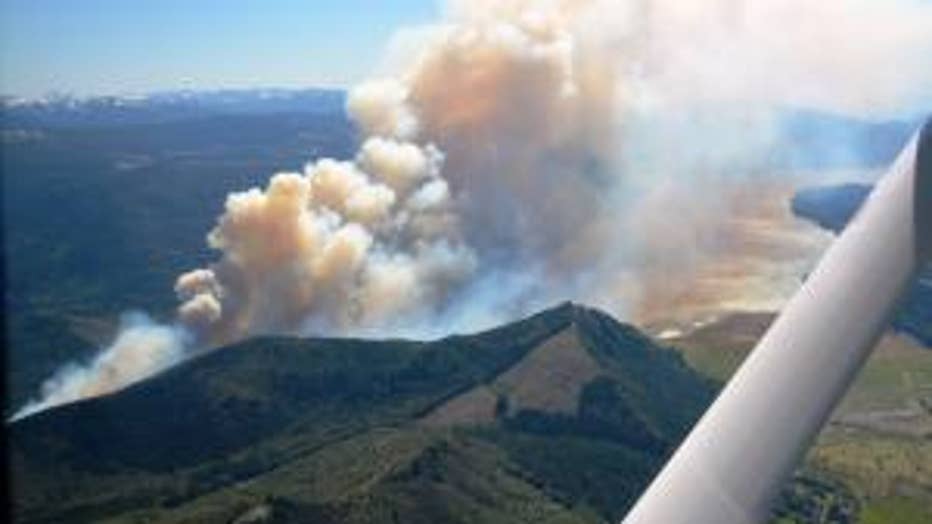 It is a dire prediction from the wildfire experts at the Washington Department of Natural Resources, that the wildfire season seems to be starting early and if the weather we're having is any indication, it could be a hot one.

"The dead fuels, the fuels that didn't burn last year.  The dead grass is ready to burn and at this time of year it doesn't take much," Burns went on to say.

Of the ten fires that started over the weekend two, with the potential to cause a lot of damage, continue to burn.

"The dog Mountain Fire in Lewis County has burned about a hundred acres of forest land and is about 50 percent contained..

Fortunately no homes have burned, and, at least so far, there are no evacuations.

Then there's the C-Line fire in Capitol State Forest northwest of Olympia.

It was first reported Sunday.

It's burned some 60 acres and has closed some popular campgrounds and trails in the forest.

"We started hearing crackles and we could hear the fire and it seemed like it was about to come our way a little bit so we decided to get out of there," witness Michael Landrum said.

"You just realize how fast one small cigarette, one small this or that how fast it can ignite and cause major problems out here," witness Darin Deskins said.

"Everybody; be careful with fire especially a camp fire," Burns said.

This is what fire fighters hope to avoid.

Fire fighters hope to avoid last year's Taylor Bridge fire near Cle Elum.

23-thousand acres charred, 61 homes destroyed, damage estimates topped 11 million dollars.

"You need to be smart.  If you're going to have a fire make it down in the camp ground where it's right next to the water or don't be dumb about it.  Everyone else pays a price for people being stupid," neighbor Tiffany Hull said.

Outdoor burning is the leading cause of wildfire ignition. One of the best ways to protect access to your local recreation area is to manage your campfires responsibly. Be sure to follow these tips next time you enjoy an evening around the fire:

» Never leave a campfire unattended at any time.

» Drown fire thoroughly with water.

» Stir until cold.

» Drown fire again and stir.

» Never leave a campfire until it is completely out and cool to the touch.

It looks like it's shaping up to be a beautiful summer! Be safe out there and remember, you are our eyes and ears in the forest. That makes you our best chance in catching wildfires and other issues early on. To report a fire, call 9-1-1. To report other illegal activities call 1-855-883-8368 or email forestwatch@dnr.wa.gov .