Make-A-Wish kids get the ultimate Seahawks Experience
SEATTLE-- "I want to meet Russell Wilson."

That's what 17-year-old Amber Louden of Bellingham told Make-A-Wish of Alaska and Seattle.  During the past decade, Amber has spent too many days in the hospital. She often passed the time watching her beloved Seahawks.

So when she had the chance to request a wish from the nonprofit that's committed to making dreams come true for kids facing life-threatening illnesses, she wanted a face-to-face with the Seahawks star quarterback.

She and 10 other kids got that and so much more.


Day 1: Player Treatment at CenturyLink Field

The Make-A-Wish bus rolled into the parking garage at CenturyLink Field, home of the Hawks.

Four of the Wish Kids were from Washington. Make-A-Wish flew the other seven and their families into Seattle from around the country. They, too, wished to meet the Seahawks.

They're greeted by more than a hundred workers at CenturyLink Field. The crowd is cheering, giving high-fives, while creating a tunnel for the children to run through. Suddenly, kids who have gone through unthinkable medical challenges start feeling like stars themselves.

Into the players' locker room. They look up. Their names are printed above the individual lockers. Inside hang custom jerseys with their names across the back. The lockers are filled with Seahawks swag just for them.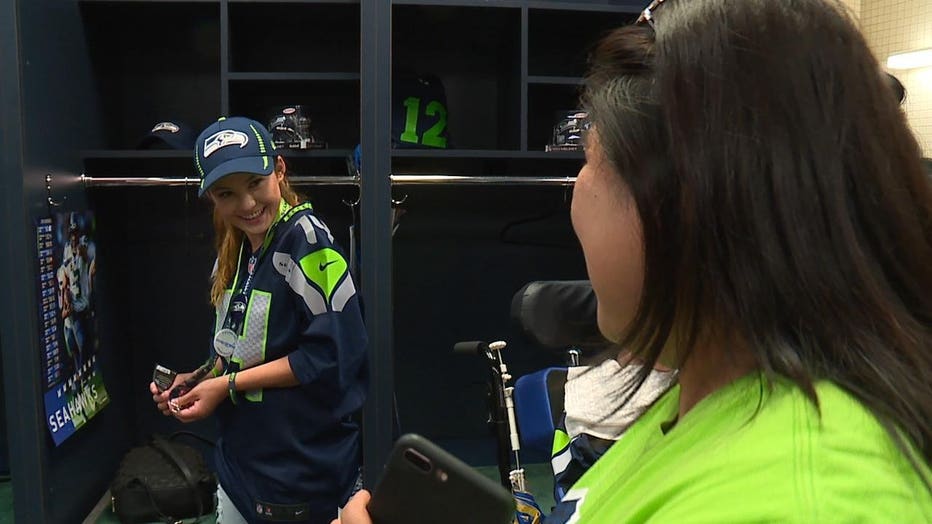 17-year-old Make-A-Wish kid Amber Louden of Bellingham puts on her new custom Seahawks jersey at CenturyLink Field with her mother Lavinia.


"It makes me happy to be in the same locker room that the players have been in," Louden said. "It's the coolest thing I've ever experienced."

Her mother, Lavinia Louden, is all smiles. "I think it's great," Lavinia said. "She's had a rough (time) and this is a really nice treat for her."

Amber has been living with chronic pancreatitis for more than a decade. It's a disease that causes her pancreas to become inflamed, causing extreme pain and hospitalizations. She traveled to Minnesota for extensive surgery in 2016. Thankfully, she's been relatively pain free ever since.

On this day, it's pure happiness. She pulls her new Seahawks jersey over her head. It's time to hit the field.

"Amber Louden," said the bellowing voice over the loud-speaker. Amber runs out of the tunnel, the same path the players take onto the turf.  She jogs through a tunnel of Sea Gals (Seahawks cheerleaders), Seahawks player legends, CenturyLink Field workers, and members of Blue Thunder, the Seahawks drum line.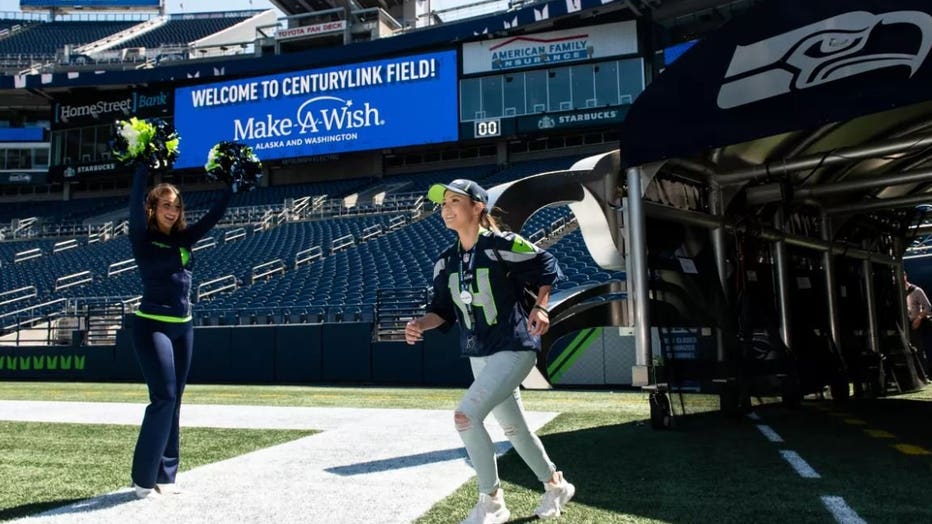 Photo courtesy: Seahawks, Rod Mar


"That was really fun," Louden said.  "I was nervous but it was so fun."

After all 11 Wish Kids run through the tunnel, they take turns painting the Seahawks logo at midfield.

They also throw passes, kick field goals, and connect with Seahawks legends, like quarterback Jim Zorn.

"We're grateful to be out here with these kids," Zorn said.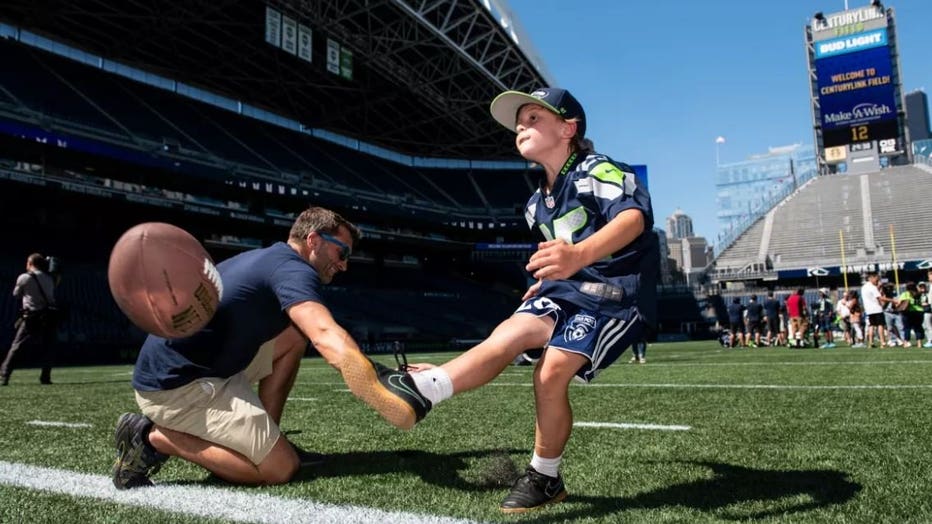 Courtesy: Seahawks, Rod Mar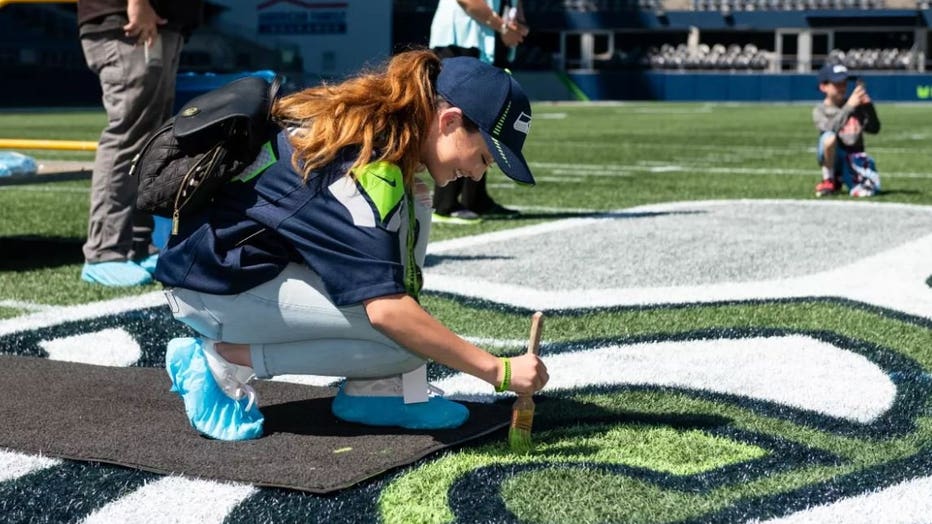 Another Wish Kid, 7-year-old Noah Anderson from Longview, Washington is having the time of his life, running around the same field where the Seahawks play. Noah was born with a congenital illness causing his organs to move into his chest, blocking the growth of his lungs. His parents say he's had too many surgeries to count, but all that is forgotten today.

"It's awesome," said Noah's mother, Jaelyn Anderson. "He's just gone through a lot of hard things in his little life. It's nice to see him smile and just have a day that's all about him."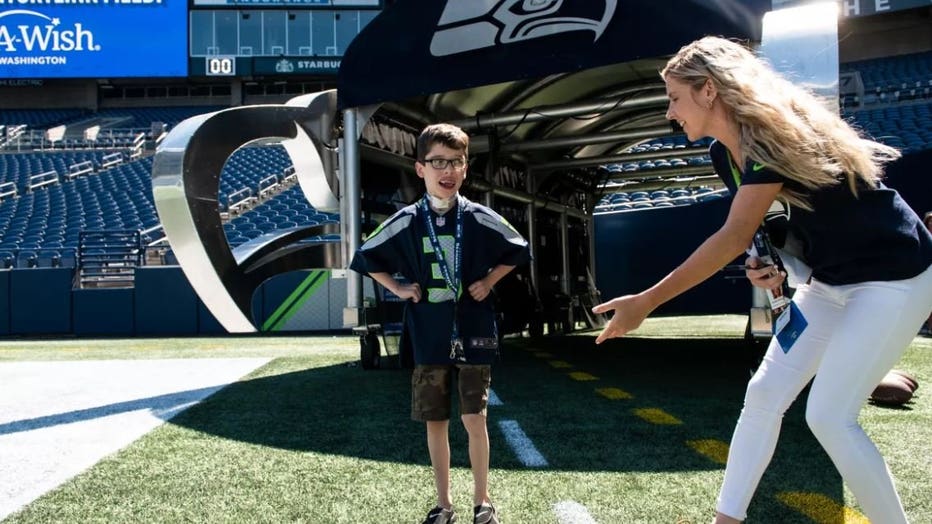 7-year-old Noah Anderson of Longview, Wa. Photo Courtesy: Rod Mar, Seahawks
Day 2: Meet the Players

The next day, the bus with the 11 Wish Kids and their families arrives at the Virginia Mason Athletic Center in Renton, the headquarters for the Seattle Seahawks.

They watch training camp from a special section, right along Lake Washington.

The average wish costs Make-A-Wish more than $10,000 to deliver.  It's always free for the kids and their families. Due to the expense, Wish Kids are only allowed to bring immediate family members.

Because Amber Louden is an only child, she's allowed to invite a friend. She wanted to include Dr. Matt Geifer, her gastroenterologist at Seattle Children's Hospital.

"I feel like he really genuinely cares so much," Louden said.

It's a sentiment that touched her favorite doctor.

Dr. Geifer said, "The fact that Amber invited me here and thought of me when she got this Make-A-Wish is really special."

Now, her special moment was here.  The Wish Kids line up on the field, each with a Seahawks helmet for the players to sign.

At times, there are several players surrounding each Wish Kid. Stars on the field, asking the children about their lives ... making them the stars.

The Griffin twins, All-Pro linebacker Bobby Wagner, star receiver Tyler Lockett, Head Coach Pete Carroll, and others giving hugs, signing autographs, and most of all, making wishes come true.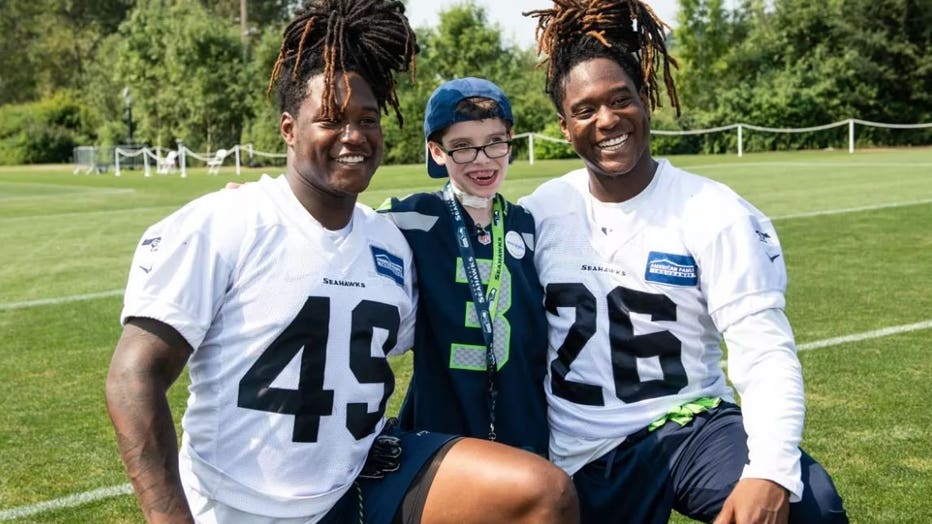 Courtesy: Rod Mar, Seahawks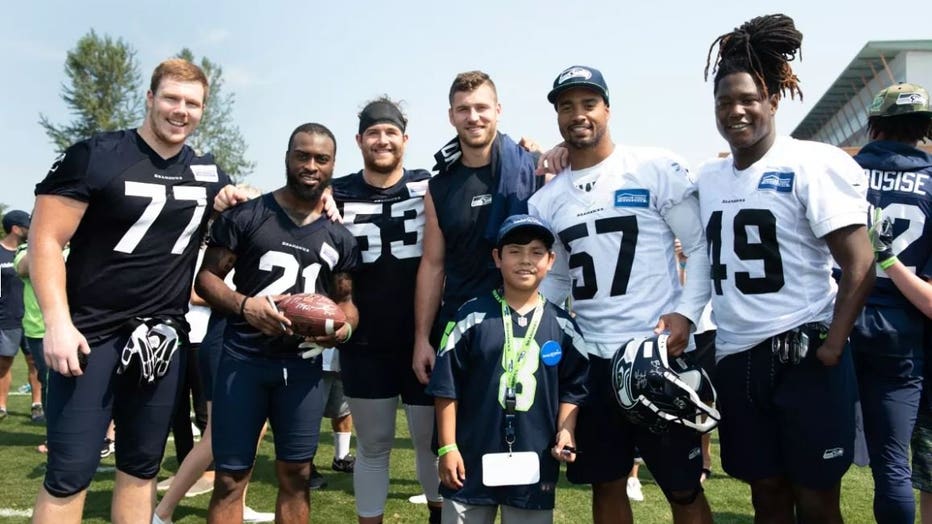 Courtesy: Rod Mar, Seahawks

"I really, really, really want to meet Russell Wilson," says Louden.

And then ... it happens.

After spending at least 5 minutes with each child, Russell Wilson walks over to Louden.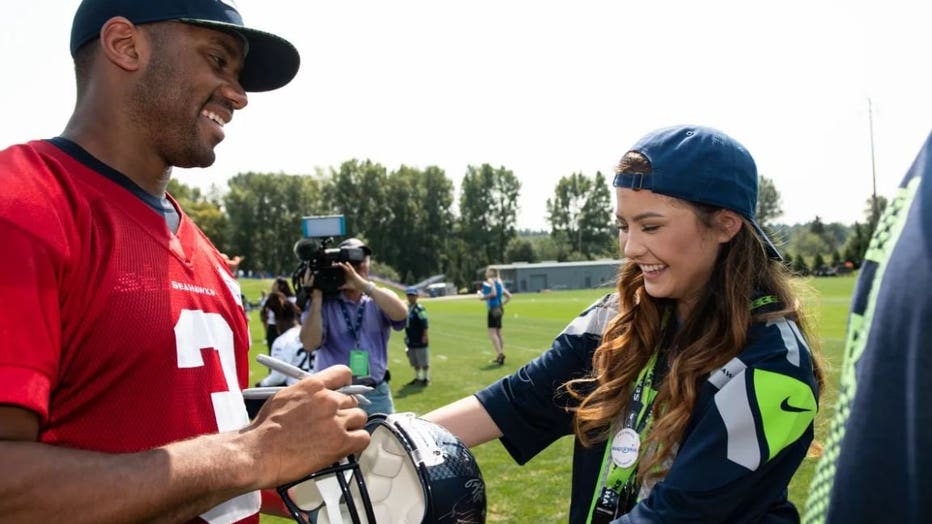 Photo courtesy: Rod Mar, Seahawks


They talk. Louden shares that she appreciates how Wilson commits his free time to visiting sick kids at Seattle Children's. She shares, that she's spent a lot of time in that hospital.

Wilson responded, "You're so sweet. You inspire me. You really do."

The two end their time together with Louden running 30 yards downfield. Wilson passes the ball to her in stride. A catch, then cheers from onlookers. Memories for a lifetime.

"It was amazing," Louden said. "I've never experienced anything like this. And for sure, I'm never going to forget it."

Day 3: The Game

The Seahawks run out of the tunnel for the first preseason game of 2018. They're playing the Indianapolis Colts.

On the sidelines for the pregame are the 11 Wish Kids and their families.

Seahawks safety, Bradley McDougald runs over and gives all of the kids a high-five. McDougald has a sense of their struggles. His brother lost a leg to bone cancer in the fifth grade and became a Wish Kid.

Before kickoff, stadium staffers shuffle all 11 kids onto the field. The announcer pays tribute to them, as a video, capturing the magical moments from their past two days, plays on the giant screens in the stadium.

A live camera goes down the line as the children wave to the fans.

The crowd of tens of thousands applauds, honoring their courage.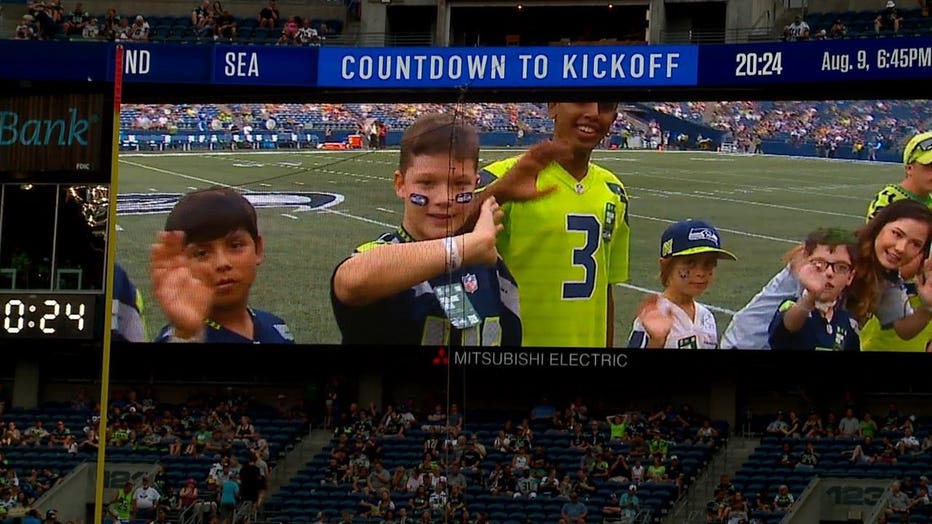 Wish kids wave to fans at CenturyLink Field appearing live on the stadium big screens.