J.P. Crawford grand slam carries Mariners to 8-0 win over Rangers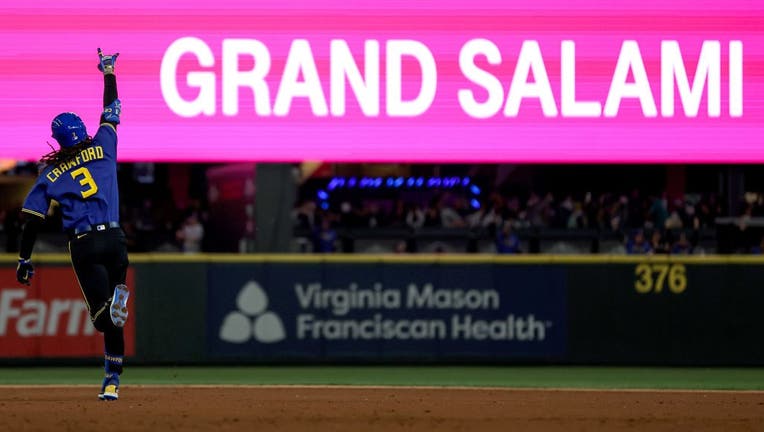 article
SEATTLE - Another night, another J.P. Crawford moment for the Seattle Mariners.
J.P. Crawford hit a grand slam in the fourth inning for his 19th home run of the season, Ty France and Josh Rojas each homered as well and the Mariners beat the Texas Rangers 8-0 on Friday night to keep pace in the hunt for an AL playoff spot.
Bryan Woo struck out five in 3 ⅔ innings of work and the bullpen combined for 5 ⅓ scoreless innings in relief as Seattle kept all possible playoff scenarios alive as the team enters the final two games of the season.
The Mariners remain a game back of the Houston Astros, and two games back of the Toronto Blue Jays for the final two Wild Card spots in the American League. Additionally, with two victories over Texas to open their four-game series, the Mariners are also two games back of Texas for the division title. The Rangers win a head-to-head tie with Seattle for the division, but the Mariners win the division in a three-team tie with Texas and Houston.
What it ultimately means is a relevant final weekend of the season for the Mariners along with a lot of scoreboard watching as well.
Crawford was the hero of Thursday night's victory over Texas with a bases loaded, ninth inning, two-out walk-off double that effectively saved Seattle's season. Crawford delivered again with the bases loaded on Friday night to put the game fully out of reach.
"He's been so good in those situations all year long. But you've got to make the pitcher come to you and you don't chase, you don't get too amped up wanting to be the hero. You just let a game come to you and last two nights, and obviously he's been the hero. It has been fun to watch."
Crawford is now batting .688 with three doubles, two home run and 26 RBI in 16 at-bats with the bases loaded this season.
"I feel pretty good right now. You know, anytime there's bases loaded, just want to get a run in and help the team as much as I can," Crawford said.
Seattle had to hold their breath through the first three innings as Texas threatened to strike against Woo. The Rangers had hammered Woo in two starts against him this season. Woo lasted just two innings in his Major League debut in June as Texas scored six runs on seven hits in an outing that lasted just 47 pitched. In his last start in Texas on Sept. 24, Woo again allowed six runs on five hits over 3 ⅓ innings to the Rangers.
Texas is a terrific fastball hitting team and have shown a propensity for crushing Woo's in the two prior starts.
Woo appeared to pitch very cautiously to the top of the Texas order on Friday and it resulted in a handful of walks. However, Woo managed to dance out of trouble without damage on multiple occasions.
"I thought his stuff was really good tonight and he was determined not to give in," Servais said. "He was going to live on the edges tonight. He knew he wasn't going to be out there long so he let it go early."
Corey Seager and Adolis García each drew walks in the first inning, but Woo struck out the side around the free passes to keep the game scoreless. Marcus Semien led off the third inning with a single and Seager walked for a second time as the pressure quickly mounted. Woo managed to get the next two outs before hitting Nathaniel Lowe with a 2-2 cutter he spiked in the dirt. Woo was lucky the pitch hit Lowe as Semien likely would have scored from third base if the pitch had gotten behind home plate.
Woo bounced back and forced Josh Jung to fly out to left field to escape the bases loaded jam and keep the game scoreless. It took Woo 82 pitches to get through his nearly four innings of work.
"Woody (pitching coach Pete Woodworth) told me before the game like, it doesn't matter if you throw 100 pitches in four innings, like, just go get outs. I probably didn't need to take that literally," Woo said with a laugh, "But yeah, zeroes are zeroes, especially at this time of the year."
France led off the bottom of the third inning with a solo home run on a line drive to left field off Texas starter Nathan Eovaldi to give the Mariners a 1-0 lead. Rojas then went yard as well with a blast to right field off Eovaldi for a 2-0 advantage.
Crawford walked and then scored on a two-out double by Eugenio Suárez that knuckled in the air so badly it crossed up Texas center fielder Leody Taveras and got behind him all the way to the wall for a 3-0 lead.
The game fully unraveled in the fourth inning. Teoscar Hernandez singled to lead off the frame with a walk from Mike Ford and France hit-by-pitch loading the bases with no outs. Rojas delivered again with a chopper through the infield that scored Hernandez for a 4-0 lead that ended Eovaldi's outing.
Crawford then hammered a 1-1 pitch off reliever Brock Burke into the right field seats for his second grand slam of the season for an 8-0 lead that was never threatened.
Tayler Saucedo, Trent Thornton, Isaiah Campbell, Eduard Bazardo and Dominic Leone combined for the scoreless relief effort for Seattle.