Jordan Eberle, Matty Beniers each score to fuel Kraken effort in 4-3 win over Canucks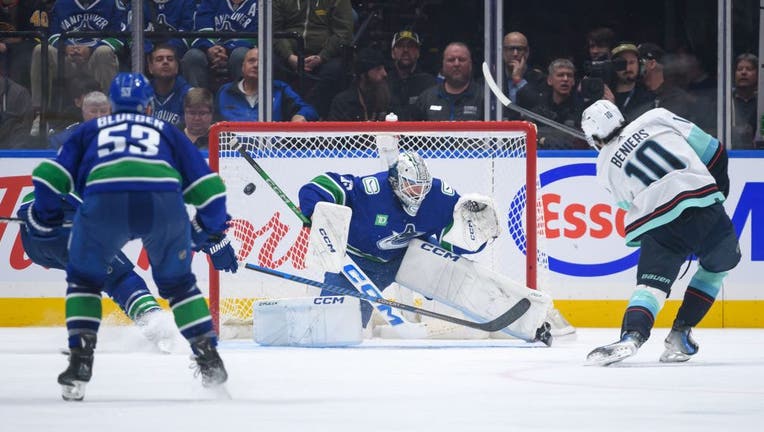 article
VANCOUVER, British Columbia - The Seattle Kraken are starting to look a bit more familiar.
This is the type of effort the Kraken were accustomed to putting forward last year as they made the playoffs for the first time and advanced to the second round. The Kraken created goals off forechecking opportunities, blocked shots, delivered hits and earned a win over a quality Vancouver Canucks team.
Jordan Eberle had a goal and two assists, Matty Beniers scored and added an assist as well and the Kraken survived a furious late game assault in a 4-3 victory over the Canucks on Saturday night.
"More than not we've found ways to lose games in third periods rather than find a win so it's nice to find a way to win here against a really good team who's obviously been pretty good at home. So, hopefully this kick-starts us in the right direction," Eberle said.
The Kraken played well, but still lost in a 4-3 defeat in Edmonton on Wednesday night. They followed that up with an equally strong performance in a 4-3 shootout victory against the New York Islanders the very next night. Then in Vancouver on Saturday against the highest scoring team in the NHL, the Kraken delivered again with another solid effort to get a big win over a Pacific Division rival.
"Every win at this point is important," said forward Yanni Gourde. "It's good for the confidence. It's good for everybody. Everyone has been chipping in lately and yeah playing better as a group, as an individual and I think we've just got to keep pushing and growing."
The Kraken successfully bounced back from allowing a leaky early goal to seize control of play for large stretches of the game.
A shot from Tyler Myers from just inside the blue line snuck through goaltender Philipp Grubauer into the goal crease. J.T. Miller managed to get a swipe on the puck to direct it toward the net with Will Borgen seemingly able to save a goal by pulling it off the goal line in time. However, a review showed the puck had just cleared the red line and the Canucks took a 1-0 lead.
The Kraken pushed back in the latter stages of the period. A power play chance came and went with a few decent looks but no shots getting through traffic to the Vancouver net. Seattle held an extended possession in the Canucks zone for the final minute of the period with Brandon Tanev getting a good look in tight on Vancouver goalie Thatcher Demko that missed wide of target.
That strong run of play continued into the second period for Seattle.
Beniers created space along the wall and found a trailing Jamie Oleksiak for a wide open slap shot goal – his first of the season – from between the circles that beat the glove side of Demko to tie the game at 1-1 just under six minutes into the period.
Teddy Blueger took a hooking penalty against Alex Wennberg to give the Kraken another power play chance. This one would lead to a goal (though not officially). Eberle tipped an Oliver Bjorkstrand chance right in front of the net and the puck directed between the legs of Demko. However, it took Demko pushing the puck with his own momentum pushing back into his goal crease to carry the puck over the line for a 2-1 Kraken lead.
Eberle's goal was also reviewed to see if it was played with a high-stick but it was confirmed on replay.
"It hit my shaft. I didn't think it was high-stick," Eberle said. "I mean I'm not a big guy, couldn't get it up too high so I think they got the right call. Sometimes it's nice to get some bounces."
But Vancouver managed to bring the game level again before the end of the period. Quinn Hughes hammered a slap shot from atop the left circle by Grubauer's stick side.
Gourde made a terrific play in the defensive zone to swipe a puck away from a Vancouver player in front of the Kraken net. He was immediately rewarded for it on the opposite end for his third goal of the year. Eeli Tolvanen delivered a cross-ice play to Will Borgen and he found Gourde posted up in front of the net for a redirection by Demko for a 3-2 Seattle lead.
"Generally, you do the right things in the defensive side, you create offense," Eberle said. "I think that's kind of how the game works so, you know, we like to think there's hockey Gods up there and you're doing the right things, they'll reward you."
Eberle and Beniers then combined to extend the Kraken lead. Eberle won the puck off Myers on a hard forecheck and found Beniers uncovered between the circles. Beniers' shot beat Demko as he scored for a second straight game to make it a 4-2 Kraken lead.
"He's been playing hard," head coach Dave Hakstol said. "You know, obviously, the offensive side is starting to come. We're starting to see it on the power play. We're starting to see it five-on-five. There's still another notch or two there but he's looking more and more comfortable and he's always worked hard." 
The Canucks would make a big push in the closing minutes. Ilya Mikheyev hit the crossbar with six minutes left to play as they threatened to cut Seattle's lead. However, it took until Demko was pulled for an extra attacker for the Canucks to actually get closer. Nils Höglander had a Myers shot deflect off his skate and by Grubauer with 10.1 seconds left to play to make it a 4-3 lead.
Vancouver won the center ice face-off and Höglander got another shot just five seconds later that Gruabuer deflected out of play with his glove. One last shot from Filip Hronek was also saved by Grubauer as the Kraken earned the victory.
"We don't want to make it as tight in the third as it was the last few seconds, but we're learning as a group," Gourde said. "We're getting better. We're more disciplined and I think we're growing as a group."