NFL: No evidence Cleveland Browns offered incentives for former coach to lose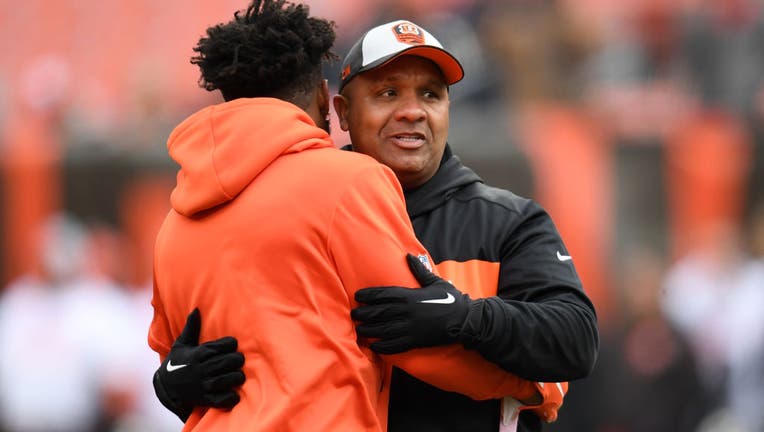 article
The NFL has put out a statement saying allegations made by Hue Jackson made could not be substantiated after the former Cleveland Browns' coach claimed the team provided incentives for him to lose games in the 2016-17 seasons.
"The investigation found no evidence to suggest that the Browns' Four-Year Plan or the club's ownership or football personnel sought to lose or incentivized losses and made no decisions deliberately to weaken the team to secure a more favorable draft position," the league said in a statement. 
NFL officials said former U.S. Attorney and SEC Chair Mary Jo White and a team of lawyers from the Debevoise firm conducted a 60-day independent review into Jackson's comments.  The review involved interviews with current and former members of the organization, including Browns owner Jimmy Haslam
The NFL said Jackson initially agreed to meet with investigators but ultimately did not. 
RELATED: NFL Draft: Georgia's Travon Walker No. 1 pick, drafted by Jacksonville
"Although unable to speak directly to Coach Jackson, the Debevoise team had access to his public statements and to his filings and testimony in a prior arbitration proceeding," the league said. "The club also produced thousands of pages of documents, including emails, texts, internal memos and presentation decks as well as other material relating to club operations and the filings and testimony in the arbitration proceeding between the club and Coach Jackson."
Jackson was fired eight games into the 2018 season. He went 3-36-1 with Cleveland, losing all 16 games in 2017.
Jackson, who is now coaching at Grambling, made several posts on Twitter inferring that he received bonus payments from Haslam during his two-plus seasons with the team.
The Browns strongly refuted Jackson's claims.
RELATED: NFL Draft: Commanders pick Jahan Dotson, Penn State wide receiver
"The recent comments by Hue Jackson and his representatives relating to his tenure as our head coach are completely fabricated," team spokesperson Peter Jean-Baptiste said in a statement. "Any accusation that any member of our organization was incentivized to deliberately lose games is categorically false."
Also, Kimberly Diemert, executive director of the Hue Jackson Foundation, which works to combat human trafficking, made several posts claiming the Browns made the offer to Jackson and that they have records that will help Flores.
Not long after the Browns released their statement, Jackson appeared on ESPN and said the team did offer bonus money if he met certain criteria.
"Teams that win are just not the youngest team, not that the youngest teams can't win, so I didn't understand the process," Jackson said. "I didn't understand what the plan was, I asked for clarity because it did not talk about winning and losing until Year 3 and 4.
"So that told you right there that something wasn't correct but I still couldn't understand it until I had the team that I had."
Jackson said he told Haslam his only objectives were to improve the Browns and win.
RELATED: Football signed by Super Bowl LVI halftime stars is up for auction
"I remember very candidly saying to Jimmy, 'I'm not interested in bonus money,' because I've never known that to be a bonus," he said. "I was interested in taking whatever that money was and putting it toward getting more players on our football team because I didn't think we were very talented at all.
"I know what good football teams look like, play like, what they act like and we didn't have a lot of talented players on the team at that time."
Jackson was hired by the Browns in 2016 after serving as Cincinnati's offensive coordinator. The team was in a full rebuilding mode and general manager Sashi Browns was aggressive in trying to acquire draft picks.
The Browns went 1-15 in Jackson's first season, got the No. 1 overall pick and selected defensive end Myles Garrett, who has become one of the league's best players. Cleveland went 0-16 in 2017 before taking quarterback Baker Mayfield with the top pick.
The Associated Press contributed to this report. This story was reported from Los Angeles.