NHL Winter Classic to feature Seattle Kraken hosting Vegas Golden Knights in 2024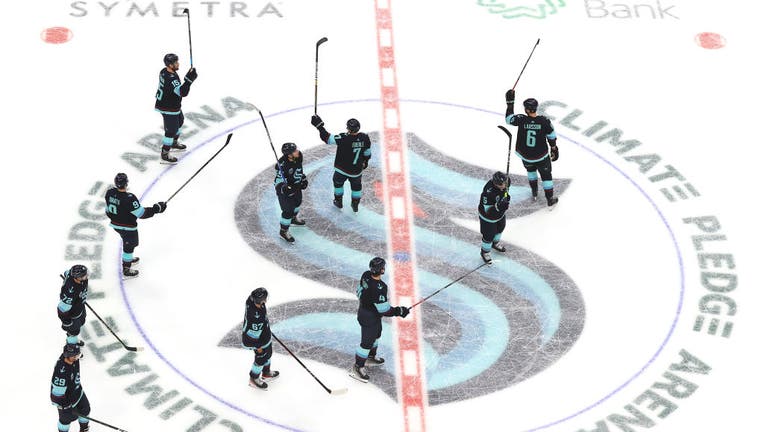 article
SEATTLE - Selling the NHL on bringing the 2024 Winter Classic to the Pacific Northwest required purchase of a protection plan — a retractable roof.
Next year's version of the NHL's New Year's Day showcase will be played outdoors in Seattle with the Kraken hosting the Vegas Golden Knights at T-Mobile Park, the league announced on Tuesday.
But the decision to hold the game on the West Coast for the first time required the added safety of the retractable roof at the home field of the Seattle Mariners in case Seattle's familiar winter rains decide to show up.
"We just want to pause and thank Mariners for their support because with our weather, we needed the potential for a roof and we had the perfect neighbor," Kraken CEO Tod Leiweke said. "And they not only agreed to do it, they helped us sell up the league and helped us put our best foot forward."
The NHL announced the matchup for one of its showcase events before Boston and Pittsburgh met in the 2023 installment. The game between the Golden Knights and Kraken will be played on Jan. 1, 2024, bringing together the league's two newest franchises.
Seattle previously held the expansion draft in the summer before to its debut season. It had been talked about in the past as a host for the NHL draft or an All-Star Game.
But landing the Winter Classic in what will be just the third season of the franchise is a strong endorsement from the NHL.
"I think the league loves what's happened here," Leiweke said. "I think the league is thrilled with the ongoing development of the Seattle Kraken and Seattle as a hockey marketplace. We made our case effectively and we're thrilled. This is a big deal for us."
The Kraken will become the 29th different NHL franchise to participate in an outdoor game. Only Columbus, Florida and Arizona are yet to participate in an outdoor game.
Vegas previously took part in an outdoor game in 2021 when it faced Colorado on the shores of Lake Tahoe in Stateline, Nevada.
T-Mobile Park will be the eighth different baseball stadium to host the game, joining Fenway Park, Citi Field, Target Field, Busch Stadium, Nationals Park, Citizens Bank Park and Wrigley Field.
Even when the roof is closed, the sides of the stadium remain open to the elements. The retractable roof also closes in sections that can be adjusted, which could allow the ice to be covered while keeping other parts open to the elements.
T-Mobile Park is also hosting the Major League Baseball All-Star Game this season on July 11, the second time the Mariners have held the event at the stadium. It's previously hosted concerts, a college bowl game for one season and WWE's WrestleMania in 2003.