Pac-12's downfall came after it could not adjust to changing media landscape
Larry Scott boasted five years ago that the Pac-12 Conference would be able "to adapt, react and take advantage of this new world media order that's coming in a way others can't."
As it turns out, Scott's statement instead ended up reflecting what rival conferences and commissioners did.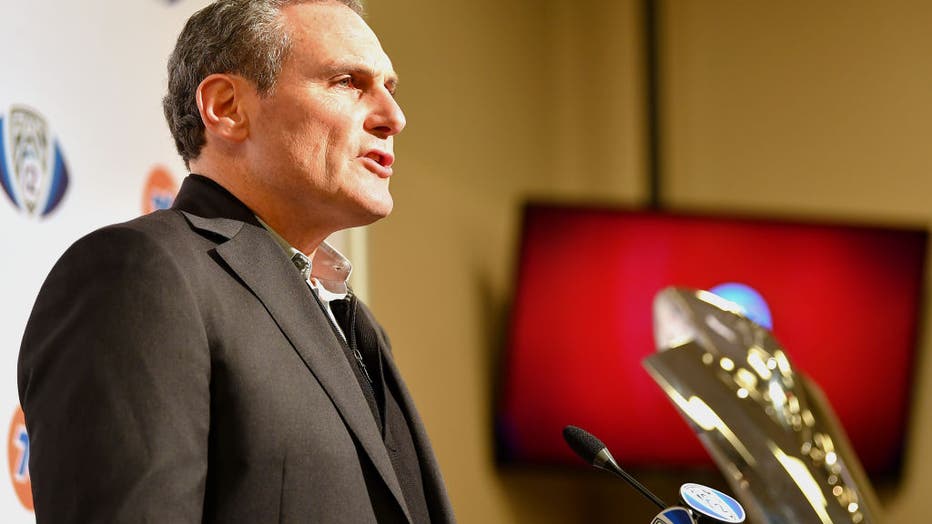 Former Pac-12 Commissioner Larry Scott. (Alika Jenner/Getty Images)
Scott didn't have a chance to negotiate a second Pac-12 media deal. He stepped down as commissioner in 2021 and his successor, George Kliavkoff, didn't land the deal the conference needed.
Last week's Pac-12 collapse, which saw five of the remaining nine members announce they were leaving the "Conference of Champions" for either the Big Ten or the Big 12, drove home in a dramatic way two points: Football drives college athletics, and there are limits to what the media market will pay for content.
"I think this was a factor of timing and potential media partners not being willing to provide the right fees that the conference and the institutions wanted," said Tag Garson, senior vice president of properties for Wasserman, a media company that represents broadcasters, coaches and executives and also consults with teams and leagues. "It's also about the changing landscape of intercollegiate athletics, and making sure that schools are set up for the most success possible in the long term."
RELATED: ACC considering westward expansion, with eye on Stanford and Cal, AP source says
Media rights have far surpassed ticket sales and donor contributions as the main revenue driver for athletic programs.
According to a database run by the Knight Commission and Syracuse University, 19% of the Pac-12's revenue in 2012 — the year after Utah and Colorado joined the conference — came from media rights, NCAA conference distributions and bowl games ($123.08 million). Donor contributions led the way (26%, or $168.55 million) followed by ticket sales (20%, $134.63 million).
In 2022, that figure jumped to $399.89 million, or 35%, which was more than ticket sales and donor contributions combined (32% or $370.90 million).
Many speculated a new Pac-12 rights deal would be done by this year's basketball tournament, but when that didn't happen, concerns about the conference's future began to ramp up.
During football media day on July 21, Kliavkoff said media rights negotiations were going well and that no announcement was made to keep the focus on the field.
The league did eventually come to a proposed deal with Apple that was similar to the one MLS signed with the tech giant last year. In that case, MLS covers most of production costs.
A person familiar with the Apple deal told AP on condition of anonymity that it guaranteed yearly payouts of between $23-25 million to each Pac-12 member school, with escalators based on subscriptions to the Pac-12 package.
The person spoke on condition of anonymity because details of the deal have not been publicized.
RELATED: Column: It's not conference realignment. It's consolidation and no one is safe in the dash for cash
If the service got to 2.5 million subscribers, the yearly payout would have jumped to $30 million, the person said, comparable with the Big 12's average payout of $31.7 million per school during the length of its agreed upon extension with ESPN and Fox.
If Pac-12 subscriptions approached 3.7 million, the payout would jump to about $50 million per school, the person said. That would have put the conference not far behind the Big Ten and SEC, and well ahead of the Big 12 and Atlantic Coast Conference in annual media rights revenue.
The deal also did not guaranteed any games would be distributed to linear networks, though it was possible.
The lack of certainty about money and exposure ended up being too much to overcome.
Washington President Ana Mari Cauce noted during a conference call last weekend that the deal had an out clause after two years.
"When you have a deal that people are saying that one of the best aspects are that you can get out of it in two years, that tells you a lot," Cauce said. "This was about national visibility for our players. Being on linear TV so they can be seen and have national exposure."
The person familiar with the deal clarified the conference could walk away after Year 3 if deal did not deliver that $30 million payout in Year 2.
Because that would not have been known until the end of Year 2, it would have logistically been too late to move before Year 3. But if the conference opted out after Year 3 all schools would also have been able to back out of the five-year grant of rights the conference was requiring.
That could have made all the Pac-12 schools essentially free agents again after the 2026-27 school year.
Kliavkoff inherited an ultimately untenable situation from Scott, including a television network that consists of seven channels and that couldn't get a distribution deal with DirecTV. According to Sports Business Journal, ESPN offered a lifeline in 2019 to partner with the conference on the network along with extending the rights, only to be rebuffed by Scott.
RELATED: Washington and Oregon leave behind heritage – and rivals – for stability in the Big Ten
The Pac-12's struggles to move forward after Southern California and UCLA announced they were leaving for the Big Ten made things worse.
At that point, the best the Pac-12 could hope for was getting a deal that would have resulted in the same payouts as its current one, which would have left league schools lagging in revenue behind other Power Five programs.
"When you see a conference like the Pac-12 eroding, it makes it harder to decide that's where I want to put my money," Garson said. "It's certainly not to the same level that I have before. It becomes a massive challenge."
While Kilavkoff was trying to deal with the problems, Big 12 Commissioner Brett Yormark was aggressive. Yormark, who came in last August, reached an extension with ESPN and Fox with two years left on his conference's deal.
The league's performance on the biggest stages has also been a hindrance. "The Conference of Champions" has long been far from that in football and men's basketball, the two sports that bring in the most revenue.
Only two teams have qualified for the College Football Playoff, with Washington being the most recent in 2016. Since the CFP started in 2014, the conference is 4-9 in New Year's Six games. Over the past two seasons, it was 3-11 in bowl games.
The title drought in men's basketball dates back to 1997, when Arizona won it all. UCLA was the last league team to play in a final in 2006.
And though the late Saturday night window for football remains an intriguing spot for networks, ESPN and Fox weren't willing to pay what the Pac-12 was seeking.
"College conferences should not be looking at the networks, whether that be linear or digital as the underwriters, bank, whatever word you want to use," Garson said. "There's only a finite amount of money that can go around to all the properties that all the networks are looking to.
"There's this expectation that the networks will continue to provide enough money to solve all the problems of intercollegiate athletics. It's just not going to happen today."