Rams rally from a late deficit, Jason Myers field goal misses as Seahawks lose 17-16 to Rams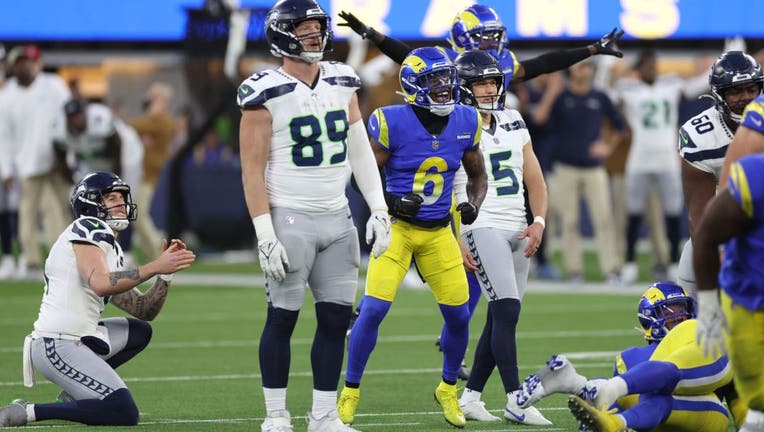 article
INGLEWOOD, Calif. - After his initial evaluation for what the Seahawks called a bruised triceps, Seattle quarterback Geno Smith tried to complete several soft tosses, shaking out his right arm after each throw, before dejectedly sitting down on a cooler.
It wasn't the last frustrating moment for Smith and the Seahawks in a regret-filled 17-16 loss to the Los Angeles Rams on Sunday.
Smith eventually returned to the game, but he's not sure whether he'll be able to play when Seattle hosts NFC West rival San Francisco on Thanksgiving night. The 49ers beat Tampa Bay on Sunday to move one game ahead of the Seahawks (6-4).
"Human body, you got to see how it reacts," Smith said.
He was hurt on the second-to-last play of the third quarter when defensive lineman Aaron Donald and outside linebacker Ochaun Mathis hit his right elbow.
Smith said it came down to pain tolerance whether or not he would be able to come back in, though he admitted there was concern the injury could be more serious.
"Really just had to do my best to fight through the pain," Smith said. "Just try my best to just fight through it and keep going."
Smith put his helmet back on and completed three of four passes for 36 yards on the final drive, finishing with 233 yards and a touchdown to DK Metcalf.
But Seattle could only get close enough for Jason Myers to try a 55-yard field goal that hit the turf well short, in part because of an ill-timed technical glitch on the previous play.
Smith lost communication with the sideline after completing a 21-yard pass to Metcalf. With time of the essence, Smith called a quick run up the middle by Zach Charbonnet that gained 2 yards.
"I thought we had a chance and (it) really didn't work out how we thought it would," Smith said of the final sequence.
Smith said a malfunction with the in-helmet radio system can and does occur.
"Probably more often than you guys know about, but it does happen and you just got to make a call," Smith said. "That's a situation where if you weren't in two-minute, you probably call a timeout or have more time get to the sideline and make a play. But clock's running, you got to make a fast call, and that's why I did."
There were other judgment calls that factored into the outcome, including an illegal-hands-to-the-face penalty against cornerback Riq Woolen on third-and-long that extended the Rams' go-ahead drive. It was the last of the 12 penalties Seattle committed at a cost of 130 yards.
"It was some BS, but at the same time, I'm hard on myself so I feel like that's on me," Woolen said. "In those situations, we supposed to get off the field and the game's supposed to be over right there."
The offense had its own moment of regret, ultimately settling for a 43-yard field goal after having second-and-goal from the 5 late in the second quarter. Charbonnet had a run blown up by Donald for a loss, and Smith was pressured into an intentional grounding penalty.
"When you lose a game like this, there's always things that you can go back on and say 'I wish we would have made this decision' or change something like that," receiver Tyler Lockett said. "But at the same time, like I said, we just can't put ourselves in those situations."
Myers' missed kick at the end was the final reminder of everything the Seahawks had squandered.
"We played really good all day long," coach Pete Carroll said. "It was enough to get us a win. But on this day, with all that happened, that wasn't quite enough."
UP NEXT
Seahawks: Host San Francisco on Thanksgiving night.
Rams: At Arizona on Nov. 26.