Seahawks comeback falls short, Rams win 28 - 26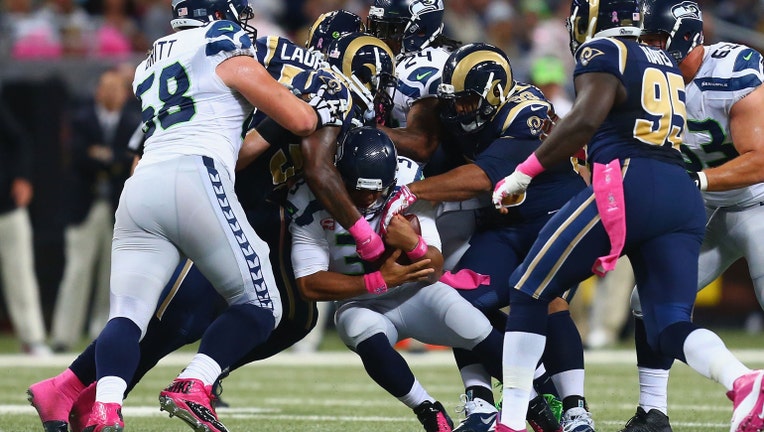 article


ST. LOUIS -- Too little. Too late.

Despite an abysmal performance in the first half, the Seahawks fought back in their first divisional game of the year… but it wasn't enough. The Rams held off the Seahawks 28 – 26 Sunday in St. Louis.

The Hawks had a promising start on their very first drive but stalled in the red zone, settling for a field goal.

But the Rams scored early and often in the first half. Quarterback Austin Davis led the Rams on a 6-play, 31-yard drive for a touchdown to start things off.

After a Seahawks punt, Davis led the Rams right back down the field on a 74-yard drive for another touchdown, giving the Rams an early 14 – 3 lead.

Then came a blow to the Seahawks special teams – everyone was faked out on the Hawks punt and ran to the wrong side of the field and Stedman Bailey took off for an 89-yard return for a touchdown.

Later in the half, the Rams attempted a 52-yard field goal -- and missed. That gave the Hawks decent field position inside the two-minute warning.

After a couple of 20+ yard passes to Cooper Helfet, the Hawks had to settle for another field goal. They went into the half trailing 21 – 3.

In the second half, Russell Wilson took matters into his own hands. Starting from their own 18 yard line, the Hawks had a steady drive down the field. Wilson rushed for a 19-yard TD and the Hawks were back in the game, 21 – 13.

In the 4th quarter, Cooper Helfet scored his first touchdown with an incredible toe-tap catch on the side of the end zone. Hawks couldn't pull off the two-point conversion, so they trailed by two (21 – 19).

The Hawks and Rams exchanged TDs sending the game down to the wire.

It seemed like the Hawks would get another shot, but the Rams tricked everyone with a fake punt. Johnny Hekker, the former QB at Bothell High School, completed a pass for a first-down with three minutes remaining.

On 3rd and 1, the Rams fumbled and recovered, according to the refs.

FOX Sports Rules Analyst Mike Pereira wondered why the officials didn't review the call.




The Rams ran the clock down and pulled off the upset.