Seahawks find their way to 6-3 despite flaws and inconsistency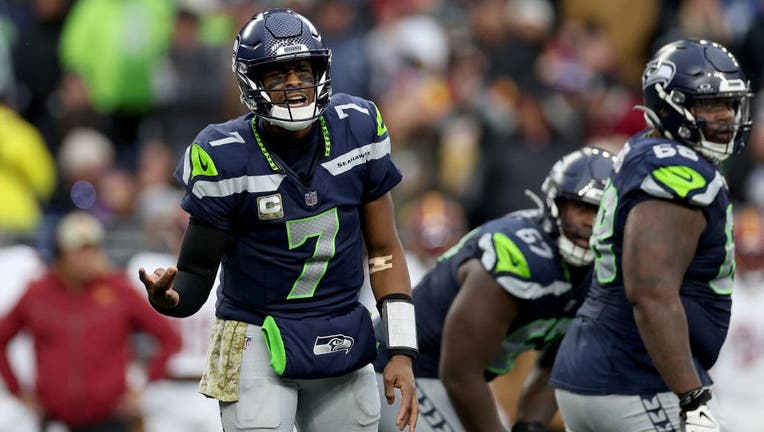 article
RENTON, Wash. - The season is far enough along to just accept this is the way it's going to be for the Seattle Seahawks. They are the sort of team that will elicit boos walking off the field at halftime and leave those same fans cheering as they leave the field two quarters later.
Sometimes the offense is going to be unsightly and looking lost. Sometimes the defense is going to be unable to make stops.
But for all their faults, the Seahawks are 6-3 and tied for the NFC West lead. And they're about to embark on a five-week stretch that'll test just how well they can mask their shortcomings.
"We just got to be better. We won at the end of the day, but we got to be better still," defensive end Dre'Mont Jones said after Sunday's 29-26 win over Washington. "It's a lot to clean up and improve on from top to bottom, inside and out, we got to fix that."
Seattle rebounded from the second-worst loss of Pete Carroll's tenure, but it wasn't a straightforward victory over the Commanders. Geno Smith and Seattle's offense stumbled in the first half and heard some dissatisfaction as they left the field with just nine points.
And then those changed to cheers in the second half as Smith led scoring drives on Seattle's final two possessions even as the Seahawks' defense gave up two fourth-quarter touchdowns.
"We had moments where we did really well. We had moments where we need to clean things up," linebacker Bobby Wagner said. "We just got to get better."
WHAT'S WORKING
The version of Smith that Seattle saw in the fourth quarter is the one the Seahawks would like to see more often. It's been a shaky few weeks for Smith and Seattle's offense and it continued into the first half against Washington.
But it flipped in the second half. Smith was 15 of 20 for 217 yards in the final 30 minutes and was even better in the fourth quarter, when he completed 9 of 11 passes on the final two drives. His only two incompletions were a slant pass for DK Metcalf that was broken up and the spike that stopped the clock to set up the winning field goal, both on the final drive.
"We have a lot of faith in him. He's a great leader and we trust him," running back Kenneth Walker III said. "I see it day in and day out. In those situations, I'm glad that we've got Geno."
WHAT NEEDS HELP
Seattle is still struggling to find a split between runs and passes that suits the kind of offensive game plan Carroll desires. The Seahawks had 26 runs and 47 passes against the Commanders, which isn't where Carroll wants those numbers to be.
Seattle had 28 passes and 15 runs against Baltimore. In the win over Cleveland, the split was 37 passes to 17 runs.
"I'm still working at it," Carroll said "It's still a work in progress."
STOCK UP
The case for Devon Witherspoon as the defensive rookie of the year continues to grow. Witherspoon had five tackles, three pass deflections and a forced fumble against the Commanders. For the season, Witherspoon already has 12 pass breakups, two sacks, 33 tackles and has now been responsible for two turnovers. He had a 97-yard interception return for a touchdown in Week 4 against the Giants.
"He continues to show us he's a very special football player and we're lucky to have him on our side," Carroll said.
STOCK DOWN
The recovery of linebacker Jordyn Brooks from last year's knee injury and his level of play this season have been remarkable. But Sunday was not Brooks' best performance as Washington seemed to pick on him in pass coverage. Brooks had just three tackles while playing 80% of the snaps.
INJURIES
The one injury of concern from Sunday was reserve WR Dareke Young aggravating a core/abdominal injury. Young had only returned this week after spending the first half of the season on injured reserve. Seattle also should get RT Abraham Lucas back on the practice field this week. He's been out since Week 1 with a knee issue.
KEY NUMBER
12 — Jason Myers began the year by going 3 of 6 on field goal attempts. But since Week 3, Myers has been nearly perfect. He's made 12 straight and 17 of his last 18 tries, including a 5-for-5 performance on Sunday against the Commanders.
NEXT STEPS
Seattle's season got off to a humbling start with a 30-13 loss in Week 1 at home against the Los Angeles Rams. The Seahawks get a rematch on Sunday with the Rams, their only opponent over the next five weeks that currently has a losing record. After the Rams, the Seahawks will play San Francisco (twice), Dallas and Philadelphia.